Budweiser Dream Goal returns with Jamie Redknapp, Ed Chamberlin and new judge Jamie Carragher
Last Updated: 12/02/16 12:43pm
Fancy seeing your Sunday league super-strike given the full Sky Sports treatment by Jamie Redknapp, Jamie Carragher and Ed Chamberlin?
Budweiser is bringing back Dream Goal, its hunt for the greatest amateur goals from across the country.
This year sees the addition of Carragher to the Dream Goal line-up, alongside Redknapp and presenter Chamberlin.
The trio feature in a brand new Budweiser Dream Goal launch advert celebrating the goalscoring heroes of Sunday league football from the get-go - and in the spotlight is one of the competition's first screamers from 27-year-old Fernando Moke of Chapeltown Fforde Grene Football Club in Leeds.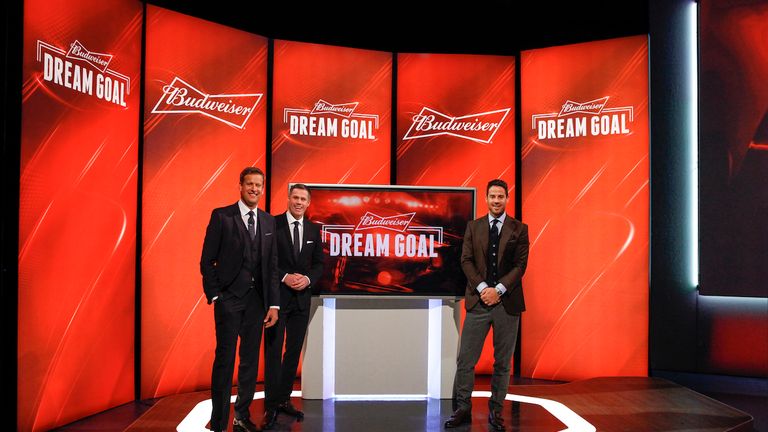 Budweiser Dream Goal challenges British amateur footballers to submit videos of their 'dream goals' in the hope of winning the ultimate prize... to have their goal analysed on TV by football greats and star in Budweiser's spring TV ad campaign supported by Sky Sports.
The winner will also star in Budweiser's TV ads, as well as taking home a £50k grant for the non-League club of their choosing. The five runners-up will take home a £10k grant, while the winner and runners-up will all be given one-off FA training sessions.
February 12 marks the start of the competition, and entrants can also submit their screamers to the new and improved Budweiser Dream Goal hub on www.budweiser.co.uk, which now features a full, immersive gallery allowing entrants to explore their competition by category and region.
Budweiser Dream Goal will also appear in the Sky Sports Football Score Centre App for the duration of the competition, where you can also submit your goal video. 
Top contenders will be selected to feature in weekly slots on Sky Sports during high-profile matches throughout the remainder of the season. The winning goal will then be chosen by Carragher, Redknapp and Chamberlin, and revealed on the last day of the season on May 15, featuring the goal and the pundits' analysis.
Sky Sports pundit Carragher said: "I remember talking about Dream Goal with Jamie last year, and thinking it was a brilliant idea. Everyone knows how important the grassroots are to the game, so it's great to be part of something that is giving these guys a bit more recognition.
"I've been on the receiving end of some screamers in my time - so I'm looking forward to seeing what the UK have got for us!"
Full terms and conditions can be found at www.budweiser.co.uk/dreamgoal and further information can be found at www.youtube.com/budweiserUk and www.facebook.com/budweiseruk.
The Budweiser Dream Goal competition is only open to people of 25 years of age and above, and closes on April 24