Paul Merson says Tottenham are now favourites for Premier League title
Last Updated: 18/02/16 6:05pm
Former Arsenal star Paul Merson admits that Tottenham are now title favourites in the race for the Premier League crown.
Tottenham asserted their title credentials and dealt a blow to Manchester City's hopes in the process as their 2-1 win at the Etihad Stadium catapulted them to within two points of league leaders Leicester City.
North London rivals Arsenal are level on points with Spurs. The Gunners sit in third spot after 26 games played and the teams are due to meet on March 5.
Spurs are currently on a run of seven straight wins in all competitions and although Sky Bet make Arsenal 6/4 favourites for the title, Merson thinks 9/4 Tottenham should be heading the market.
They've got good players working very hard as a team. When you get that as a recipe, it works.
Merson on Spurs
"A big worry for me is that the best team at the moment is Tottenham Hotspur - I make them favourites," he said. 
"The manager plays a certain way, they press and win the ball back. The players are incredibly fit, but I always worry about the last 15 minutes with Tottenham as they work so hard in the first 75 minutes.
"He's got good players working very hard as a team. When you get that as a recipe, it works. These players aren't just workhorses, they can all play, which makes a difference.
"My only worry with them is that when manager of Southampton, Mauricio Pochettino's team hit a brick wall in the final 10 or 11 games. However, at the moment, I can't see that happening."
A stick used to beat Spurs' title credentials is their continued presence in the Europa League.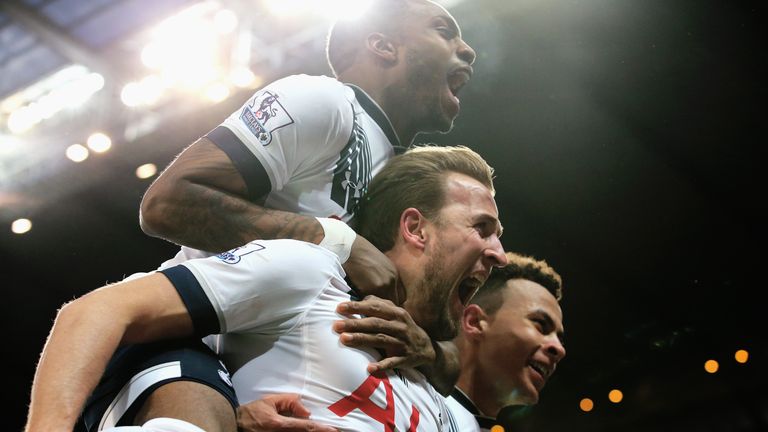 Pochettino's men are back in European action on Thursday against Fiorentina and if they progress to the final, they will have an extra nine games to negotiate in the title run-in.
Merson thinks that the club need to put the Premier League at the forefront of their thinking otherwise they face an "impossible" task to compete with Leicester, Arsenal and Manchester City.
"The coaching staff on Monday morning after that big win at Manchester City would have had to sit around a table and really make their minds up about what they're going to do," he said. 
"Are they going to go for the Premier League or are they going for every competition? If they play for everything, then it's nailed on impossible to achieve.
"They need to focus on the Premier League - I think they've been absolutely outstanding.
"When you're playing on a Thursday night in the Europa League, you're also playing on a Sunday.
"Manchester City, Arsenal and Leicester aren't always going to be playing on a Sunday. If those three play on a Saturday and win, then Tottenham will have to win on the Sunday just to stay where they are. It can become disheartening in the end. It's a game where you won't gain anything - all you're doing is playing catch up.
"It will be a bigger shock for them to win both the Europa League and the Premier League, than if Leicester City win the Premier League."