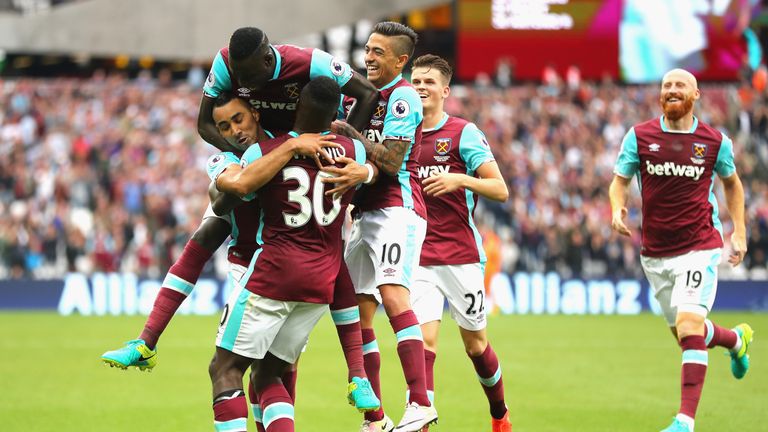 West Ham have promised to hand out life bans to any supporters found to have been involved in crowd trouble during Saturday's 4-2 Premier League defeat by Watford.
An unspecified number of fans were ejected from the London Stadium after fights broke out in the closing stages of the game after the hosts had thrown away a two-goal lead.
West Ham supporters fought among themselves and clashed with stewards and Watford fans, in what was just the Hammers' second Premier League game at their new home.
The club claimed the "isolated incidents" were quickly dealt with while the Met Police have stated there were no arrests.
"West Ham United unreservedly condemn the behaviour of the individuals involved in incidents during today's fixture against Watford," the club said on their website.
 
"While these isolated incidents were quickly brought under control, this behaviour has no place in football and West Ham United will work tirelessly to eradicate such incidents.
 
"We are currently undertaking an immediate full review with all stakeholders. This includes police, stadium landlord and operator LS185, who are responsible for appointing and managing stewards and security, to ensure we eradicate such incidents moving forward.
 
"Our policy on this behaviour remains one of zero tolerance and we will work with the police and other stakeholders to identify the individuals involved. Once identified, they will be banned from attending any West Ham United fixture for life and we will request the courts serve banning orders to prevent these individuals attending any football."
West Ham manager Slaven Bilic was surprised to learn of the incidents.
"I've been told about it, and I asked what riot? I really didn't see anything," Bilic said.
"I knew that at 4-2 the stadium was not packed because people were starting to go home, but I didn't see anything so I can't give a comment on that."
Last month's Europa League game against Astra Giurgiu was also marred by trouble in their new ground, with the club handing out 10 bans to fans who were caught on camera fighting during the 1-0 second leg defeat.