Pep Guardiola faces tough task to repeat Barcelona's Champions League success with Man City
By Nick Wright
Last Updated: 18/10/16 11:23am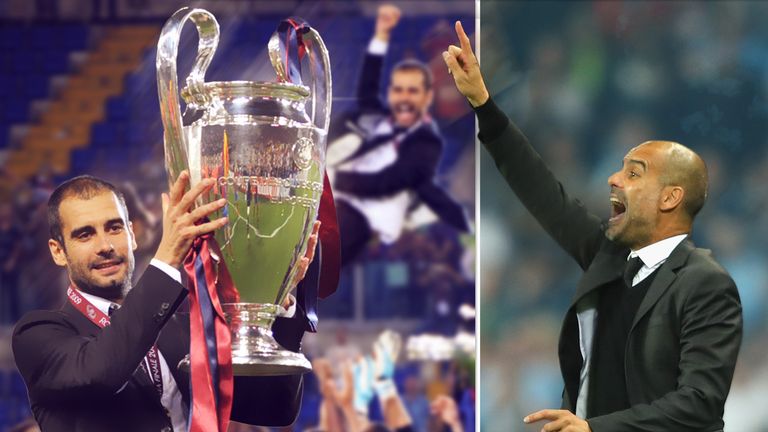 ​​​​​​​Pep Guardiola returns to the Nou Camp on Wednesday night as he continues his efforts to turn Manchester City into a European powerhouse. Can he repeat his famous 2008/09 Champions League success with Barcelona in his first season in charge of the Sky Blues?
Manchester City have a complicated relationship with the Champions League. Supporters boo the pre-match anthem after years of feuds with UEFA, and the lack of enthusiasm compelled Pep Guardiola to issue a rallying cry after their 4-0 win over Borussia Monchengladbach last month.
"They must forget what happened in the past," he said. "We have to be so proud to play in this competition. I am going to work until the last moment to convince people to come here and join us to see the Champions League games. Our players deserve the stadium completely full."
It is not what Guardiola is accustomed to. His former clubs Barcelona and Bayern Munich had long, proud histories in the competition, and as he bids to elevate Manchester City to a similar level, this week's trip to the Nou Camp is a reminder of the size of the task ahead.
It also stirs memories of his first season in charge of Barcelona - before he had carved out a reputation as the world's most coveted manager.
The Catalan had enjoyed a glittering playing career at his boyhood club, but his coaching experience amounted to a single season in charge of the B team when he inherited what Thierry Henry described as "chaos" from Frank Rijkaard in the summer of 2008.
The appointment was a huge risk, but the board were in no doubt about the new man - and neither was he. "I feel prepared," he said at his unveiling. "If I didn't I wouldn't be sitting here. I don't have experience because I'm 37. If I was 45 I'd have more. There are lots of coaches the club could have chosen but they chose me. I'm not afraid."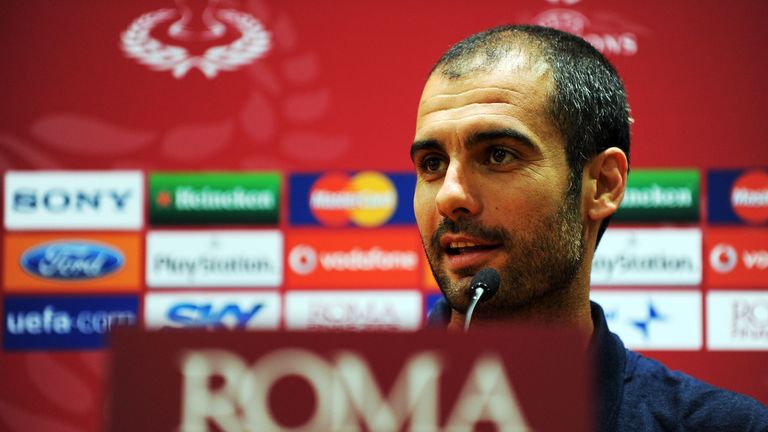 That single-mindedness was clear as Guardiola swiftly disposed of the big egos in the dressing room, and soon enough his methods took hold. His historic, treble-winning first season culminated in a famous win over Manchester United in Rome, and Barcelona embarked on an era of unprecedented success with a starting line-up that included seven academy graduates.
Guardiola's debut Champions League campaign as a manager will always be remembered for Andres Iniesta's late winner at Stamford Bridge and Barcelona's outstanding team performance against United in the final, but there were hints of what was to come from the start.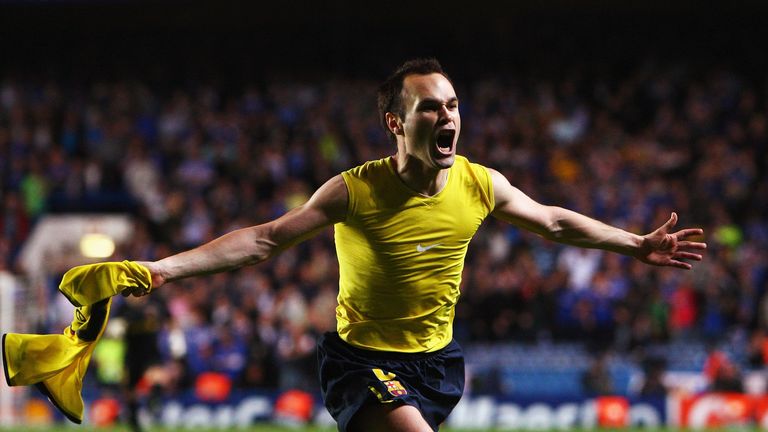 The new manager took the challenges of Champions League football in his stride. Barcelona scored more goals than any other side in the group stage that year (18), and Guardiola's squad rotation allowed them to keep the momentum going in La Liga, too.
Atletico Madrid were beaten 6-1 three days after a trip to Shaktar Donetsk. Sevilla were beaten 3-0 after a 5-2 win at Sporting Lisbon. In fact, Barcelona won all six of their domestic games directly after Champions League group fixtures, smashing 28 goals and conceding just two.
Guardiola's men blitzed Lyon and Bayern Munich in last-16 and quarter-finals after topping their group, and they rode their luck against Chelsea in the semi-final, second leg before Iniesta's dramatic stunner in west London secured a 1-0 aggregate victory to send them into the final.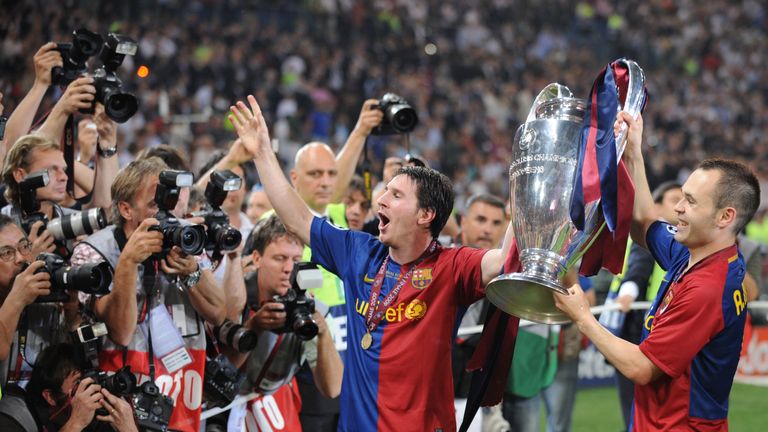 Barcelona played mesmerising football that night in Rome, with Samuel Eto'o and Lionel Messi scoring the goals in a one-sided encounter that could have been much worse for United. "The better team won," conceded a deflated Sir Alex Ferguson.
Henry, who Guardiola had convinced to stay at Barcelona at the start of the season, summed up their mentality after the game. "This game is a mirror of a season," he said. "It doesn't matter which player plays, it's the team as a whole that has done the job. Our strength was doing what we have done all season, which is to keep possession, play touch football and recover balls."
Pep Guardiola's Champions League record
| Season | Team | Result |
| --- | --- | --- |
| 2008/09 | Barcelona | Winners |
| 2009/10 | Barcelona | Semi-finals |
| 2010/11 | Barcelona | Winners |
| 2011/12 | Barcelona | Semi-finals |
| 2013/14 | Bayern Munich | Semi-finals |
| 2014/15 | Bayern Munich | Semi-finals |
| 2015/16 | Bayern Munich | Semi-finals |
For the first few months of this season, Guardiola appeared to have instantly transmitted that philosophy at Manchester City. His new side won their first 10 games in a row, including their hammering of Borussia Monchengladbach in the opening Champions League group game, but a 3-3 draw with Celtic halted their progress.
Manchester City's Champions League record
| Season | Manager | Result |
| --- | --- | --- |
| 2011/12 | Roberto Mancini | Group stage |
| 2012/13 | Roberto Mancini | Group stage |
| 2013/14 | Manuel Pellegrini | Last 16 |
| 2014/15 | Manuel Pellegrini | Last 16 |
| 2015/16 | Manuel Pellegrini | Semi-finals |
A 2-0 defeat to Tottenham followed, and Saturday's 1-1 draw with Everton means City go to the Nou Camp on a three-game winless run. Suddenly, things do not look quite so straight-forward for Guardiola. His squad is not yet tailored to his liking despite a summer of heavy spending, and he knows exactly what to expect from the meeting with his former side.
"We will play against the best," he said. "Nobody plays better than Barca. The three players up front make the difference but there is also a lot of work that goes at the back. They are the best and it's a great test for us. We will see what level we will give."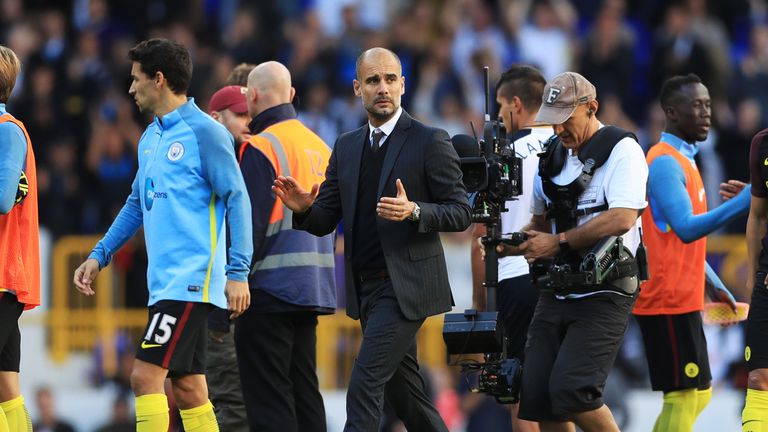 City were Champions League semi-finalists under Manuel Pellegrini last year and the bookmakers have made them fourth favourites behind Barcelona, Bayern Munich and Real Madrid to go all the way under Guardiola, but Wednesday night is the first real test of their credentials.
It didn't take Guardiola long to transform Barcelona back in 2008, but eight years on he faces a tougher challenge. His former side could now remind him how far City have left to go.
You can watch Premier League football, plus England's tour of Bangladesh and the US Grand Prix on Sky Sports. Upgrade now and enjoy six months at half price!