Jose Mourinho asked by FA to explain Anthony Taylor comments
By Michael Kelleher
Last Updated: 19/10/16 6:14am
The FA has written to Jose Mourinho asking him to explain comments he made about referee Anthony Taylor in the build-up to Manchester United's 0-0 draw with Liverpool on Monday.
The appointment of Taylor, who is from Wythenshawe in Greater Manchester and supports non-league club Altrincham, was questioned by some Liverpool fans after it was announced.
Mourinho was given a stadium ban last season for commenting on referees' handling of Chelsea games and was at first reluctant to talk about Taylor at his pre-match press conference, but the United boss eventually made his feelings plain.
He said on Friday: "I have my view, but I learned a lesson by being so many times punished by some words, so I don't want to say anything about it.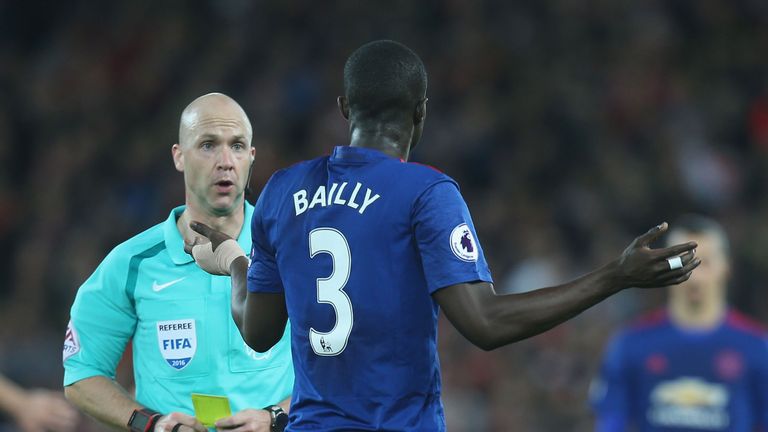 "I think Mr Taylor is a very good referee, but I think somebody with intention is putting such a pressure on him that I feel it will be difficult for him to have a very good performance."
After Monday night's goalless draw Mourinho praised Taylor's performance.
"Can I speak about the referee without being punished?" he asked the club's press officer.
After being given the go-ahead he added: "He had a good game and I am happy for him because people with responsibilities put a lot of pressure on him and it was very difficult for him to have a good performance, which he had."
Managers and players are not allowed to make any comments which could be viewed as intimidatory or influential about the appointed match officials before a game.
The FA has asked Mourinho for his observations on his comments and he has until Friday to respond.
You can watch Chelsea v Man Utd, plus England's tour of Bangladesh and the US Grand Prix on Sky Sports. Upgrade now and enjoy six months at half price!