Premier League clubs warned over providing disabled access at stadiums
By Mark Ashenden
Last Updated: 18/10/16 4:22pm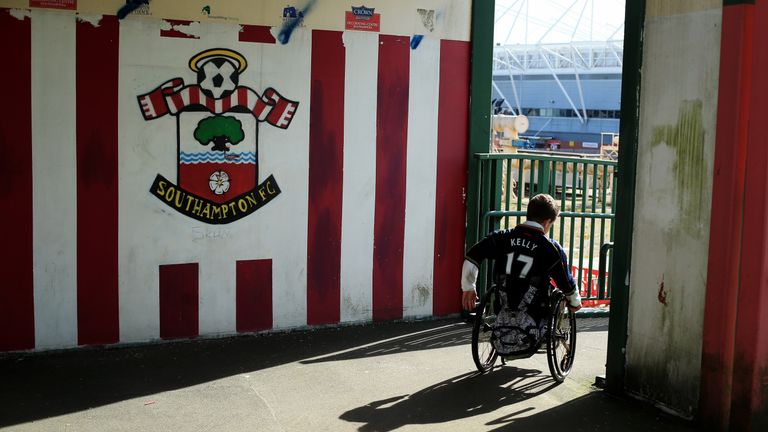 Premier League clubs could get "substantial fines" if they do not comply with disabled access regulations by next summer.
Bill Bush, the Premier League's executive director, told a Department of Culture, Media and Sport (DCMS) select committee on Tuesday that several options were available, including financial penalties, if clubs failed to deliver.
An independent investigation in 2014 found that 17 of the 20 clubs failed to provide enough wheelchair access, prompting the Premier League to pledge that their members would be compliant with Accessible Stadia Guidelines (ASG) by August 2017.
"The rule book allows for a wide range of sanctions - up to about £25,000 of fines. If it goes beyond £25,000 then an independent panel will consider circumstances," Bush said.
"We are ready to consider what an appropriate intervention would be. (The issue of docking points)…would be discussed by the panel, who would form a view."
Bush stopped short of naming the clubs who were currently under-performing in this area but told the committee that a definitive club-by-club list would be published in January.
Premier League clubs were criticised in the meeting for not taking disabled access seriously, with Conservative MP Andrew Bingham suggesting the issue was not a priority for the clubs because most are already selling out on matchdays.
"To characterise our clubs as not being interested is unfair," added Bush.
Bush was then asked if the Premier League should specify exactly how parachute payments should be allocated to enable clubs relegated to the Football League to update disabled facilities.
Bush stated there would be an "enormous range of resistance if the Premier League tried to hypothecate" how their money should be spent.
A Premier League statement issued later on Tuesday said: "Premier League clubs are working extremely hard to improve disabled access in their grounds.
"The commitments made in this area are wide-ranging and will set new standards for sport and other sectors. They have challenged all clubs, some of which will have significant logistical and built environment issues, involving old stands, planning issues and new stadia.
"All are working towards making their grounds meet the appropriate standards in the agreed timescale and improving the experience for their disabled fans."
You can watch Chelsea v Man Utd, plus England's tour of Bangladesh and the US Grand Prix on Sky Sports. Upgrade now and enjoy six months at half price!