Mauricio Pochettino: Tottenham need time to fight for titles
By Lyall Thomas
Last Updated: 22/02/17 5:06pm
Mauricio Pochettino insists Tottenham are still developing their squad and mentality, and need time to fight for titles.
The Argentine's side are third in the Premier League, into the FA Cup quarter-finals, and face a Europa League last-32 second-leg against Gent on Thursday with a 1-0 deficit.
Pochettino says he wants to oversee Spurs' progression to the next level but insists it is the hardest thing to do in football - and is made all the more difficult by the club's building of a new stadium.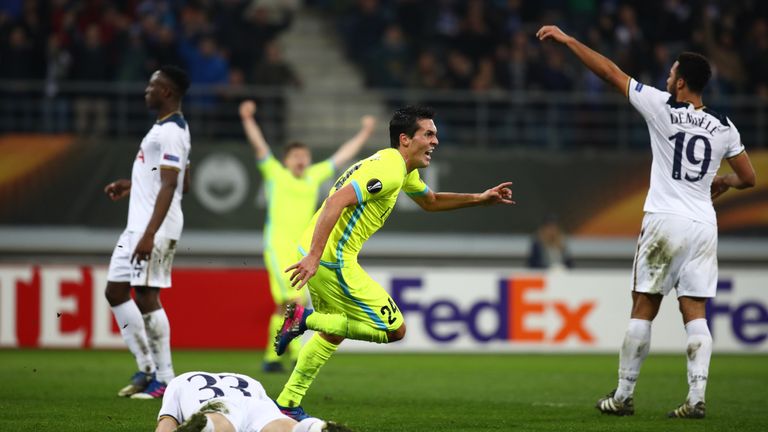 "We need time, and we cannot buy time. It's the most important thing for us," he said ahead of the Wembley clash.
"We want to win titles. We want to move the club to the next level. Like when you are building the facility we are in now and the new stadium, you need time to build a stadium and time to build a squad.
"One thing is very clear, and it is realistic, is that we are building the new stadium and that process is a tough period for every club. Then, when you have the tools to try to fight with the big sides to try to win, we will arrive in the moment.
"Today we are in the same process as the club. We started maybe one or two years ago to try to build a new team, mentality and philosophy. I hope that I can see that process and that patience, and in the end the success.
"That is my big aim and challenge at Tottenham. We improved a lot, and I am happy with the progress in the last two years. But it is the hardest thing to win titles. You can win games, but to win the Premier League is another step, and is the hardest job."
Spurs are expected to play all their domestic and European home games at Wembley next season, while the new stadium adjacent to White Hart Lane is completed, and Pochettino believes it is essential for them to get comfortable at the national stadium.
"We need to make Wembley home. The last game was good for us. We played well and started to feel better," he said.
"For us, it is perfect to play there. It is not confirmed, because the club has not yet confirmed, but we hope we play there next season because that will show we are very close to finishing our stadium."