Luis Enrique's Barcelona exit: Good or bad? Get involved in the debate
Last Updated: 13/03/17 12:18am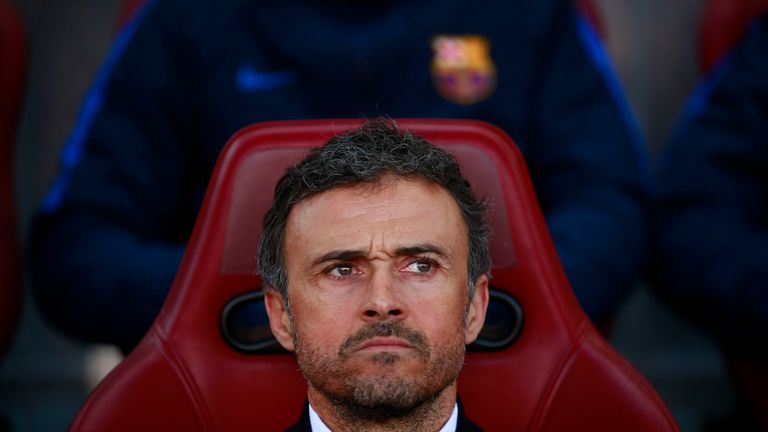 Sky Sports Spanish football expert Guillem Balague argues that Luis Enrique's departure could be good news for Barcelona, but wants to hear what you think...
Here at Revista de La Liga we don't sit still. Now that Luis Enrique has won widespread praise for what his team did against Paris St-Germain, even though the team came crashing to earth after the Depor defeat, we are looking for viewers to give shape to a debate.
Those who look at results, look away now. Those who look at performances, help me here. Do you agree with me on the following points?
The 3-4-3 used by Luis Enrique in recent games is an experiment which came off against PSG, but it is not a consequence of a process. Also, if it has not got specialist wide players or Neymar like against Deportivo, it accumulates too many players in the middle and kills the space for Messi.
Barcelona need to return to a system with strong midfielders and a clear idea of the positional game, their essence, so they need a coach that believes in that. Otherwise everything depends on the front three having a good day.
The goals against PSG were two defensive errors, two penalties - one after a mistake from the referee - and one free-kick. They did not come after a clear attacking strategy. Their attack against PSG was confusing and without pattern. And that is because Luis Enrique has not given enough to the side in terms of collective answers.
Barcelona beat PSG by speeding up proceedings, forcing errors and with their attitude.
Neymar was superb, and was helped by the fact the game needed chaos, and he is the king when chaos reigns. But that same chaos reduced the influence of Lionel Messi, surrounded by lots of players on both sides. In certain phases the game bypassed him.
So, in the long term, do you prefer a team based on order, structure and collective ideas where all the individuals can shine, or a side that depends on the inspiration of their stars? Luis Enrique has taken Barcelona to the latter.
What do you think? Do you agree with Guillem? Leave your comments below or tweet @revistadelaliga and Guillem Balague, Terry Gibson and Graham Hunter will debate the topic on next week's Revista de La Liga.