Manchester City to beat Liverpool, says Sky Sports Premier Predictor
By Harry Carr
Last Updated: 19/03/17 4:14pm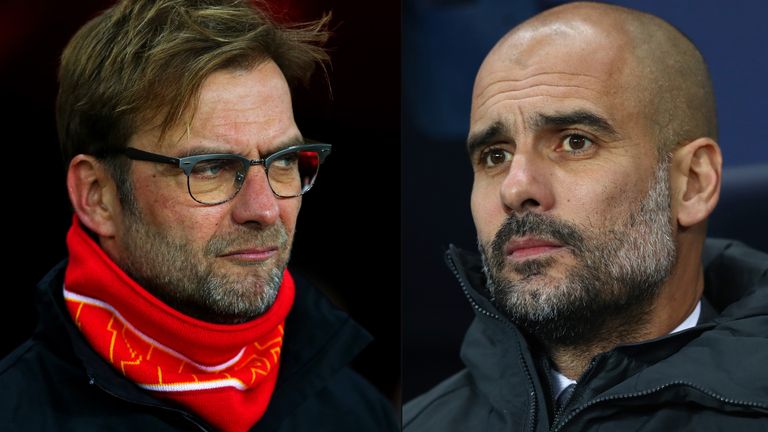 Manchester City will end Liverpool's proud record against the Premier League's top six sides when the teams meet on Nissan Super Sunday, according to the Sky Sports Premier Predictor. 
Jurgen Klopp's side are undefeated against fellow top-six Premier League teams this season, and have taken more points from clashes between the leading teams than any other club.
But our stats-based prediction system reckons City will come out on top at the Etihad this weekend.
The Sky Sports Premier Predictor, which uses an algorithm to rank results, previous performances and the difficulty of upcoming fixtures, gives Man City a 45 per cent chance of success, with the draw at 30 per cent.
The likelihood of a Liverpool win is rated at 25 per cent.
Elsewhere, the Premier Predictor is suggesting Bournemouth, Crystal Palace, Everton, Manchester United, Chelsea, Tottenham and Arsenal could be successful this weekend.
However, West Ham are favoured to come out on top at home to Leicester, while Sunderland's clash with Burnley looks too close to call.
Sky Sports Premier Predictor - weekend predictions
| Home win | Draw | Away win |
| --- | --- | --- |
| Bournemouth 42% | 30% | Swansea 28% |
| Palace 47% | 29% | Watford 24% |
| Everton 78% | 14% | Hull 8% |
| Man City 45% | 30% | Liverpool 25% |
| Boro 21% | 23% | Man Utd 56% |
| Stoke 18% | 19% | Chelsea 63% |
| Sunderland 36% | 30% | Burnley 34% |
| Tottenham 81% | 12% | Southampton 7% |
| West Brom 24% | 26% | Arsenal 51% |
| West Ham 41% | 30% | Leicester 29% |
Sky Sports Premier Predictor - % chance of Premier League finishing position
| Team | Winner | Top 4 | Relegated | Predicted pts |
| --- | --- | --- | --- | --- |
| Chelsea | 94% | >99% | <1% | 86 |
| Tottenham | 4% | 87% | <1% | 76 |
| Man City | 1% | 68% | <1% | 73 |
| Liverpool | 1% | 68% | <1% | 73 |
| Man Utd | <1% | 39% | <1% | 70 |
| Arsenal | <1% | 34% | <1% | 69 |
| Everton | <1% | 5% | <1% | 63 |
| WBA | <1% | <1% | <1% | 52 |
| Stoke | <1% | <1% | <1% | 50 |
| West Ham | <1% | <1% | <1% | 46 |
| Southampton | <1% | <1% | 1% | 46 |
| Burnley | <1% | <1% | 1% | 45 |
| Watford | <1% | <1% | 2% | 44 |
| Leicester | <1% | <1% | 7% | 42 |
| Bournemouth | <1% | <1% | 7% | 41 |
| Swansea | <1% | <1% | 13% | 40 |
| Palace | <1% | <1% | 57% | 35 |
| Hull | <1% | <1% | 58% | 35 |
| Boro | <1% | <1% | 70% | 34 |
| Sunderland | <1% | <1% | 86% | 32 |