Why it could be a breakout year for Gabriel Jesus at Manchester City
Last Updated: 21/08/17 11:51am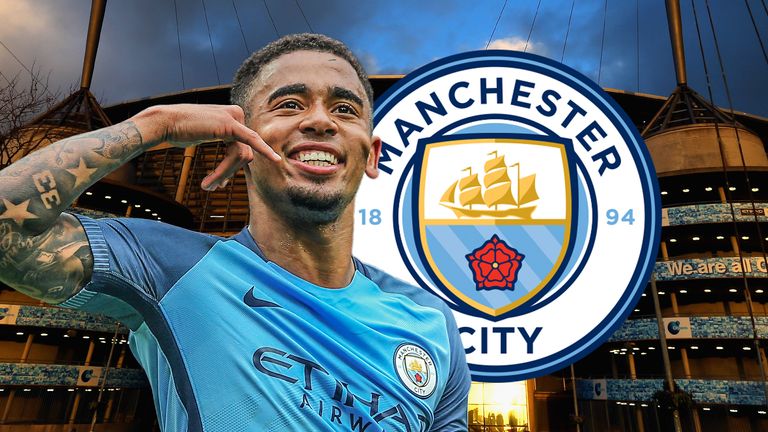 Gabriel Jesus impressed for Manchester City last season, so what can we expect from his first full campaign in the Premier League? Here's why it could be a breakout year for the Brazilian.
After a busy summer of spending in the transfer market, there is a buzz of excitement around Manchester City this season. How will Kyle Walker, Benjamin Mendy and Danilo transform Pep Guardiola's side? Can the brilliant Bernardo Silva make a swift adaption to the Premier League?
Perhaps the most intriguing sub-plot surrounding the title favourites, however, concerns a player who is already there. Jesus completed his £27m transfer from Brazilian side Palmeiras back in January, but such was his misfortune with injuries that City are still getting to know him.
So far, he has offered tantalising glimpses. Jesus was a one-man whirlwind when he came off the bench for his debut against Tottenham, almost providing an assist with his first touch before sending a header onto the crossbar and having a goal ruled out for offside.
He started City's next game, brilliantly setting up Raheem Sterling's opener in a 3-0 FA Cup win at Crystal Palace, and Guardiola was impressed enough to leave Sergio Aguero on the bench against West Ham a few days later. On his Premier League debut and still two months shy of his 20th birthday, Jesus scored one and set up another in a thrilling 4-0 win.
Did Guardiola see it coming? "You never know," he said afterwards. "It's like a watermelon. You have to open it up and see. But we knew the potential was good, he's talented and so aggressive about wanting to be a good player, and that helps a lot."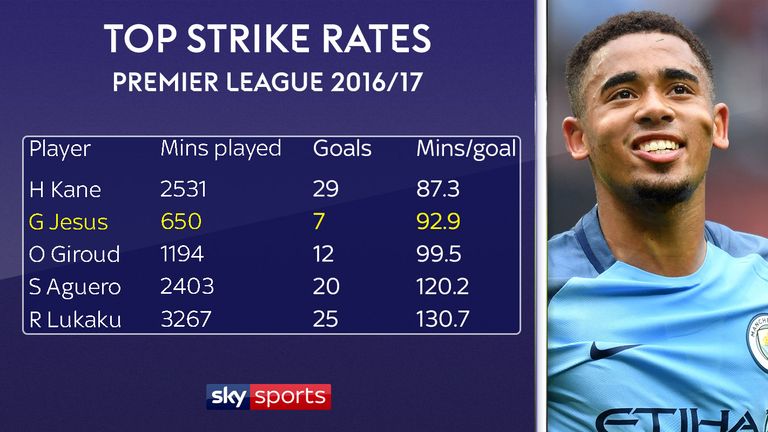 As well as speed, movement and finishing ability, Jesus provided the kind of off-the-ball industry Guardiola's high-pressing tactics demand. And despite the broken metatarsal that ruled him out for over two months between February and April, he finished the season as one of the most efficient strikers in the Premier League.
In fact, with seven goals in 650 minutes played, the Brazilian's strike rate of a goal every 92.9 minutes was second only to Harry Kane's. Factor in his four assists, and Jesus was more productive than any other attacking player in the Premier League, providing a goal or assist once every 59.1 minutes on average.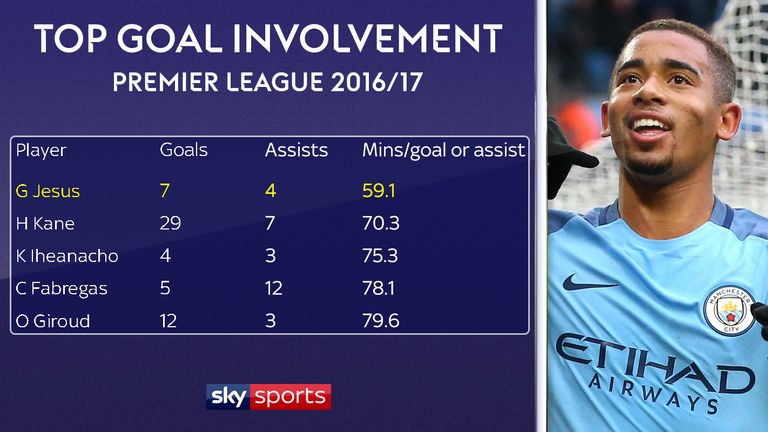 Extrapolating those numbers over a full campaign will not be easy, but Guardiola is entitled to feel optimistic about what can be achieved with him fit from the start. City won eight games out of nine with Jesus starting in 2016/17 compared to 25 out of 47 without him. "Always I have things in mind about what would have happened if we had Gabriel Jesus," said Guardiola in April.
Jesus already appears to have brought the best out of Aguero. The Argentine was dropped last season because he did not produce the same level of defensive work as his younger team-mate, but when he was handed a route back into the team by the Brazilian's injury, he stepped it up. "I have to be much more alert and focused when I play," he told Sky Sports.
Aguero hit his highest totals of the season for distance covered and high-intensity sprints in City's 2-0 win over Sunderland in early March, and when Jesus returned to fitness six weeks later, they were used together. They both scored in a 2-2 draw with Middlesbrough at the end of April, and there were more encouraging sings against West Brom and Watford.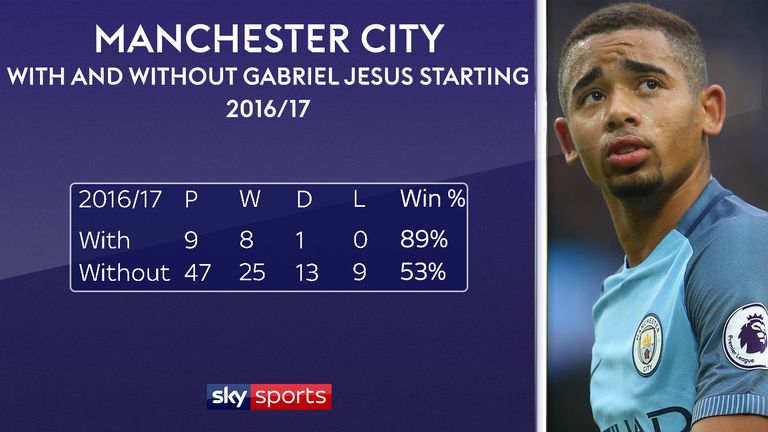 Guardiola now has options, and while there was no goal or assist for Jesus in City's 2-0 win over Brighton on the opening weekend, his livewire display at the Amex Stadium was further evidence of the important role he has to play in the season ahead.
"If [Guardiola] wants us to play together we can, as we have already shown," he told the Daily Mail this week. "But if he wants me to play up front alone, it's his decision. I just hope that any competition between us benefits the team, that it inspires both of us to score plenty of goals for City and leads to the club winning lots of matches and trophies."
Whatever happens next, the man Guardiola once described as the "future of the club" is certain to feature prominently. Manchester City supporters have much to look forward to this season, but seeing the full extent of Jesus' potential might prove to be the highlight.