Barcelona left behind? How Real Madrid became the superior side
By Guillem Balague, Adam Bate and Adam Smith
Last Updated: 21/08/17 2:32pm
The new La Liga season is underway - and for the first time in five years, Real Madrid are defending champions. And they seem favourite to repeat the title. 
The title race may have gone right down to the wire last season but, after Real Madrid's Spanish Super Cup success last week, it already feels as though there is a big gap opening up between Real Madrid and Barcelona.
Even the Barcelona players admit it. Consider what Gerard Pique had to say after his side's 5-1 aggregate defeat in the Super Cup.
"In the nine years that I have been here, it is the first time that I feel inferior to Real Madrid."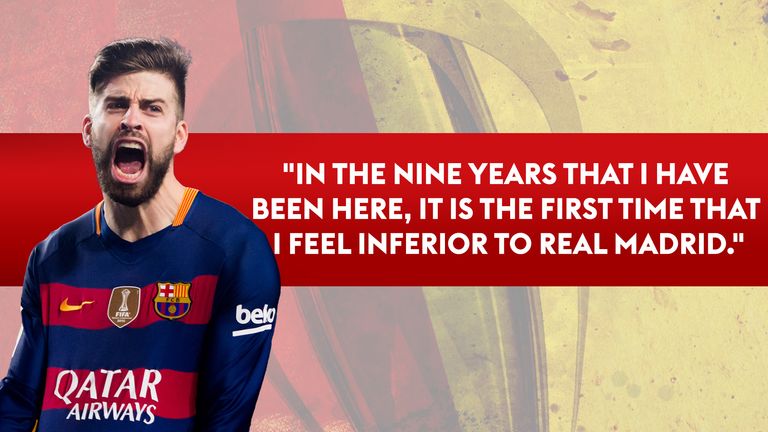 Of course, Real Madrid deserve great credit for their success. Winning three Champions League trophies in four seasons is a testament to their qualities. However, the feeling persists that Barcelona have played a big part in this La Liga power shift.
Look back to 2015 and Barca were the ones in a position of strength. They were champions of Europe having won the treble.
But that win over Juventus was Xavi's last game for the club and Pedro was sold in August despite them being unable to field any new signings until January. Aleix Vidal and Arda Turan did arrive but had to sit out until the winter break.
Last summer further money was spent on Andre Gomes, Samuel Umtiti, Lucas Digne, Jasper Cillessen and Paco Alcacer. Some have shown promise but none have truly taken the team forwards.
Real Madrid's 2015 business seemed unremarkable but has proven important.
Casemiro returned from Porto on loan. Lucas Vazquez was bought back from Espanyol for €1m. Marco Asensio - whose move from Mallorca went through that summer - was loaned out and returned a better player in 2016.
While Danilo and Alvaro Morata have since been bought and sold on, Real sensibly retained Isco and the result is that they have more options. The power of Casemiro, the thrust of Asensio and the creativity of Isco, as well as the passing of Luka Modric and Toni Kroos.
And that's all without mentioning the B-B-C.
This is important. Cristiano Ronaldo is still a key player at Real Madrid and he scored 25 goals in La Liga last season.
But the Super Cup success showed the team does not rely on him anywhere near as much as Barcelona rely on Lionel Messi.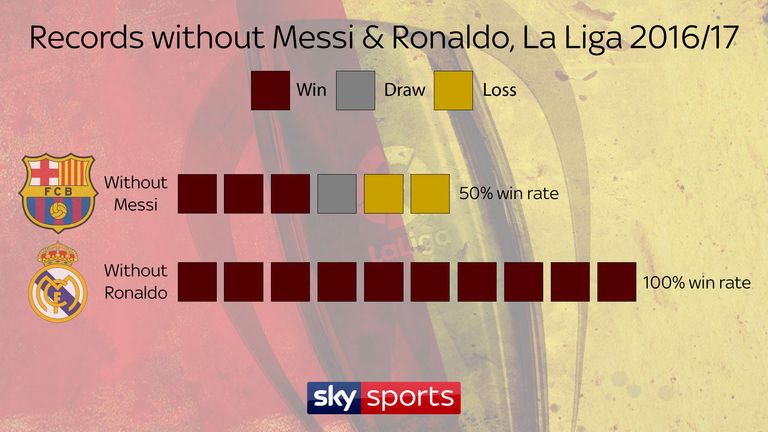 Messi was La Liga's top scorer last season with 37 goals. The problem is that the team does not function without him. Barcelona lost two of the six games they had to play without Messi. It cost them the title.
In contrast, Zinedine Zidane's Real Madrid won all nine of the matches they played without Ronaldo.
After losing to Real Madrid last week, Pique said the team must stay close together and keep moving forward. But are they really moving forward?
The team is getting progressively weaker defensively. Barcelona increasingly conceded more goals throughout Luis Enrique's three years in charge.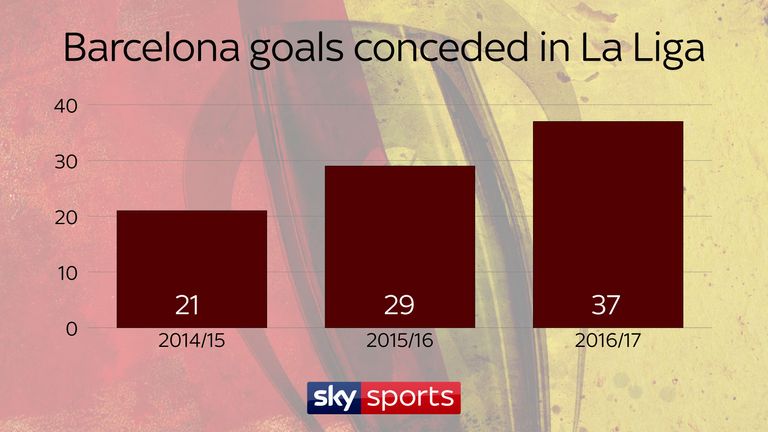 That's a worry - and something Ernesto Valverde has to address.
There are issues in midfield too. Andres Iniesta's injury problems suggest that not too much should be expected of him, but where is his successor?
La Masia has so often filled these gaps in the past but it is now Madrid's youth system that appears to be the more effective.
It was 10 seasons ago that Real Madrid last successfully defended La Liga and Zidane is looking to become the first coach to win back-to-back titles with the club since Leo Beenhakker in 1989.
Barcelona are going to have to improve - and fast - if they are to stop him doing it.