Gary Neville and Jamie Carragher explain Chelsea's win over Tottenham on Monday Night Football
Last Updated: 22/08/17 8:50am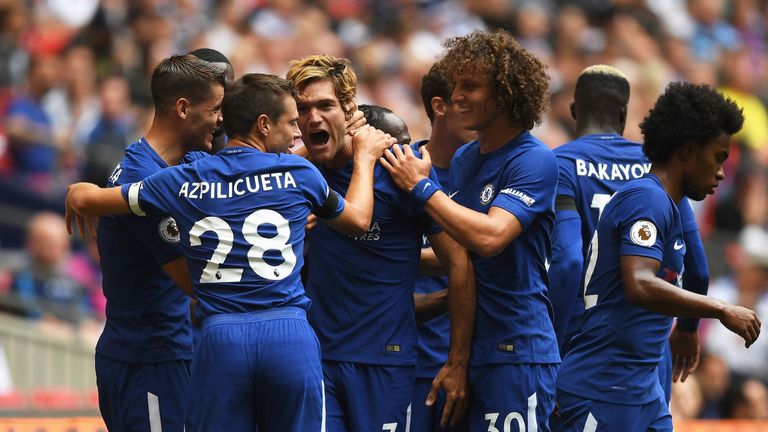 Monday Night Football experts Gary Neville and Jamie Carragher took an in-depth look at Chelsea's 2-1 victory over Tottenham.
And they explained how Antonio Conte's tactics surprised Tottenham in the first half - and how Mauricio Pochettino failed to respond after the break.
Marcos Alonso scored twice to earn the away side the win at Wembley, despite Michy Batshuayi's 82nd-minute own goal, but Neville said Chelsea's midfield shape was crucial to their success.
Spurs beat Chelsea 2-0 at White Hart Lane last season with Dele Alli scoring twice and Christian Eriksen proving influential - but they were able to nullify both of those midfielders on Sunday.
In the video below, Neville showed how the decision to play David Luiz in central midfield alongside N'Golo Kante and Tiemoue Bakayoko meant Alli and Eriksen were forced out of the game.
Carragher said that few would have expected Conte to employ those tactics - but he felt Pochettino should have responded by changing things at half-time.
In the video below, the Sky Sports expert showed how Chelsea's approach left them very narrow - and allowed Ben Davies and Kieran Trippier plenty of space on the flanks.
And he felt Spurs should have overloaded those areas more often than they did during the game.
But despite winning at the home of the team who finished second in the Premier League last season, Neville does not expect to see Conte use these tactics very often.
"I don't think they'll play like that every week," he added.
"That was, to me, designed for one opponent and one game. I'm not saying we won't ever see it again, but last season they had some pain with Alli and Eriksen and I think it was designed for a one-off.
"They were up against it, as well. He took a step back to go forward in that it was a defensive performance and they only had 32% possession.
"For me it wasn't the normal Chelsea team we are going to see every week in terms of style, but I have to say I think it was a good tactic for the day. It worked."