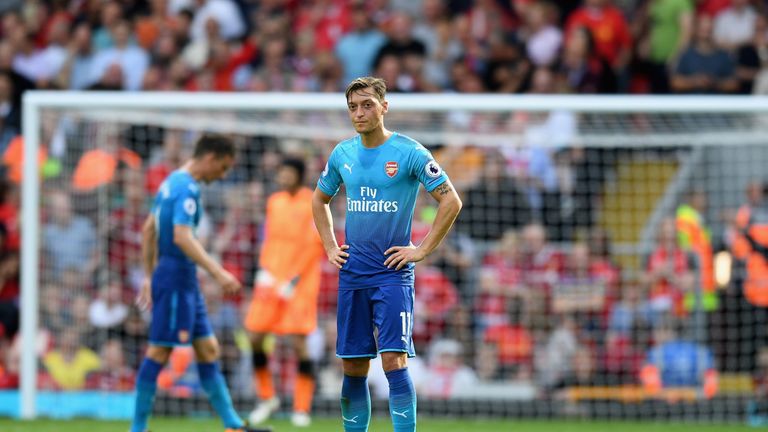 Mesut Ozil has apologised to Arsenal fans for the team's dismal showing during their 4-0 defeat to Liverpool.
Goals from Roberto Firmino, Sadio Mane, Mohamed Salah and Daniel Sturridge made it a miserable afternoon for the Gunners, who sit 16th in the table with eight goals conceded in three games.
Ozil was among a number of leading Arsenal players criticised for their lack of effort by Sky Sports pundit Gary Neville after the defeat and the German international felt compelled to apologise to Gunners fans on Sunday evening.
Ozil wrote on Instagram: "Blame us, shout at us, criticize us, but I'm also very disappointed about today's game. We wanted to achieve a positive result before the international break but we were simply not good enough during the 90 minutes and Liverpool deserved the win without a doubt.
"Usually I'm too angry to post on social media after such frustrating days like today, but I don't want to let this match go uncommented before traveling to the DFB Team.
"Nevertheless... Gunners, I'm sorry - especially for the fans who travelled all the way up to Liverpool to see us fighting. But we will try everything to improve in the next game and bounce back from the disappointment we are all feeling at the moment."
Goalkeeper Peter Cech admitted afterwards the players were guilty of a lack of effort during the defeat.
"It was quite simply unacceptable for the size of the club we are and for the team we have," Cech told Sky Sports.
"Obviously you can come and lose 4-0. It can happen when you fight and you are unlucky when the opponent is playing well and scoring every shot they have.
"Then it can happen but not like it happened today because the way it happened today is totally unacceptable.
"We were not fighting. We were not running enough. We were not winning any individual battles and as a team we completely failed to respond to their way of playing.
"That is disappointing but we have only ourselves to blame."