Barcelona's Javier Mascherano reveals reason behind his Liverpool departure
Javier Mascherano has spoken out about his Liverpool exit, claiming unfulfilled promises contributed to his departure.
Last Updated: 17/02/14 7:07pm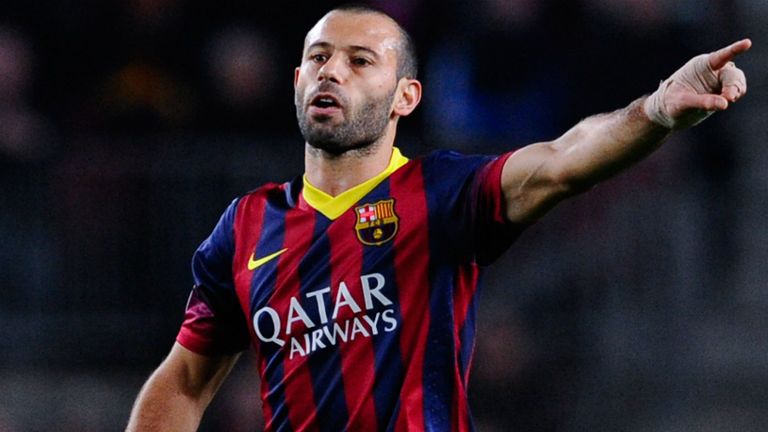 The defensive midfielder left Merseyside for Barcelona in 2010 after spending three years at the Premier League club.
However, following the departure of Rafael Benitez as Liverpool manager, Mascherano admits he struggled to establish a rapport with his successor Roy Hodgson and managing director Christian Purslow.
The nature of Mascherano's exit left his reputation among some of the Reds faithful tainted, but claims he was reluctant to share his version of events in the heat of the moment.
"I didn't want to say anything at the time because of my respect for Liverpool," he revealed in The Times.
"Maybe that was a mistake because it allowed other people to say bad things about me. But I do not regret it."
Mascherano acknowledged his admiration for Liverpool but claims life was made difficult for him when the interest of Barcelona became clear.
"Liverpool is a special club and it does not deserve to be treated badly," he said. "The people who were there at the time - the manager and Christian Purslow - have now gone but they know the truth.
"When I went back to Liverpool for pre-season I had a lot of meetings with them and they were promising a lot of thing to me but never kept their word."
Difficult
He added: "I did not wake up one day and refuse to play. In the game before [Manchester] City we played against Arsenal and I gave everything because I was wearing the Liverpool shirt.
"Why would I do that and risk getting injured when I knew that Barcelona were close to signing me and then refuse to play in another game? That doesn't make any sense.
"We had been talking about completing the transfer for 20 days because the club also wanted to make it happen, but then they started to make things difficult for me."
Mascherano admits he thoroughly enjoyed his time at Anfield and claims the bitter end to his time in England left a sour taste in his mouth.
"The people treated me really well and I would never want to let them down," he insisted. "I wanted to leave in another way, but they didn't give me the chance to.
"That is the truth. It left me with a bad feeling. My time at the club was over and I needed to move on, but I also needed to leave the club in a good way and that wasn't allowed to happen."
Mascherano will return to English shores on Tuesday as Barcelona visit the Etihad Stadium for one of the most eagerly-anticipated Champions League clashes of the season.
The Argentina international's compatriot, Sergio Aguero, is currently plying his trade with the Sky Blues but Mascherano admits his injury could give Barcelona the edge.
Advantage
"Sergio is a key player for them," he admitted. "He is one of the best strikers in the world and I do not want to say that it's good that he's injured, because he's my friend and I have a really good relationship with him.
"But if he doesn't play, it is an advantage for us, that is the truth. It will be better for us if he can miss these games and then get fit afterwards."
At Barcelona, Mascherano pays alongside another international colleague, Lionel Messi, who he claims is the best player he has ever seen.
"There are people who say Leo could not play against Stoke," he added. "Stoke City? That he cannot play in England? Leo can play anywhere, against anyone. How can anyone doubt that?"
"It's not because he is my friend. For me he is the best player I've seen in my life. I didn't see [Diego] Maradona, but of the ones I have seen Leo is definitely the best.
"The best player in the world can play anywhere because his talent and his quality are unbelievable, I don't think he wants to play in England, though."