Pep Guardiola: What will the Bayern Munich manager bring to the Premier League?
Last Updated: 29/01/16 4:03pm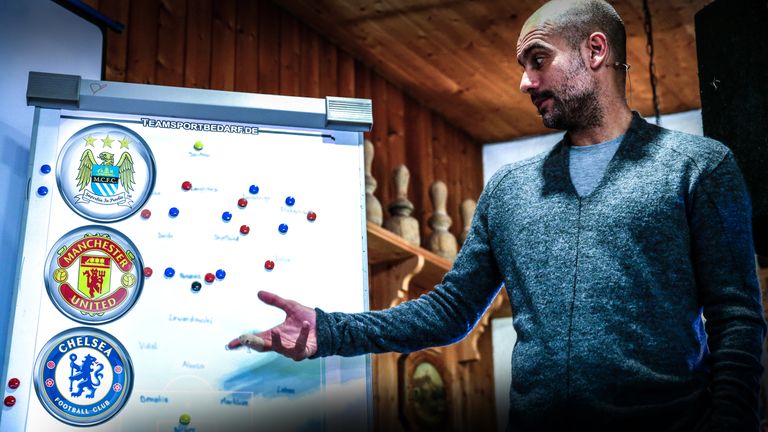 Pep Guardiola has won 19 trophies in six-and-a-half phenomenally successful seasons as manager of Barcelona and Bayern Munich, but how does he do it? Nick Wright examines his methods and looks at what he will bring to the Premier League…
In Marti Perarnau's Pep Confidential, a behind-the-scenes account of Pep Guardiola's first season at Bayern Munich, close confidant Manel Estiarte sums up the Catalan's obsessive approach to the job with what he calls 'the law of 32 minutes'.
"You invite him for a meal in a restaurant, hoping that he'll forget about football, but 32 minutes later you can see his mind is already wandering," explains Estiarte, who has worked on Guardiola's backroom staff at Barcelona and Bayern.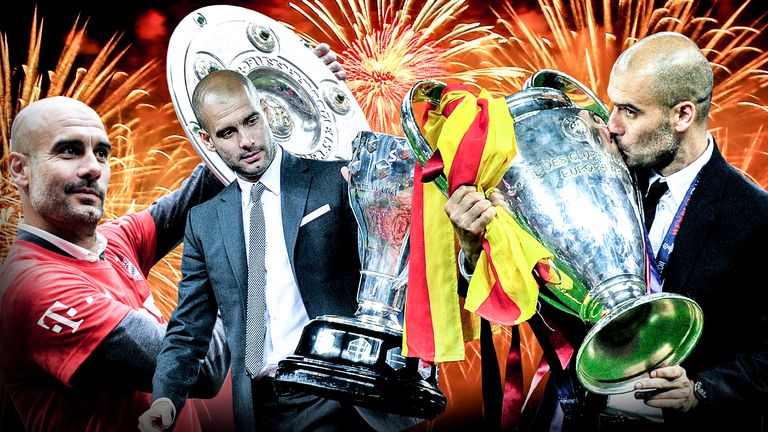 "He starts staring at the ceiling and, although he's nodding as if he's listening to you, he's not looking at you. In actual fact he's probably thinking about the opposition left-back, the marking scheme for the midfielder, how much the wingers can support the inside-forwards… The guy can only manage half an hour then he goes straight back to his mental contemplation."
Guardiola is a man driven by a constant pursuit of perfection. A man who, after winning consecutive Bundesliga games 8-0, 6-0 and 4-1 in February last season, said: "We must do better in attack". The meticulousness of his preparation is legendary, and his devotion to his work is such that he needed a whole year's sabbatical to recover from his astonishing, whirlwind spell in charge of Barcelona.
Pep's league record at Barcelona and Bayern Munich
| Club | Wins | Draws | Losses | Win % |
| --- | --- | --- | --- | --- |
| Barcelona | 116 | 25 | 11 | 76.32% |
| Bayern Munich | 69 | 8 | 8 | 81.81% |
"No matter the opponent, his preparation never changes and he will not rest for a second until all the variants have been dissected and assessed," writes Perarnau. "He has doubts. Pep always has doubts. He goes over everything a thousand times. How to attack opponents, his line-up, the instructions he needs to give individuals and the whole team."
Guardiola asks for the same dedication from his players. His former charges recall the sophistication, innovation and brutal intensity of his training sessions, and the 44-year-old's hyper-active demeanour on the touchline - where he barks orders, cajoles and incessantly tweaks his formations - mirrors the speed and constant movement he demands on the pitch.
Reports suggest a reunion with former Barcelona chiefs Txiki Begiristain and Ferran Soriano at Manchester City is most likely to be his next step, but Chelsea and Manchester United have also been mooted as possible destinations. So what would a Guardiola team look like in the Premier League?
One of his first objectives would be to instigate a fluid system like those of his Barcelona and Bayern sides to ensure domination of space and possession. On a recent edition of Monday Night Football, Sky Sports pundit Thierry Henry recalled Guardiola's strict approach at Barcelona, where he ordered his players to adhere to a rigid positional system before allowing "freedom" in the final third.
"He used to call it the three Ps: play, possession and position," said Henry, who joined Barcelona from Arsenal in 2007. "The most important one is position. You have to stay in your position and trust your team-mates that the ball will come to you.
"Sometimes in training, to make you understand that, he would put cones up until the last third. Guys who were supposed to play on the right are not allowed to cross to the left, and on the left you're not allowed to cross to the right. The last third was freedom for us, but if you don't do what he is asking you to do, you are going to be in trouble."
Pep's 19 trophies
3 La Ligas
2 Champions Leagues
2 Copa del Reys
3 Spanish Supercups
2 Bundesligas
1 German Cup
3 UEFA Super Cups
3 FIFA Club World Cups
Henry recalled a Champions League game against Sporting Lisbon in 2008, when he grew impatient at his isolation on the left flank and drifted across to be closer to Lionel Messi. "I could hear him being upset on the side, but I still went there, I didn't really care," said Henry. "I scored a goal, 1-0 up at Sporting Lisbon. I come back at half-time, all nice and everything… He took me off."
When Pep has a plan - respect his plan.
Thierry Henry
The lesson? "When Pep has a plan - respect his plan," added Henry. "He used to say to us the first time he took the team: 'My job is to bring you to the last third; your job is to finish it.'"
Ferocious pressing, direct, devastating attacking and a high defensive line come as standard in a Guardiola system, but he is not wedded to a particular formation and his tactical flexibility is unrivalled. Barcelona chiefly operated in 4-3-3 system but he has also used a 3-4-3 and dozens of other intricate variants.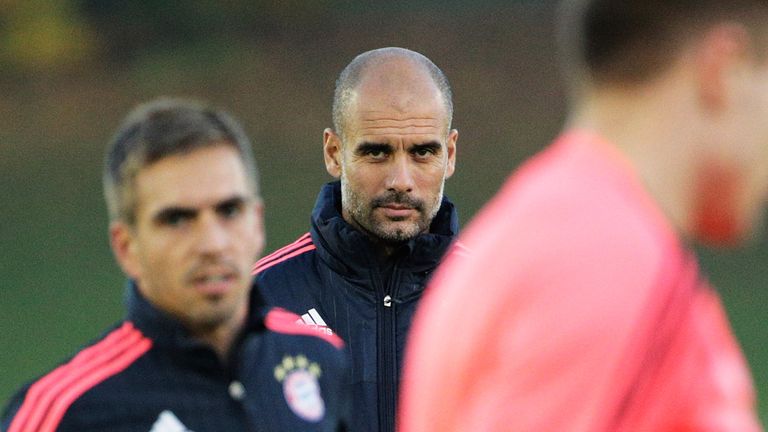 History suggests he would happily tailor his approach to the strengths of his new side in the Premier League. At Barcelona, the thrust of their attacking play was directed through the centre of the pitch to heighten the influence of Messi, Andres Iniesta, Xavi and Sergio Busquets, but at Bayern he completely changed it up, emphasising wing play to harness the brilliance of Franck Ribery and Arjen Robben.  
Former midfielder Guardiola treasures tactically intelligent players in his own image such as Busquets, Javier Mascherano and Philipp Lahm who can operate in a variety of positions. One of his greatest innovations was to use Messi as a false nine at Barcelona, and he has continued to surprise at Bayern, where, in their recent demolition of Arsenal, goalscorer David Alaba split his time between left-back and striker.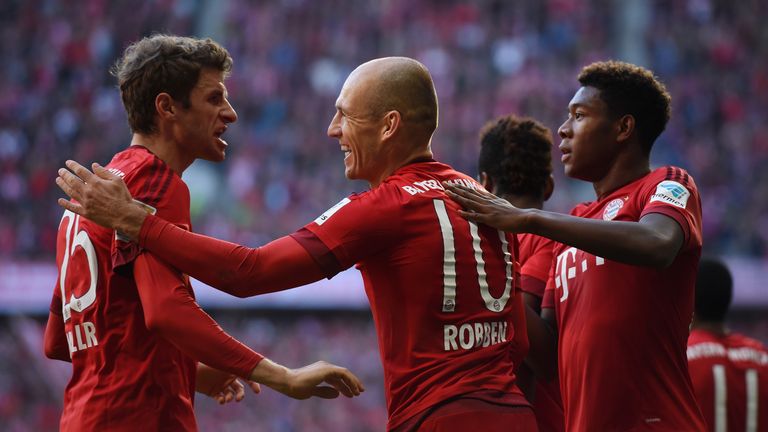 But while Guardiola is typically associated with thrilling attacking football, he ranks defensive organisation as the fundamental key to his philosophy. "This is one of his main characteristics," writes Perarnau. "Guardiola is no romantic idealist when it comes to football, nor is he an aesthete, as has been claimed. He is a single-minded pragmatist. Above all else, Pep wants to win."
Asked about the emphasis he puts on defensive coaching in training, Guardiola says: "Because it's absolutely essential if I want to attack a lot. Defensive organisation is the cornerstone of everything else I want to achieve in my football."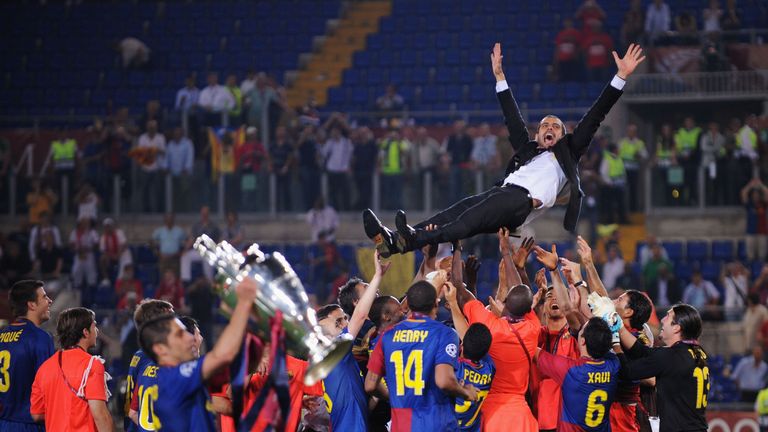 In that sense, Guardiola will have particular appeal to Manchester City, whose glaring defensive frailties this season have seen them ship more Premier League goals than any of their closest rivals. Another attribute to excite his suitors is a track-record for developing young players which dates back to his days in charge of Barcelona's B team.
The golden generation he nurtured at Barcelona was built around players he brought through the youth ranks himself, and in the Premier League he will meet one of that philosophy's finest products in Chelsea's Pedro. The diminutive winger did not stand out in La Masia, but with the unwavering faith and special attention of Guardiola, he upset the odds to become a crucial player.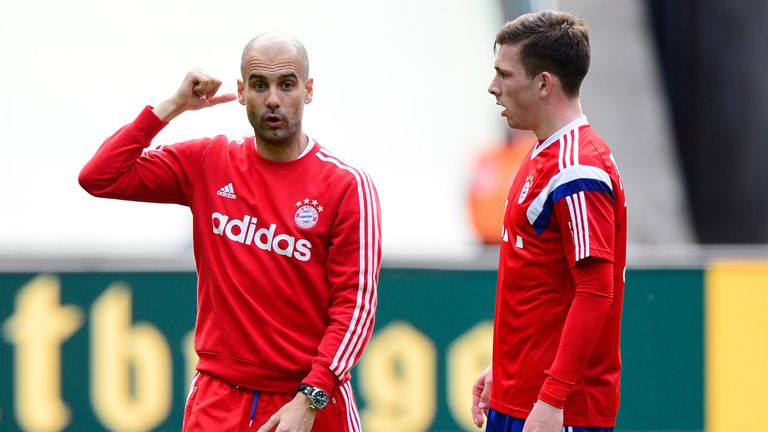 On the training pitches of Bayern's Säbener Strasse headquarters, he devoted hundreds of hours to the development of Danish midfielder Pierre Hojbjerg, and this season teenager Kingsley Coman and 20-year-old Joshua Kimmich have been ushered into the first-team since their arrivals in the summer. Manchester City, the owners of a gleaming new youth academy, would be eager for more of the same.
It is not difficult to imagine how well Guardiola will be received by a new squad of players in the Premier League. "It's an amazing feeling that someone of the calibre of Pep has so much confidence in [you]," recounts midfielder Thiago Alcantara, who followed him from Barcelona to Bayern, in Pep Confidential. "When the best coach in the world calls you, you don't have to think twice."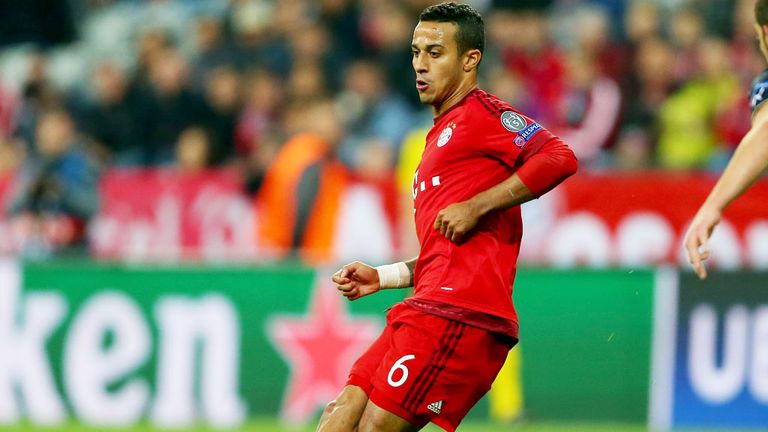 In his 2012 biography of Guardiola, Pep Guardiola: Another Way of Winning, author and Spanish football expert Guillem Balague describes a 30-minute presentation on Barcelona's pre-season trip to St Andrews in Scotland, where, shortly after their new manager's appointment in 2008, he outlined his vision for the club and immediately captivated the squad.
There would be many more team talks, but the one at St Andrews laid the foundations for the new era at FC Barcelona.
Guillem Balague
"The players sat in silence, listening to Pep as he paced the room, making eye contact with his listeners, showing a mastery of communication skills," writes Balague. "The squad, the group, were seduced. Upon leaving the room, Xavi commented to a team-mate that everything that they had needed to know was there in that talk. There would be many more team talks, but the one at St Andrews laid the foundations for the new era at FC Barcelona."
As of this summer, a new era will commence in the Premier League. And with Estiarte's 'law of 32 minutes' in mind, it's easy to imagine Guardiola's thoughts are already turning to the challenge ahead.