Thierry Henry, Graeme Souness and Jamie Carragher on substitution of Olivier Giroud
By Stephen Mills
Last Updated: 25/01/16 8:18am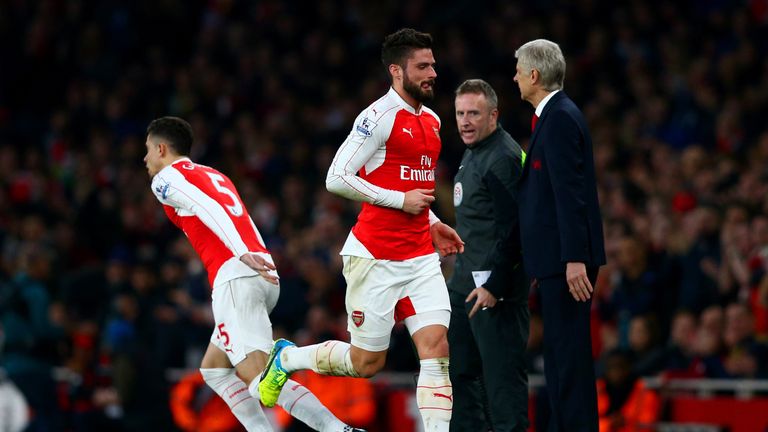 Did Arsene Wenger do the right thing by substituting Olivier Giroud just 22 minutes into the 1-0 defeat to Chelsea?
That was the topic debated by Sky Sports experts Thierry Henry, Graeme Souness and Jamie Carragher following Sunday's showdown at the Emirates Stadium.
The Arsenal boss was forced to make a big tactical decision when centre-back Per Mertesacker was sent off for a professional foul after 18 minutes - and he responded by taking off his French striker and throwing on Gabriel as an extra defender.
Giroud trudged off the field and some home supporters were visibly unimpressed by the call, but Wenger later insisted he wanted to leave Theo Walcott and Joel Campbell on the pitch "to have good pace on the counter-attack".
He said: "I made the decision and for me it was quite a normal decision. We needed pace to get from one goal to another. We knew we had to drop deeper and to use pace to get forward."
However, former Arsenal striker Henry felt he should have taken Campbell off and kept Giroud up front.
He told Super Sunday: "When Theo stayed and Olivier Giroud went off, we all thought it was because he wanted to go in behind and attack and be higher up the field on the counter.
"But I still think if you take Campbell out then you still have Giroud, you still have Theo on the right and Mesut Ozil on the left. You still have good organisation and you have both guys [Walcott and Giroud] on the field.
"It's easy to talk when you're here [in the studio] watching the game with no pressure. You have to take a decision in 15 seconds, but I think you could have had the two guys staying on the field."
Giroud reportedly took a minor knock in training on Saturday, but Sky Sports pundit Carragher believes he could still have provided a threat from set pieces as Arsenal battled for 70 minutes with 10 men.
"It's not an easy one," he said. "You've got to make a split decision, but if you leave those players on you get a little bit of everything.
"You get the pace, you've got Ozil who can maybe thread passes and Giroud who gives you a presence.
"It's ok saying how you're going to score a goal, but you expect Chelsea to keep the ball and if you win it you have the pace of Walcott - but set-pieces are a massive thing when you're down to 10 men, I feel.
"That's your chance where the game maybe becomes 50-50 and it would have been better to keep Giroud on."
However, fellow Sky Sports expert Souness felt Wenger made the right decision
"It's easy to be clever afterwards," he said.
"I would go with Arsene because I think Kurt Zouma and John Terry enjoy playing against a big, strong man. They don't want to be taken on by someone who is electric.
"It's easy to sit here now and say 'maybe he shouldn't have done that', but I think it was the right thing to do."