Leicester could win Premier League on April 24 if results repeated from earlier this season
By Peter Smith
Last Updated: 22/03/16 12:58pm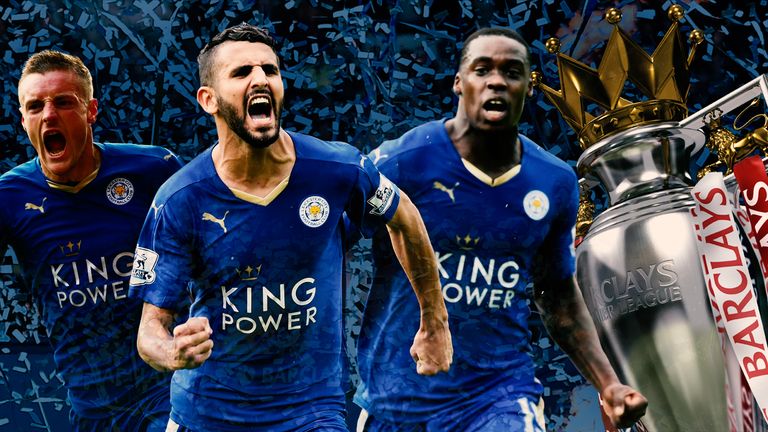 Leicester could be crowned Premier League champions with three games to spare, if the teams in the title race repeat their results against their remaining opponents from earlier this season.
Claudio Ranieri's side are currently five points clear at the top of the Premier League with seven games to play, with Tottenham in second. Arsenal and Manchester City both have a game in hand on the top two, but are 11 and 15 points adrift, respectively.
That means Leicester's home game with Swansea on Super Sunday on April 24 could be an historic moment for the Foxes.
Next up for Leicester are Southampton, followed by Sunderland and West Ham. Earlier this season, they took seven points from those opponents. A repeat would move them on to 73 points, with four to play.
However, Tottenham managed just two draws and a defeat against their next three opponents - Liverpool, Manchester United and Stoke. 
Remaining fixtures - and previous results
| Leicester | Tottenham | Arsenal | Man City |
| --- | --- | --- | --- |
| Southampton (D) | Liverpool (D) | Watford (W) | Bournemouth (W) |
| Sunderland (W) | Man Utd (L) | West Ham (L) | West Brom (W) |
| West Ham (W) | Stoke (D) | Crystal Palace (W) | Chelsea (W) |
| | | West Brom (L) | Newcastle (W) |
| Swansea (W) | West Brom (D) | Sunderland (W) | Stoke (L) |
| Man Utd (D) | Chelsea (D) | Norwich (D) | Southampton (W) |
| Everton (W) | Southampton (W) | Man City (W) | Arsenal (L) |
| Chelsea (W) | Newcastle (L) | Aston Villa (W) | Swansea (W) |
Arsenal and Man City will have played their game in hand by that point, and previously took six and 12 points from their next four opponents.
That means Leicester would go into Matchday 35 10 points clear of Manchester City and Tottenham, with Arsenal 12 points back - with 12 points left to play for.
That weekend, Man City, Arsenal and Leicester all play on the Sunday, before Tottenham host West Brom on Monday Night Football.
Earliest Leicester could win the league?
The earliest Leicester could win the league is Thursday 21 April. For that to happen they would need to win their next three and see Tottenham lose their next three and Arsenal and Man City lose their next four.
City play at midday at home to Stoke, who they lost to earlier this season. A repeat would mean they remain on 63 points, with three to play - and unable to overturn their deficit on Leicester, regardless of the Foxes' result later that afternoon. 
Arsenal then visit Sunderland at 2.05pm. The Gunners won the reverse fixture and a recurrence would take them to 64 points. Technically they could still match Leicester's points total and win the league on goal difference - if Leicester lose all of their remaining games.
But Leicester then host Swansea at 4.15pm and if they replicate December's 3-0 win over the Swans, Ranieri's side would move to 76 points. Tottenham would be 13 adrift with four to play at that point, meaning Leicester could celebrate at the final whistle.
How it would stand after 35 games if results repeated
| Team | Games played | Points | Goal difference |
| --- | --- | --- | --- |
| Leicester (c) | 35 | 76 | +31 |
| Tottenham | 35 | 64 | +32 |
| Arsenal | 35 | 64 | +24 |
| Man City | 35 | 63 | +35 |
Spurs drew with West Brom earlier this season and another 1-1 would leave Mauricio Pochettino's men on 64 points with three to play. Spurs took just four points from their final three opponents in the reverse fixtures - Chelsea, Southampton and Newcastle - and a similar outcome would leave them on just 68 points.
That would only be good enough for fourth come the end of the season, should all results be repeated, with Leicester champions on 83 points, 12 points clear of Arsenal (71), with Man City (69) finishing ahead of Tottenham (68).
At the other end of the table, Norwich would just survive, thanks to a superior goal difference to Newcastle, who would join Sunderland and Aston Villa in being relegated.