Ref Watch: Dermot Gallagher's verdict on volatile Chelsea v Tottenham derby
By Andrew Dickson
Last Updated: 03/05/16 9:49pm
Dermot Gallagher believes at least one player should have been sent off as Tottenham's title hopes slipped away at Chelsea.
Mauricio Pochettino's team set a new Premier League record as they had nine players cautioned by referee Mark Clattenburg in the fractious 2-2 draw on Monday Night Football.
Gallagher, a top-flight referee for 15 years, says Eric Dier should have been dismissed for his lunge on Cesc Fabregas late in the game, but feels others - including an apparent eye-gouge by Mousa Dembele on Diego Costa - could be subjects of retrospective punishments in the days ahead.
Gallagher said: "There should certainly have been one (red card) and Dier, for me, is the one that stands out. Other incidents I would refer to the FA. It would be up to them to look at the incidents subsequently."
Tottenham are already due to be fined £25,000 for receiving six bookings or more in a single match and further ramifications are expected following the match.
Gallagher joined Rob Wotton and Rachel Wyse on Sky Sports Now for a Ref Watch special to go through all the contentious incidents from Stamford Bridge...
INCIDENT: Cesc Fabregas appears to kick out at Mousa Dembele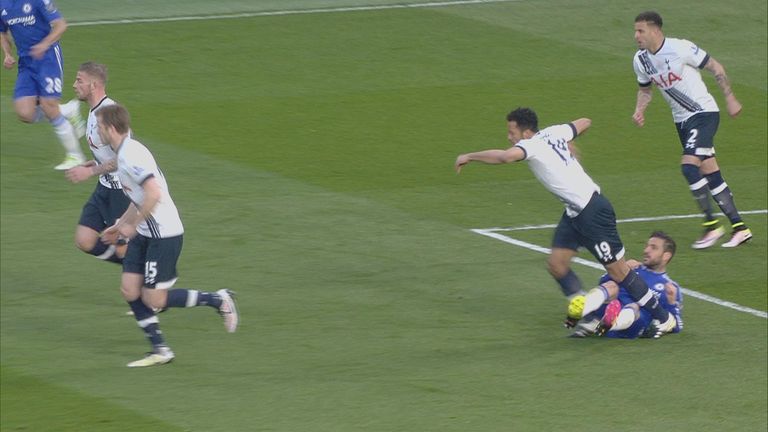 SCENARIO: Chelsea are attacking and Fabregas plays a one-two with Diego Costa. After receiving the return pass, Tottenham defender Toby Alderweireld intercepts and clears, with Fabregas falling to the ground. He becomes trapped under Dembele, who steps over him and runs upfield. Fabregas flicks out his right foot and aims a kick at Dembele but does not make contact and no action is taken.
GALLAGHER SAYS: "It's a petty thing that Mark didn't see. I think it's interesting - when you look back on this game, I don't think any Premier League referee will have a tougher match in the next 24 years. I think that's the toughest game I've seen in the last 24 for a referee. It was a tough, tough test. The referee realised the stakes, the emotions and everything. I think he's tried to referee the occasion, stand back and let the players play the game. He's at the behest of the players and they didn't buy in to what he wanted to do and that's why he had to come in really tough at the end. To come out with 12 yellow cards at the end of the match is really extraordinary."
INCIDENT: Kyle Walker appears to kick out at Pedro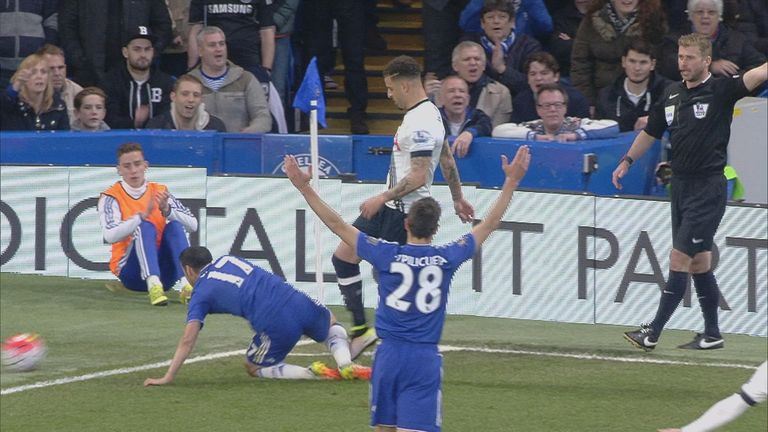 SCENARIO: Tottenham are attacking and Pedro manages to get himself between Walker and the ball. With the players positioned a few yards up the touchline from the goal line, the former Barcelona player tries to shield the ball out for a goal kick but is bundled over by Walker before it gets that far. The assistant referee flags for a free kick to Chelsea and it is awarded, with Walker then kicking Pedro's right ankle in frustration before turning and retreating back downfield.
GALLAGHER SAYS: "This is the same as before. It's a show of such petulance. You look back at when David Beckham was sent off for a petulant kick at Diego Simeone and everybody said: 'Was it worth that?' I think on this occasion, the referee has tried to reason with the players and asked them to calm down. What he didn't want to do was go too heavy and end up with three or four yellow cards early, then end up having two red cards before half-time where we're saying it's a big showpiece game and the referee has ruined it because we're now playing without 11 against 11."
INCIDENT: Diego Costa clashes with Jan Vertonghen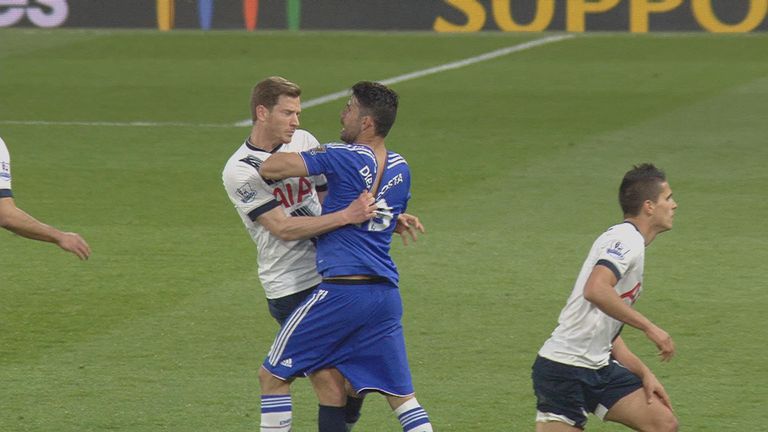 SCENARIO: Costa receives a pass from midfield on the halfway line as Chelsea attack and quickly has Vertonghen challenging behind him, using his arms for leverage and grabbing the striker on his left arm and right shoulder. Costa played a pass out wide looking for Willian which deflects away for a Chelsea throw, then the Spaniard immediately reacts to Vertonghen by pushing his arm into him, motioning his head towards his opponent then protesting to the referee that his shirt was being pulled.
GALLAGHER SAYS: "Again, he (Clattenburg) has tried to deal with it. He's seen the shirt pull and could easily have given both players a yellow card for the pulling back or the reaction but we look at things in isolation. At this point in the game, it is really starting to bubble up and the referee has to be careful he's picking up the right challenges, the ones that really are reckless and are dangerous and using excessive force rather than the ones that are petulant. There were a lot of petulant, niggly fouls in this game and if he set his tolerance level too low, we wouldn't be looking at 12 yellow cards - we'd be looking at more."
INCIDENT: Danny Rose clashes with Willian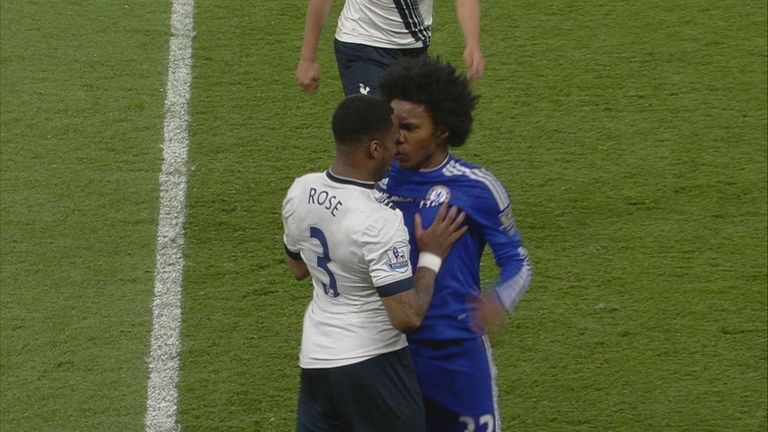 SCENARIO: Chelsea are attacking on the right flank and Willian receives a pass before trying to cut back inside with the ball. Rose closes him down strongly and appears to take the Chelsea player out with his left arm. Willian falls to the ground but immediately gets up and goes towards Rose, who pushes him in the chest. Willian responds by pushing him back, then Tottenham manager Mauricio Pochettino steps on to the pitch and pushes the two players apart, something which sparks a mass brawl with players from both sides pushing and shoving.
GALLAGHER SAYS: "There comes a turning point, doesn't there? When you play football, you have a game plan and if the game plan isn't working, you have to alter it. There was a turning point in this game where the referee had set out to try to deal with things without yellow cards but there came a point where he realised the players weren't allowing him to do that and this was it."
INCIDENT: Mousa Dembele appears to gouge Diego Costa's eye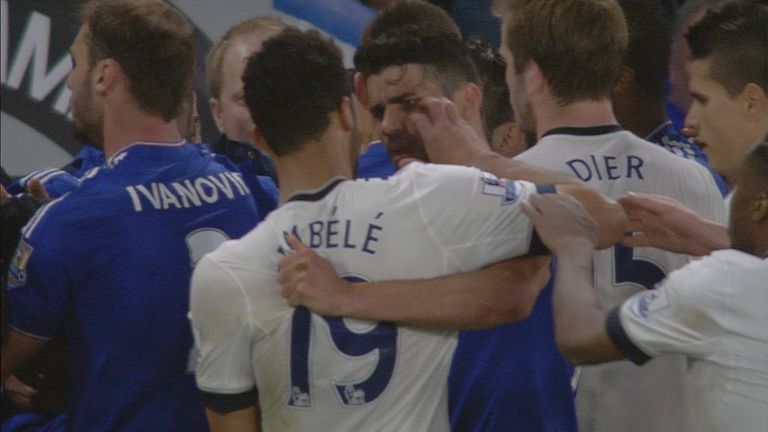 SCENARIO: In the aftermath of the collision between Rose and Willian, several players and officials from both sides are pushing each other. Dembele and Costa come together and each has an arm around the other's waist, before Dembele then reaches up and appears to reach towards Costa's eye. The incident happens in front of assistant referee Simon Beck but no action is taken against Dembele.
GALLAGHER SAYS: "The assistant is there to see who is the aggressor. The interesting thing with retrospective action is for an action unseen by any of the four match officials. If the FA ask if any of them saw it and they say yes, they can't take action. What you would like to consider is if he had seen that, he is duty bound to flag that up to the referee.
"We have to think he has looked to see who has come a long way, who has been the instigator, who has got involved and who is being aggressive and who is being a peacemaker. In a lot of those instances there, the person might appear in a still photo to be pushing and shoving but he's actually trying to stop things. Simon Beck has gone there to take up that position but we don't really know what he has seen. It's only when the FA speaks to him that what he saw will come out."
INCIDENT: Diego Costa and Kyle Walker clash
SCENARIO: Chelsea are attacking on the left flank with Costa in possession and he uses good upper body strength to cut into the penalty area under severe pressure from Walker, who is being equally physical. Walker does enough to stop Costa from taking the ball any further and the two fall over, tangling with each other for a few seconds on the ground before getting back up. Clattenburg specifically hangs back to keep observing the incident from close range before choosing not to take any action.
GALLAGHER SAYS: "I think the referee is so close that he's the best judge of this. He was what? Six or seven yards away? That's one thing the referee did - any incident that happened, he was right there and you can see from the way he has walked away, it would imply he didn't feel any action was needed. I don't think that was a particularly nasty one."
INCIDENT: Erik Lamela appears to stand on Cesc Fabregas' hand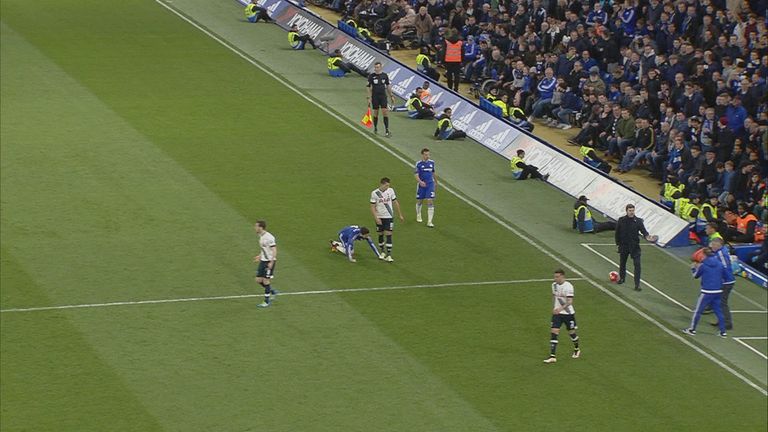 SCENARIO: Fabregas is down on his hands and knees in front of the Tottenham technical area when Lamela - already on a yellow card by this point - appears to stand on the Spaniard's hand. Fabregas reacts by writhing in obvious pain, with Lamela turning and looking intolerant at the way he has acted.
GALLAGHER SAYS: "The pictures are quite damning, aren't they? We can all see what has happened. The interesting thing is that when you see it again, Simon Beck - the assistant referee - is looking straight through the incident and he hasn't picked it up. At the point when Mark Clattenburg went over to ask him, if he says he hasn't seen it, then that's a possible case the FA can refer to. If he says he has seen it, again it's case closed. What I would say is if he has seen it, you would expect him to flag it up to the referee and for the referee to act upon it."
INCIDENT: Eric Dier is booked for fouling Eden Hazard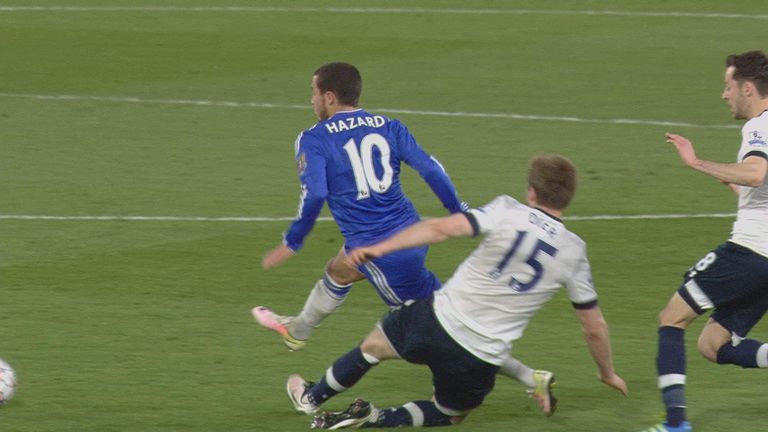 SCENARIO: Hazard is trying to make progress across the field from left to right and Dier comes across him, timing his tackle badly and taking the Belgian out with his left foot. Clattenburg issues a yellow card to the Tottenham player.
GALLAGHER SAYS: "I think it is a yellow card. A lot of people have said to me it's more than that but when you see it again, it's a yellow card. It was reckless but nothing more."
INCIDENT: Eric Dier avoids a booking for his tackle on Cesc Fabregas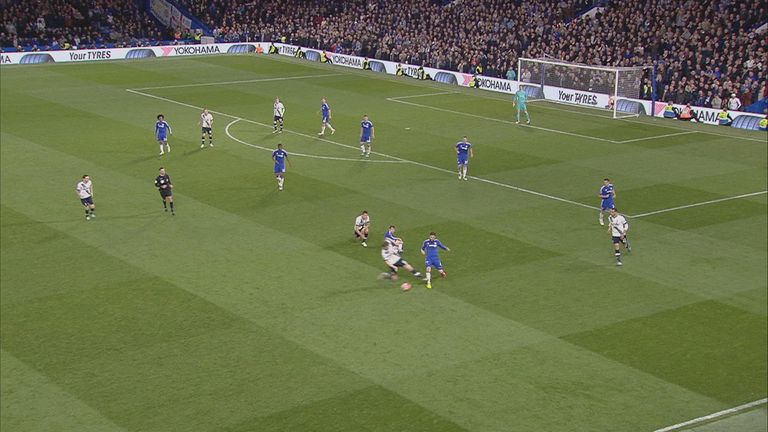 SCENARIO: Lamela loses possession and a loose ball breaks with Fabregas and Dier both pursuing it. Fabregas gets a touch on it first and plays a pass towards Hazard, before Dier comes in and tackles with his left foot, connecting with Fabregas' right ankle after the ball has been played. Clattenburg waves play on to allow Chelsea the advantage they have in possession and Ryan Mason takes Hazard out, earning himself a booking.
GALLAGHER SAYS: "You can't defend Dier here. I really don't know what was on the referee's mind here because this is the one decision of the night I can't understand. It's such a bad tackle and the referee is looking straight at it but he chooses to play on. I think that's very unwise and he (Dier) could easily have got a red card for that. The fact he's already got a yellow card means he's going to get sent off but it doesn't happen. The referee plays the advantage but if you're going to send somebody off, just stop the game because if you do that, that's the end of it. If you play on, you then have the subsequent act, another yellow card and possibly a red too. It could all have been put to bed early on. The mantra of the referee and how we're taught is if you see an offence where a player's going to be dismissed from the field, just blow your whistle because then there is no argument whatsoever. Why stop play to send off two players when you can stop it in the first place and send off one?  When the referee plays an advantage, there's only one person taking a risk and that's the referee."
INCIDENT: Players and staff from both teams clash approaching the tunnel after the full-time whistle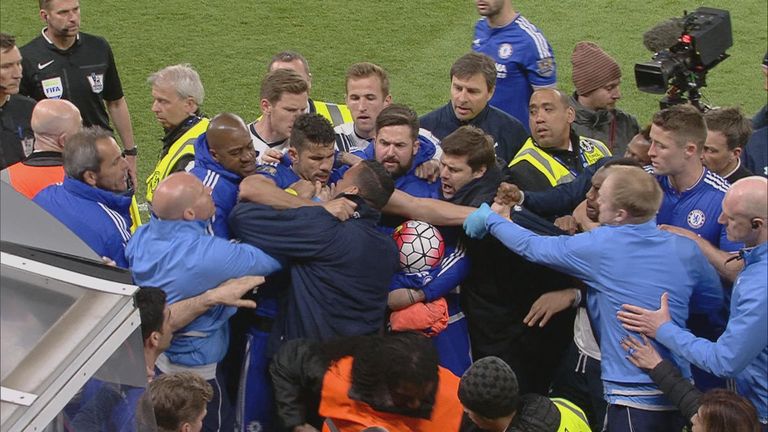 SCENARIO: As players from both sides leave the pitch, a mass fight breaks out. A number of figures including Tottenham manager Pochettino, left-back Rose and Chelsea's Costa are caught up in it. Chelsea manager Guus Hiddink - trying to act as a peacemaker and get his players off the pitch - is also pushed backwards and falls down a couple of stairs.
GALLAGHER SAYS: "The referee's jurisdiction still applies here, definitely, and if you watch the pictures, he's at the back monitoring and his assistants are doing the same. What they're doing is keeping an eye so they can make their own notes and then once they were back in the dressing room, they will have discussed what they saw. The big thing here is to say 'I've seen this and I've seen that but you must look at the DVD to see what I can't see.' There's a fair chance none of the match officials will know who pushed Hiddink or what happened in that situation because they could only see the people at the back."