Manchester United to finish fourth in Premier League, says Sky Sports Premier Predictor
By Harry Carr
Last Updated: 19/04/17 10:21pm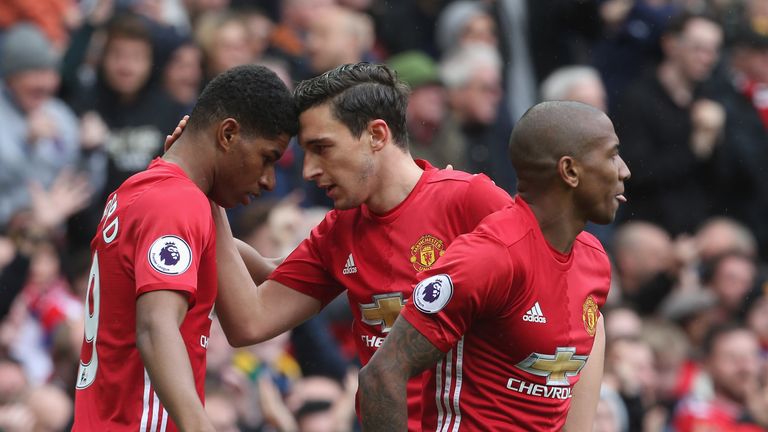 Manchester United are back in form - and the Sky Sports Premier Predictor is tipping them to finish the season fourth, ahead of their neighbours Manchester City.
Jose Mourinho's men have spent much of the season outside of the Champions League qualifying spots but their 2-0 win over Chelsea on Sunday, which extended their unbeaten run to 22 games, has boosted their top-four chances.
United travel to Burnley this weekend - where they have a 57 per cent chance of winning, according to the Predictor - before taking on City at the Etihad next Thursday.
The Sky Sports Premier Predictor - which uses an algorithm to rank results, previous performances and the difficulty of upcoming fixtures - reckons United have a 67 per cent chance of finishing in the top four. City's hopes stand at 45 per cent.
Chelsea remain big favourites to win the league, despite that loss to United. The Predictor says they are 90 per cent sure to win the title, with second-placed Tottenham at 10 per cent.
At the other end of the table, Swansea (67 per cent), Middlesbrough (95 per cent) and Sunderland (98 per cent) are expected to be relegated.
Sky Sports Premier Predictor - % chance of Premier League finishing position
| Team | Winner | Top 4 | Relegated | Avge simulated points |
| --- | --- | --- | --- | --- |
| Chelsea | 90% | >99% | <1% | 86 |
| Tottenham | 10% | 99% | <1% | 80 |
| Liverpool | <1% | 83% | <1% | 75 |
| Man Utd | <1% | 67% | <1% | 74 |
| Man City | <1% | 45% | <1% | 73 |
| Arsenal | <1% | 4% | <1% | 67 |
| Everton | <1% | <1% | <1% | 66 |
| West Brom | <1% | <1% | <1% | 51 |
| Watford | <1% | <1% | <1% | 46 |
| Southampton | <1% | <1% | <1% | 48 |
| Stoke | <1% | <1% | 1% | 47 |
| Leicester | <1% | <1% | <1% | 44 |
| West Ham | <1% | <1% | <1% | 43 |
| Burnley | <1% | <1% | <1% | 42 |
| Crystal Palace | <1% | <1% | 2% | 41 |
| Bournemouth | <1% | <1% | 1% | 41 |
| Hull City | <1% | <1% | 37% | 35 |
| Swansea City | <1% | <1% | 67% | 34 |
| Middlesbrough | <1% | <1% | 95% | 30 |
| Sunderland | <1% | <1% | 98% | 28 |
Predicted results
| Home team | Away team | Home win % | Away win % | Draw % |
| --- | --- | --- | --- | --- |
| Bournemouth | Middlesbrough | 46% | 24% | 29% |
| Burnley | Man Utd | 20% | 57% | 23% |
| Hull | Watford | 33% | 37% | 30% |
| Liverpool | Crystal Palace | 78% | 8% | 14% |
| Swansea | Stoke | 33% | 37% | 30% |
| West Ham | Everton | 22% | 53% | 25% |