Manchester United 1-0 Sheffield United: Another Old Trafford ordeal for Louis van Gaal and his team
Last Updated: 10/01/16 1:04pm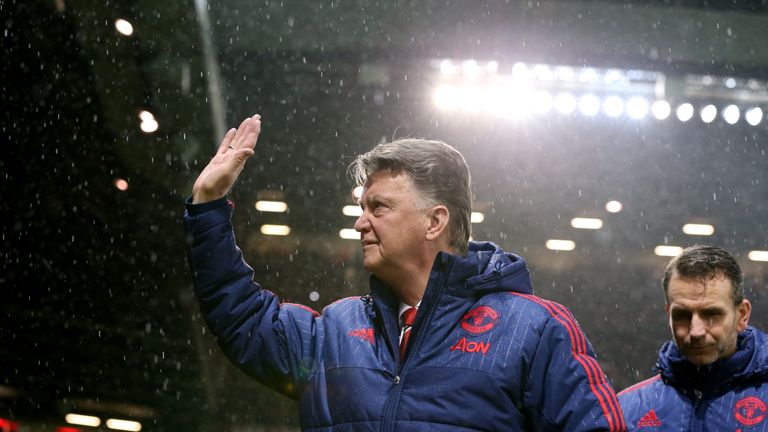 Manchester United progressed to the fourth round of the FA Cup thanks to Wayne Rooney's stoppage-time penalty breaking the deadlock against League One side Sheffield United. But patience for Louis van Gaal's methods is wearing thin after the team's latest Old Trafford ordeal, writes Adam Bate.
Louis van Gaal trudged from the pitch and afforded himself a sheepish wave. Perhaps he was able to filter out the jeers and gestures, preferring to focus on the polite applause instead. But there can be no mistaking that this was another game for Manchester United fans to endure rather than enjoy.
For the tenth consecutive home fixture, the Old Trafford crowd did not see their side score in the first half. United struggled to break down their third-tier opponents Sheffield United so badly that every shot from the home side - and there weren't many - was greeted with sarcastic cheers.
Of course, there can be some comfort in the fact that United are seldom conceding at the other end either. They've let in only six in 17 games at Old Trafford this season. But the Theatre of Dreams was supposed to allude to fantasy rather than sleepiness.
Old Trafford half-time scores
| Date | Teams | Half-time scoreline |
| --- | --- | --- |
| Oct 25 | Man Utd v Man City | 0-0 |
| Oct 28 | Man Utd v Middlesbrough | 0-0 |
| Nov 3 | Man Utd v CSKA Moscow | 0-0 |
| Nov 7 | Man Utd v West Brom | 0-0 |
| Nov 25 | Man Utd v PSV Eindhoven | 0-0 |
| Dec 5 | Man Utd v West Ham | 0-0 |
| Dec 19 | Man Utd v Norwich | 0-1 |
| Dec 28 | Man Utd v Chelsea | 0-0 |
| Jan 2 | Man Utd v Swansea | 0-0 |
| Jan 9 | Man Utd v Sheff Utd | 0-0 |
There is a distinct sense of discomfort in the knowledge that the famous old ground is becoming synonymous with some of the dullest football in the country right now, and yet there are no signs that the manager is of a mind to change his approach.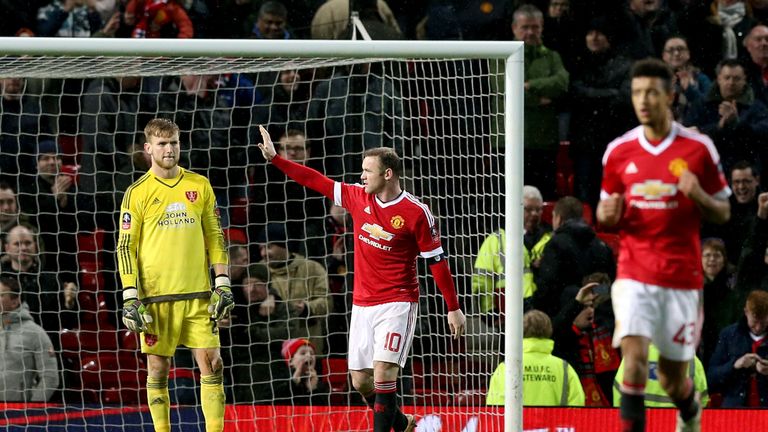 Against Sheffield United, the problems were as predictable as the passing. Van Gaal has spoken at length of his desire to automate the process - for players to know where to pass - but it seems equally apparent that all too often the opponents are aware of where the ball is going too.
Blades boss Nigel Adkins had clearly drilled his team to keep it tight, defend the perimeter of the box and force the ball wide - if 'force' is the right word when the home side were so complicit. Bastian Schweinsteiger played 100 passes without one of them creating a chance.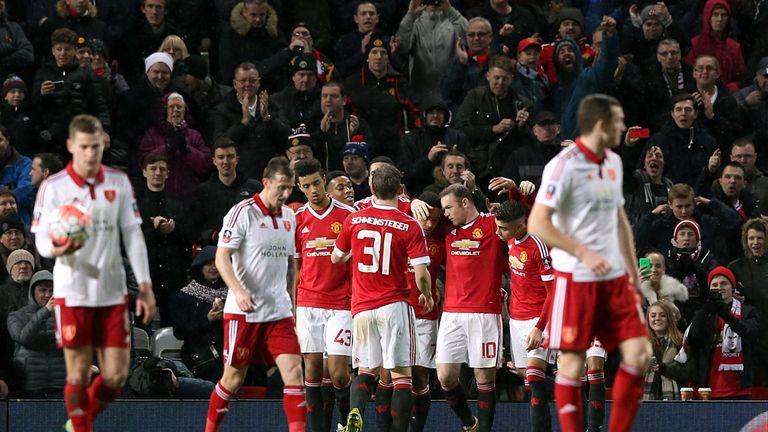 Sheffield United's plan worked until Dean Hammond panicked in stoppage time. Memphis Depay, looking all the better for failing to fully assimilate to the Van Gaal way, induced the error, and Wayne Rooney fired in the resultant spot-kick. The subsequent celebrations didn't quite match the mood.
Of course, the increasingly nostalgic memories of the fast-paced attacking game for which Sir Alex Ferguson's sides were famous, shouldn't mask that these days did come back then too. Indeed, there were goalless draws with Exeter and Burton in back-to-back seasons in the FA Cup under Ferguson.
Perhaps the difference is that Saul Deeney had to pull off the save of his career to earn Burton a draw, while Exeter goalkeeper Paul Jones was voted player of the round for his efforts in keeping out shots from the likes of Paul Scholes and Cristiano Ronaldo.
Against Sheffield United on Saturday, the first shot on target didn't come until after 67 minutes - and that was by Blades midfielder Chris Basham. Matteo Darmian's poked effort goalwards was the only shot on target from the home side prior to Rooney's penalty. It was turgid stuff
Van Gaal might have got the win in the end but whether he can point to one-goal wins over Swansea and Sheffield United as evidence of a team moving in the right direction is questionable. The eight-game winless streak prior to that, one which the Dutchman has since admitted was "terrible", still hangs over this side.
With trips to Newcastle and Liverpool coming up, this was not a display to instil confidence. Only the result offers United something to cling to. Although there is an even more dismal thought. For their fans, there's the small comfort that it's another fortnight until the next Old Trafford ordeal.