Chelsea's Willian reveals his free-kick heroes and secrets to his success
By James Walker-Roberts
Last Updated: 10/02/16 4:56pm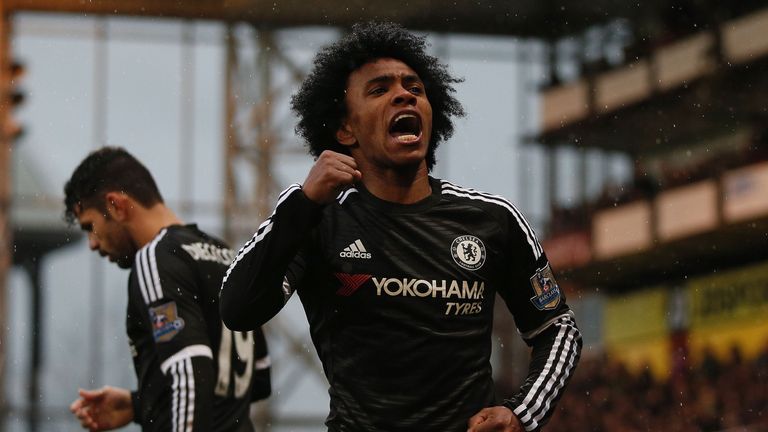 Chelsea midfielder Willian has revealed the secrets to his free-kick success and the players whose techniques he has learnt from.
The Brazilian has been one of the shining lights for Chelsea in their disappointing season, scoring eight goals in all competitions, seven of which have come directly from free-kicks.
"There are some players I always watched, various players who I knew hit the ball well," he told UEFA's official website.
"Ronaldinho and David Beckham, they took free-kicks and took them very well, so there are some players I always try to follow and to learn important things from so that I am able to score goals."
Willian, who joined Chelsea in 2013 from Anzhi Makhachkala, also explained that practice has been integral to his success.
"It's an important thing to practice," he said. "Training is always important. Not to train too much, but during the day, take four or five shots here and there. That helps you quite a lot in a real match and gives you the chance to score.
"When the time comes in a match it's about concentration, watching the goalkeeper as well, and looking at the posture of the goalkeeper, trying to hit it right."
Willian and Chelsea will be in Champions League action again next week when they travel to Paris Saint-Germain for the first leg of their last-16 tie.
The French side beat Chelsea at the same stage last year after a 2-2 extra-time draw at Stamford Bridge.
"Without a doubt it will be another great match, another great challenge, another battle for us," said Willian. "People know how difficult it is to play against them, but this year we hope it will be different and Chelsea can go further in the competition.
"We'll need determination on the pitch to achieve this, we know what we want, we want to win.
"I'm very happy with what I've been doing. I hope to be able to do more for the team and to continue helping Chelsea with more goals and more wins. I try not to feel satisfied, I always try to evolve and play better."