Thibaut Courtois interview: Chelsea man on Antonio Conte's 3-4-3 and becoming a ball-playing goalkeeper
By Adam Bate
Last Updated: 03/12/16 7:55am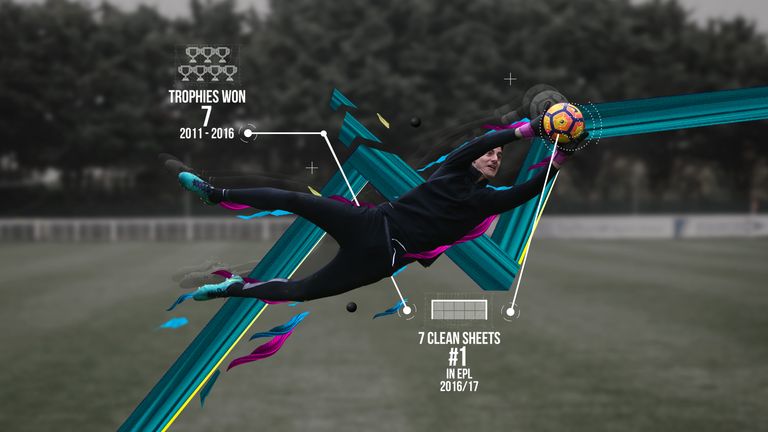 He's kept more clean sheets than any other goalkeeper this season and is looking for a fourth league title at the age of 24. Thibaut Courtois is on form. Adam Bate caught up with him to find out the keys to his success and get the lowdown on Antonio Conte's impact at Chelsea...
There's a ball-juggling drill going on at Cobham and the laughter among the Chelsea players carries in the air. Thibaut Courtois isn't the most vocal; that would be David Luiz. But he's holding his own alongside Eden Hazard - blasting volleys into the net from 18 yards out.
As a young boy, Courtois was a left-back and he's visibly enjoying himself. It's a role he gets to play more than many realise. During one suspension last term, he spent a fortnight as an outfield player. Three goalkeepers means opportunities to be the free man in training.
It brings practical benefits too. "I've played a lot with the team and my passing is now much better," Courtois tells Sky Sports. "I'm more confident and I'm trying to play. It helps as they play fast so you have to adapt to their rhythm. Then you get better with your feet as well."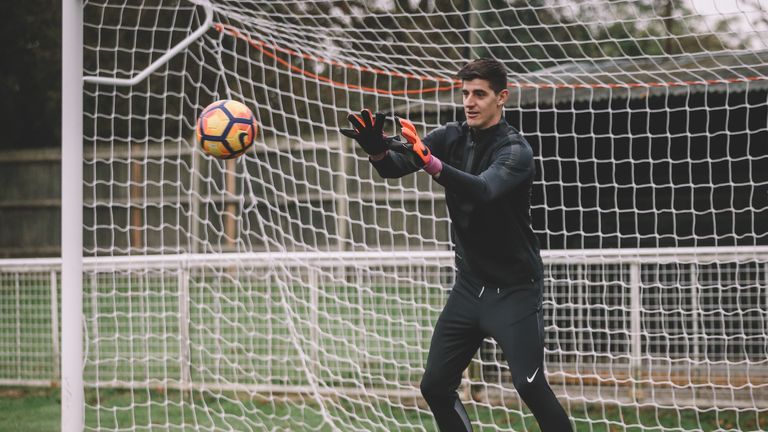 Saturday's trip to Manchester City, live on Sky Sports 1 HD from 11.30am, will pit the Chelsea man against Claudio Bravo, the player signed by Pep Guardiola for his abilities with the ball at his feet. But it's Courtois who has been the most impressive goalkeeper this season, the No 1 for the Premier League leaders.
As Bravo seeks to make the transition from La Liga to Premier League and Liverpool's Loris Karius is spotted being buffeted by coaches armed with rugby tackling pads on the training ground in order to aid his adjustment, how did Courtois make the move look so seamless?
"When I came to England everyone told me that I'd get the hits so I was prepared for that," he explains. "It's one of my stronger points claiming high balls. I'm tall so that helps me. If you're a smaller goalkeeper, crosses in England are even harder.
"I decided to come out for the ball immediately. I think that was because of my time in Belgium. It's not the same level there as the Premier League but they play really physical as well. So when I was there I was used to getting the knocks. It helped me adapt."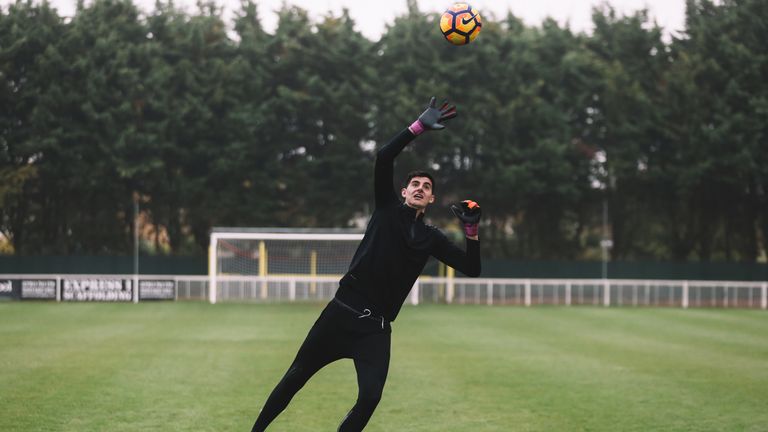 He has now conceded only one goal in his last seven Premier League games for Chelsea. All have been won, and won by playing some stunning football as Antonio Conte's new 3-4-3 system has helped the players shrug off last season's struggles. Courtois is on top again.
Speaking in one of the dugouts at Cobham fresh from a session in Nike Football training apparel, he fronts up when discussing the "rubbish year" that was 2015/16. "Being with Chelsea and finishing 10th," he says before tailing off, as if still baffled by events.
There was his opening-day red card against Swansea and the knee surgery from which he returned much earlier than expected in a bid to help a team that had lost its way. It was a challenge. "In every game I had to make a lot of saves," he admits. But he's come through it.
"For my age I've got a lot of experience," adds the 24 year old. "I think in difficult moments that experience helps you to have confidence in yourself. I think I've improved my form this season too. I think at the Euros I was very good and I've carried that into this season."
Even so, he can reel off the times he was beaten. Two each versus Liverpool and Swansea. Three against Arsenal. It was a tough start. One that suggested Conte would need time. Instead, Chelsea are flying. And Courtois is convinced he knows why.
"I think it's the system," he says. "It not only gives cover for the goalkeeper, in general it's a good system. When one guy can drop down and you can still have four at the back, when one guy can put pressure high up and you still have a solid shape that's quite good.
"We've played it a few times with Belgium now too and it's a system that's very hard to play against. In the summer we were working on another system. It was after the Arsenal game that we decided to go to three at the back. Since then we have trained it constantly."
Hazard looks reborn. Diego Costa is the country's top scorer. But Courtois is keen to praise the defence too. And the goalkeeper. "Against Manchester United there were a couple of good saves as well," he says with a sudden flash of a grin. "It's good to keep clean sheets."
Premier League clean sheets in 2016/17
| Player | Team | Clean Sheets |
| --- | --- | --- |
| Thibaut Coutois | Chelsea | 7 |
| Fraser Forster | Southampton | 5 |
| Petr Cech | Arsenal | 4 |
| David de Gea | Man Utd | 4 |
| Hugo Lloris | Tottenham | 4 |
But he is serious again when returning to the subject of tactics. In fact, he speaks with the lucidity of a coach when discussing the details that have helped turn Chelsea's form around. In particular, the impact that the changes have made on his options as a goalkeeper.
"With a three you can put two in the middle, two wide and have your wing-backs open," he explains. "If the opposition full-backs close them they risk leaving the winger alone. Then I can maybe go to the winger. So it's hard for a team to really put you under pressure high."
Courtois is a student of the game. He can name the number of senior appearances he's made - it's 324 - and talks of his admiration for not only Gianluigi Buffon but also Belgian goalkeeping icons of yesteryear such as Michel Preud'homme and Jean-Marie Pfaff.
Perhaps that's to be expected given his education. A title winner as a teenager with Genk, he has played under Diego Simeone and Jose Mourinho as well as Conte. He acknowledges some shared characteristics in terms of their intensity levels. "It's a bit similar," he says.
"Conte does more tactics and videos but you can see in the games that it's really useful for us. OK, it's not always what the player wants to do in training - a lot of players want to shoot, play little games and have fun - but you have to do what's necessary too.
"You have to do the tactics to win games because if you have good organisation and know what to do, you'll know where the weaknesses are in the opponent. We've been doing tactics since the summer. Players need time to get used to a whole new way of working.
"We want to play in Europe. Everyone does. But maybe with the new system and the need to get used to a new way of working, the extra time helps as well. If you have a game at the weekend you can work Tuesday, Wednesday, Thursday and Friday to do everything more."
With Chelsea's focus squarely on the Premier League, the chance is there to ram home their advantage and for Courtois to win a second title with the club to go with those league wins he's already achieved in Belgium and with Atletico Madrid in Spain. So can Chelsea do it?
"It's hard to say yet," says Courtois. "When I started with Genk we had a team of quality and we knew we could be champions. It was the same at Atletico, we knew we could win trophies. It's the same with Chelsea now but there are a lot of teams who can say that.
"Manchester United, Arsenal, Manchester City, Tottenham, Liverpool - a lot of teams have quality. Yes, we have a team that should be able to play for a trophy but it's a long season. Maybe in March we can say we are contenders.
"I think the win at Southampton was a big one though. They are the sort of games you have to win if you want to be at the top and be important. They are a strong team and not a lot of teams will go there and win. They even drew at City and Arsenal. That was a good victory.
"But we will see. It's hard to say where we will finish because we have to do it every game. Liverpool and Arsenal would probably say Chelsea aren't there after they beat us. Now people are saying Chelsea are there. It's about proving it every week."
The speed of Chelsea's improvement is encouraging. But is their goalkeeper getting better too? It's a tantalising prospect given his quality at such a young age. Remarkably, Courtois remains one of the three youngest first-choice goalkeepers in the Premier League.
"For goalkeepers, the better years they say come from the age of 27 or 28," he says. "If you look at Buffon, he is 38 and he's still playing great. It gives you the dream that you can reach that age and play the amazing games that he plays. I just hope I can keep on improving.
"There are still things I can work on. My footwork was something I had to improve and I've focused on that. In every aspect you have to look for perfection." He's not there yet. But Courtois has the time, the ability and the attitude to get closer than just about anyone else.
Thibaut Courtois trains fast in Nike Football Training apparel, built for speed with revolutionary AeroSwift technology. Visit nike.com to explore the collection