Antonio Conte lauds Chelsea's will to win after narrow victory at Stoke
Last Updated: 19/03/17 10:31am
Antonio Conte lauded Chelsea's "will to win" as the leaders moved 13 points clear with a 2-1 victory at Stoke that inched them closer to the Premier League title.
Having earlier conceded a penalty, Gary Cahill fired in an 87th-minute winner at the bet365 Stadium to spark wild celebrations among the Blues' players and staff at a venue where a loss last November dropped them to 16th in the table.
It was not straightforward - with Willian's free-kick opener cancelled out by Jonathan Walters' spot-kick - but Conte's side emerged with three points due to the type of performance usually associated with champions-in-waiting.
"For sure it was an important win," Conte said.
"It's not easy at this point of the season to come here, to play in Stoke against a strong team also with good qualities and tactical organisation.
"I think we showed a great will to win from the start until the end. I'm very pleased because my players showed me a great will to win but also they were prepared to fight to win this game. It wasn't easy.
"We have played two games away and to win both games is very important in this part of the season. Now there are 10 games to go, I'd like to think that now we need to take 21 points to be sure to win the league but for sure it's an important win."
The "fight" Conte mentioned did not cross the line with physical confrontations, though Diego Costa typically sailed close to the wind on that front.
He tussled with several players in red and white and was booked as early as the 16th minute having theatrically thrown himself to the floor and then vented his anger at referee Anthony Taylor when he did not get a free-kick.
Conte credited his combustible forward for managing to keep his cool from that point when boiling point looked inevitable.
"Diego played very well and he also showed me great discipline," the Italian added. "It's not easy to start the game and get an early yellow card and then keep calm.
"He's showing me great behaviour, a great will to fight for the team, to think for the team and I want that to continue. He's a really great player.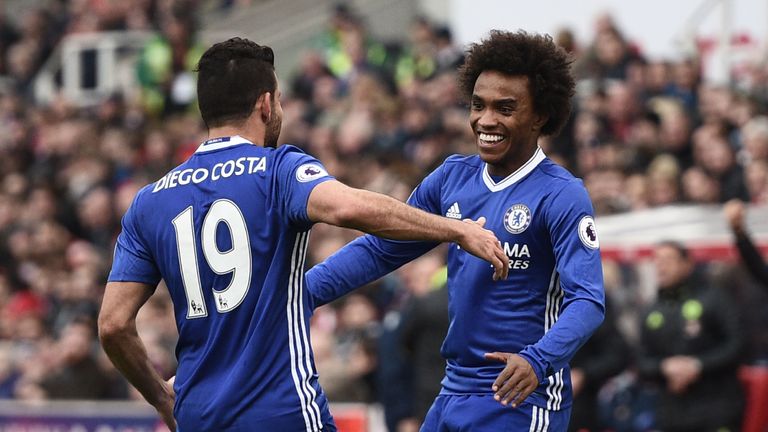 "To try to bring a player to be angry and then to react, to commit another foul - it's normal," Conte added of Stoke's tactics.
"I know that in the past sometimes he received two yellow cards or he finished before the game but in this season I have to be pleased for him, for his behaviour."
No side with a 13-point lead has never not gone on to win the title but Conte continued to play down any title talk, saying he wanted his side to continue focusing on their own job.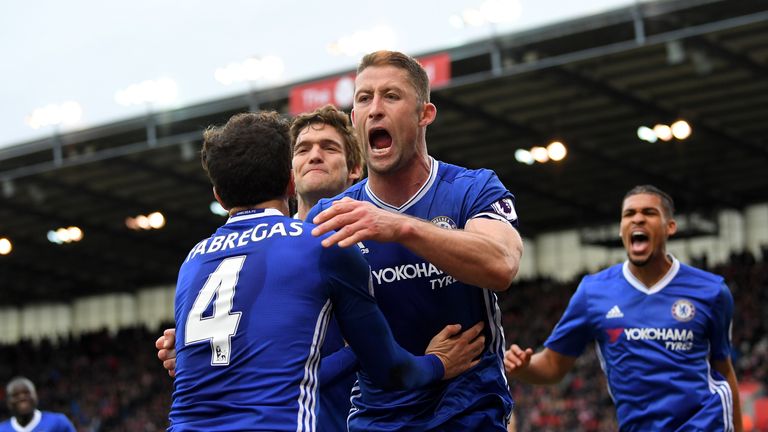 "I like to think our opponents will win and reduce the gap to 10 points on Sunday," Conte said.
"We have to look at ourselves, not the others. It was important for us to win and then if a rival has a poor result of course we are happy, but for us to play our game in this way with great concentration, will to play football and to fight. We were ready to fight and I'm pleased with this."
Sky customers can now upgrade to Sky Sports and get 12 months for just £18 per month. Upgrade now!