N'Golo Kante could change what scouts look for in a midfielder
Last Updated: 21/03/17 1:58pm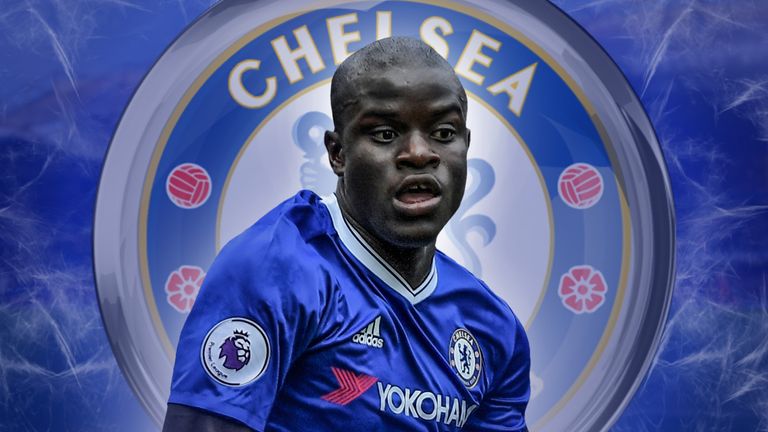 Why the N'Golo Kante phenomenon could change what scouts look for in a top midfielder.
A video of N'Golo Kante did the rounds after Chelsea's win over Swansea last month. It began with a poor pass and ended in the foul that led to Swansea's equaliser. But the sight of Kante racing into three tackles in 20 seconds still seemed to capture the imagination.
There was something about the sequence that made it difficult not to smile, the visceral joy of watching a player who just keeps coming back for more. It was the tenacity of it all. First and foremost, it revealed Kante's mentality, but it was also physically remarkable too.
The speed with which he eats up the ground in midfield is so rare. Kante was clocked at 33.7 kilometres per hour in that Swansea match - by far the fastest speed registered by anyone on a pitch that included Eden Hazard, Pedro, Willian and Wayne Routledge.
All of those players are quick and all of them are wingers. That's not a coincidence. The four men are all between 5'5" and 5'9" in height. For small players with pace, it is customary to play out in the peripheral positions and that is where Kante began his career too.
He made his senior debut for Suresnes at left-back and after moving to Boulogne he was initially used as a reserve right-back to Brentford's Maxime Colin. "It wasn't at all his position," Colin later told ESPN. "He never played - the gaffer didn't really believe in him."
There was his time as a winger too. The position where he was expected to play but not, as it turns out, the right one. "I was more of an attacking player to begin with," recalled Kante recently. "For two or three years I played on the wing."
He added: "To be honest, it was only when I was first in the French Ligue 1 that my manager and other people started to say, 'OK, N'Golo recovers a lot of balls'. Before that, I didn't consider it to be my job in the team. I didn't especially discover this quality in myself."
I was more of an attacking player to begin with. For two or three years I played on the wing.
N'Golo Kante
It underlines the fact that while Kante is now seen as the identikit defensive midfielder, the interpretation of the role is all his own. At Leicester, Claudio Ranieri would stress the need for him to hold his position only to see him harrying near the touchline moments later.
Indeed, Ranieri took some convincing about Kante. Leicester's former head of recruitment Steve Walsh recently told the Times: "Claudio kept saying, 'He's not big enough, why do I want Kante?'" And that issue of not looking like a holding midfielder is a recurring one.
Chelsea considered a move for the player during Jose Mourinho's time in charge. The scouting report was written while Kante was still in France. However, Mourinho was reportedly focusing on taller midfielders with a greater physical presence at the time.
"The scouts clearly did not see how exceptional he was," said Pierre Ville, the former head of Suresnes. Piotr Wojtyna, one of Kante's earliest coaches, went further. "His main handicap was his size," he explained. "But for me, on the contrary, that was an advantage."
This, perhaps is the crux of it. Could the emergence of Kante change the way that teams look at the attributes required in a midfielder? There was a template for this kind of figure in a team - the Nemanja Matic type that Mourinho had been seeking. Kante is different.
Maybe there are others. The safe-passing full-back with serious pace or the winger who has everything except a trick. Could they be reassigned? And what of the midfielders already out there but being overlooked in error due to established ideas just waiting to be challenged?
There are signs already. Atletico Madrid, a team that has thrived in recent years by finding those edges that others might have missed, have shown that they are not afraid to trust smaller midfielders to take on defensive pressing responsibilities in the centre of the pitch.
And so perhaps it should be no surprise that they are reportedly among a number of clubs showing an interest in 20-year-old Santiago Ascacibar, a diminutive, tough-tackling midfielder with a turn of speed, currently impressing everyone at Estudiantes in Argentina.
Expect the rest of the market to react accordingly. Former Manchester United scout Tom Vernon once described it as "the Papa Bouba Diop template" - the idea that teams at the time wanted powerful midfielders from Africa so that is what the market provided.
But Vernon, founder of the Right to Dream academy in Ghana and now the chairman of Danish top-flight club FC Nordsjaelland, thinks that phenomenon will be difficult to repeat because Kante has the nous to his game as well as the physical credentials.
"You cannot find a guy like that easily because of how tactically astute he is," Vernon told Sky Sports. "It's a really good example of how the game has changed because it has become so much more tactical. You have got to be getting a good education as a footballer.
"I think if you look at the Bouba Diop thing, he was obviously a player impacting with physicality but I think that physical element isn't enough anymore. If you don't have a good tactical foundation it is extremely difficult to see how you are going to have a good career."
Even so, Walsh is already joking that the next Kante has been identified - his first buy for Everton being Idrissa Gueye from Aston Villa, a player who did not exactly light up the league last year but who "gets around people when they have the ball" much like Kante.
The Chelsea midfielder is already the most significant figure in English football over the past two seasons; the man Sir Alex Ferguson called "by far the best player in the Premier League" and is set to become the first regular starter to win the competition back-to-back with different clubs.
But Kante is also a man who could change the skill-set that defines a midfielder, with speed prioritised over skill and swiftness more significant than strength. Everyone agrees they have never seen anyone like him. But perhaps Kante's very emergence could change that.
Sky customers can now upgrade to Sky Sports and get 12 months for just £18 per month. Upgrade now!