Will Antonio Conte sustain Chelsea's success next season?
By Adam Bate
Last Updated: 19/05/17 12:49pm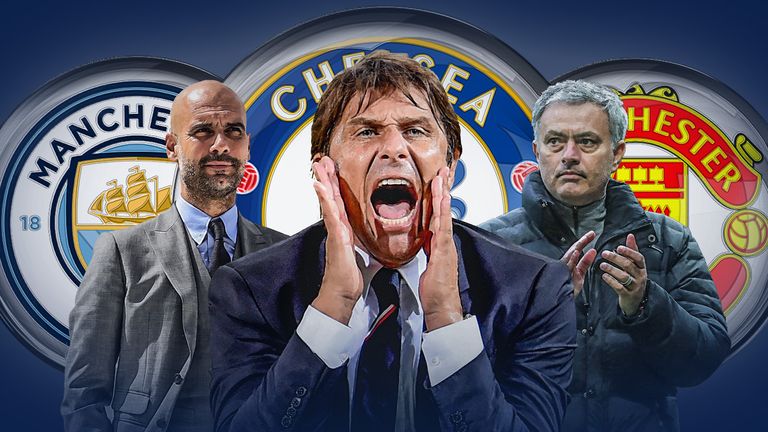 When Chelsea won the Premier League in 2014/15, they were expected to go on to create a dynasty. "The rest are miles away from this Chelsea team," said Gary Neville. "They're going to go again and again, and they're the team to catch over this next couple of seasons."
Of course, what followed was a spectacular collapse. In fact, Leicester's strong finish to this season means that Chelsea's effort could still continue to be regarded as the worst ever defence of the Premier League title. Jose Mourinho was gone before the year was out.
It's becoming a trend with title success being no indicator of sustainability. Claudio Ranieri did not last much longer for the Foxes, also unable to see out the following season. Manuel Pellegrini clung on slightly longer at Manchester City. Sir Alex Ferguson retired immediately.
The last team to successfully defend the Premier League title was Ferguson's Manchester United of 2009. Neville played 16 times for the Red Devils in that campaign and remains convinced that retaining the crown is among the most difficult things to accomplish.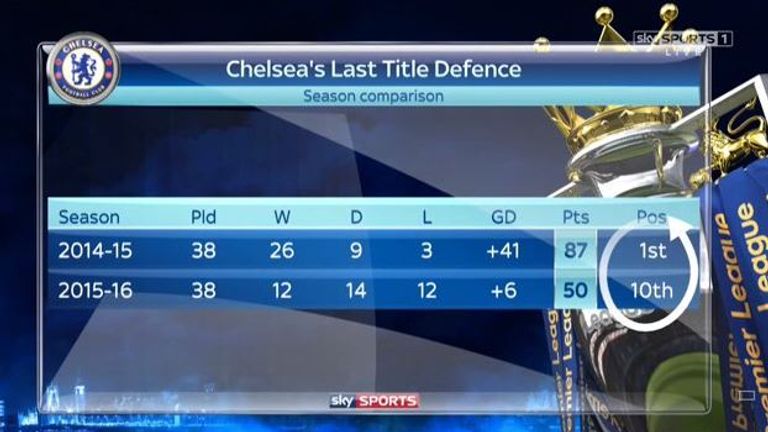 That was a key criticism of Manchester City when they twice failed to retain the title in recent years. "They have got a mentality problem, there's no doubt about that," said Neville in 2015 when discussing the Manchester neighbours.
"This team cannot sustain success, and I think that is a terrible thing to have levelled at you. When you win championships you have got to be able to come back again with hunger and they do not. They drop off it. They get to the top of the mountain and drop off it."
Conte will face his own challenges in trying to keep Chelsea on top. Firstly, there will be European football to contend with. The Blues were beneficiaries of being free of those commitments this past season like Leicester before them. That advantage is gone.
"It's an incredibly big advantage when you play less football, you have more time to prepare, more time to recover, and it's a big advantage against the teams that are playing in the Champions League and Europa League," argues Neville.
On the pitch, John Terry is unlikely to be a major loss but Diego Costa could well be. Meanwhile, Conte must ensure that Eden Hazard remains engaged too - the star man seemed to slack off last time Chelsea won the Premier League. It can't happen again.
"Conte's big job over the summer is re-motivating those players," says Neville. "He's a methodical type coach who does repetitive drills. How will they mentally cope with that over the summer?"
It's a concern but there are reasons to be optimistic.
Conte's big job over the summer is re-motivating those players. He's a methodical type coach who does repetitive drills. How will they mentally cope with that over the summer?
Gary Neville
First of all, even if Chelsea's recent history as champions is not so encouraging, Conte has pedigree in this regard. He won the title three times in a row with Juventus, helping to create a culture of continuous success that remains in Turin to this today.
The players that Conte had at Juventus helped and he's added individuals with those characteristics at Chelsea too. N'Golo Kante, in particular, has already shown that he can win back-to-back Premier League titles and seems like someone who will want more.
But there will be challenges from outside for Conte too. "He is going to have two Manchester clubs who are going to be throwing £300m to £400m at it between them, who are hurting and who are under significant pressure next season to deliver," adds Neville.
With the two Manchester clubs both looking to strengthen, Tottenham's young team presumably hungrier than ever to take the next step and that European complication putting greater strain on Chelsea, the repeat win will not be straightforward.
Conte knows that. Chelsea have the right man at the helm. Making light of that much-discussed transition to the Premier League was some achievement. But in this most competitive of eras for English football, retaining it would be an even greater triumph.