Premier League: Chelsea boss Jose Mourinho defends selling Juan Mata to rival
Chelsea boss Jose Mourinho has no issue with Premier League clubs buying from each other in the January transfer window.
Last Updated: 25/01/14 10:26am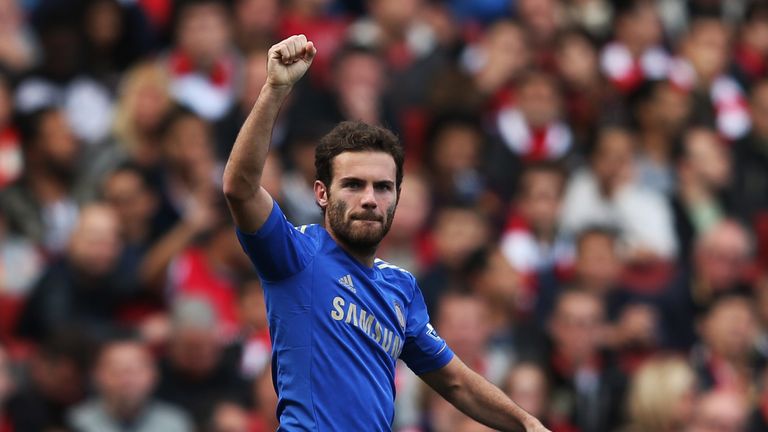 Manchester City boss Manuel Pellegrini and Arsenal counterpart Arsene Wenger have both been critical of Juan Mata's move from Chelsea to Manchester United.
Pellegrini believes big-money moves between domestic rivals should not be allowed in January, whilst Wenger says the move is unfair because Mata will not play Chelsea as United and the Blues have already met twice this season.
Mata will though be able to play City, Liverpool and Arsenal.
Mourinho insists he would have sold Mata to any of Chelsea's rivals, including Arsenal, if the move was right for the player and the club.
"A team can only play with 11 players, not 12," Mourinho said. "Arsenal is full of top players, City is full of top players, and United is full of top players, so if Juan plays for them, it means somebody else is not playing.
"So why not? Every club does this in other countries, so what's the problem to do it here?
"If a similar situation happens (and) instead of us, instead of Man United, it's Arsenal or Manchester City or Tottenham or Liverpool, we would do the same.
"If the offer was the same and Juan desired to go, it would be the same."
Chelsea had two bids for Wayne Rooney rejected last summer and he does not think selling Mata to United will help them if they return with a third bid at the end of the season.
Mourinho said: "I don't think so. But I don't speak about Rooney. He's a Man United player, but I don't think so."
Spain playmaker Mata, who found opportunities limited this term, was permitted to move because all of the elements of the deal were right and because he requested to leave.
"It was a process, a difficult process for him, and not easy for me," Mourinho said.
"It's difficult for me to leave him out of the team. It's difficult for me to decide that Oscar is going to be my number 10 and that I'm going to build my team around that decision.
"And it's difficult for him to accept the situation. He's a player with status.
"He was behaving amazingly well, an example for the other boys to follow, but no happiness. With that status, it's difficult.
"Man United is obviously a big club, and when a player is not happy in this moment at Chelsea, but he loves to be in the Premier League and wants to stay in the Premier League and he thinks about the World Cup and about playing regularly every game, and he sees the stability our team has at the moment with Willian, with Oscar, with Eden (Hazard), he thought about leaving.
"He's tried to find the best option for him and he decided to go to United, which is understandable."