Football Expert & Columnist
Jamie Carragher reacts to Liverpool sacking Brendan Rodgers
Last Updated: 04/10/15 10:21pm
Jamie Carragher believes the last three years have not been good enough for Liverpool but that if the club were going to sack Brendan Rodgers, it should have been in the summer.
Rodgers' contract was terminated on Sunday evening following Liverpool's 1-1 draw with Everton, a result that leaves them 10th in the Premier League.
"It hasn't gone well for him this season," Carragher said on Super Sunday. "He needed to make a good start to the season.
"He was maybe fortunate in terms of staying on at the end of last season. His staff moved on, new staff came in, he's spent £80m and then seven games later Liverpool are changing a manager - that's what I don't like about that.
"Just do it in the summer if that's the situation. It finished poorly, if you look at the semi-final against Aston Villa, games against Hull, Palace and that finish at Stoke so he was lucky to keep his job.
"I'd prefer them to have done it in the summer but he's been there three and a bit years, he hasn't won a trophy and they've played Champions League football once. That's not good enough for Liverpool."
The former Reds defender also feels that Rodgers has had enough to spend to have done better despite losing key players such as Luis Suarez, Steven Gerrard and Raheem Sterling over the past couple of years.
He's been there three and a bit years, he hasn't won a trophy and they've played Champions League football once. That's not good enough for Liverpool.
Jamie Carragher on Brendan Rodgers
"When they've lost those players they've then reinvested the money," added Carragher.
"I don't think Brendan could say he hasn't had enough money to spend - nearly £300m - and very few of those players have gone on now."
However, the Sky Sports pundit also suggested that the problems at the club go back further than Rodgers' reign and that Liverpool can no longer consider themselves in the same bracket as the likes of Manchester United, Manchester City and Chelsea.
Resolving that problem, Carragher says is up to the owners.
"The situation that Liverpool find themselves in now, it's not just for Brendan, this has been going on for a long time - even when I was there," he said. "We talk about Arsenal but Liverpool have won one Carling Cup in 10 years.
"Liverpool are becoming Tottenham, think they're a big club but the real big clubs are not too worried about them - who they buy, what they're going to do - that's the situation as it's become for Liverpool, even when I was there at the end.
"I'm not just blaming Brendan Rodgers and this set of players. What are these owners of the club going to do to get Liverpool back where they need to be?
"That's consistently in the Champions League and challenging for trophies because at this moment we're becoming a team who think we're a big club but we're not."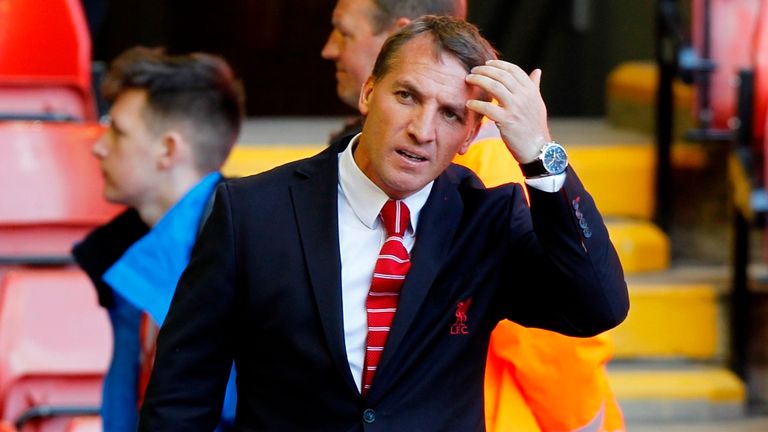 That is another reason Carragher felt the change should have been made in the summer when it was clear things were going in the wrong direction for Liverpool under Rodgers.
"As soon as it's going on a downward spiral for a manager after their initial success, playing well, winning trophies it's never come back," he explained. "So that's why, I wouldn't have said it publically but, at the end of the season, it would have been better to change it then."