Liverpool manager Jurgen Klopp still learning about the Premier League
Last Updated: 04/01/16 1:55pm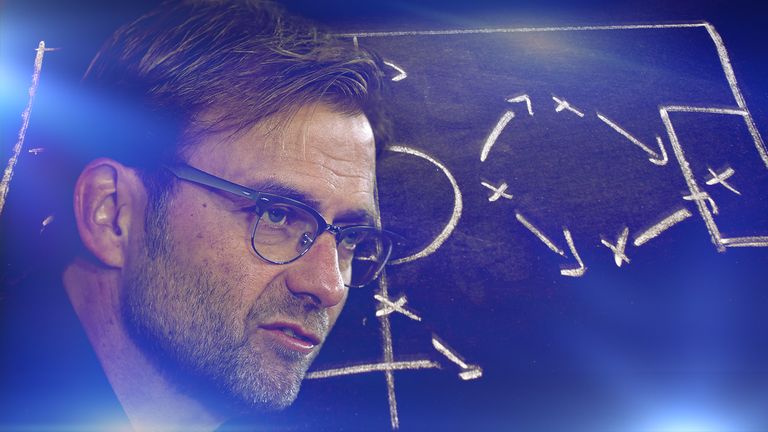 Liverpool's results suggest that Jurgen Klopp is still learning about the Premier League, writes Adam Bate...
For those looking, indications of Jurgen Klopp's impact were immediate as Liverpool outran Tottenham in his first game in charge back in October. "Very rarely do you see a manager stamp his authority on a team from day one, and that's what he did," Jamie Carragher told Sky Sports.
Later that month Liverpool beat a lethargic Chelsea side 3-1 at Stamford Bridge. Klopp showed once more that he could get the better of Jose Mourinho, just as he had in a 2013 Champions League semi-final between Borussia Dortmund and Real Madrid.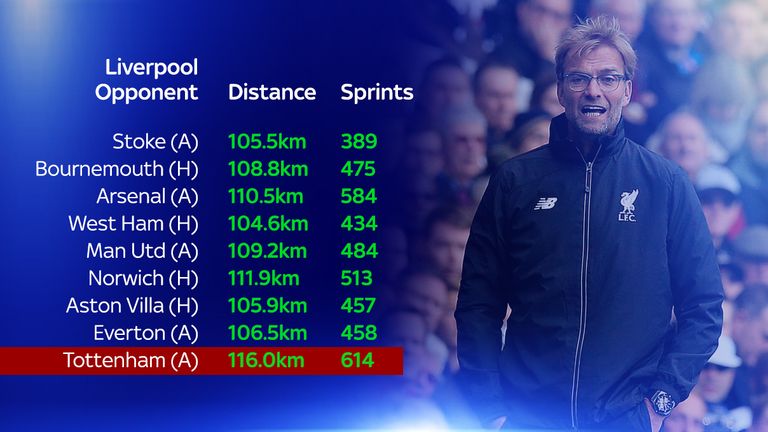 In the very next Premier League away game, Manchester City were beaten 4-1 - an outrageous result that was both devastating and deserved. Liverpool were three goals up a little after the half-hour mark. City simply could not cope.
Carragher duly described it "as good as anything I can remember, not from Klopp or any Liverpool team, but in the Premier League." There was, however, a caveat: "At least when going away to a big team like Man City who are one of the top sides," he added.
That sums up how it's gone for Klopp so far, beating the best with the slip-ups coming against the rest. The four games that he has lost have been against Crystal Palace, Newcastle, Watford and West Ham. Perhaps we should not be surprised, particularly given Carragher's insight at the weekend.
"I chatted to Jurgen Klopp about a month ago at Melwood and that was the big thing," the former Liverpool defender told Sky Sports. "It's not so much taken him by shock but until you're in the Premier League you don't know what it's like week in week out.
I chatted to Jurgen Klopp about a month ago at Melwood ... It's not so much taken him by shock but until you're in the Premier League you don't know what it's like week in week out.
Jamie Carragher
"I'm sure they watch the Premier League in Germany but they probably watch Liverpool, Manchester United and Manchester City. The top teams.
"He's come up against Arsenal and Manchester City with Dortmund but our top teams are more like European teams.
"If you want to make an impact in the Premier League, you're going to play the top four or five teams, eight to 10 times a season. The rest, the other 30 games, is what the Premier League is about. Liverpool have struggled in those games."
The defeat to West Ham was a clear example with Liverpool appearing ill-prepared for the nature of the challenge. It can hardly have come as a surprise. And yet, both West Ham's goals came from crosses. The second was even scored by former Reds striker Andy Carroll.
Mark Noble was free to provide the cross without being pressured and the first goal had been equally damning. Lucas, who uncharacteristically failed to make an interception of any description in the first half, allowed far too much time for the crosser to pick out Michail Antonio.
Klopp was at least aware of the problem. "It was five against one, near the sideline, and nobody won the ball," he said afterwards. "Then cross, Andy Carroll, 2-0, thank you very much. If you know the other team has Andy Carroll, how can you allow crosses? It was not enough from my team today."
The manager cannot control what decisions his players make once they're on the pitch, but it was apparent from his subsequent words that he feels culpable for the defeat and the manner in which it was inflicted. "It's my responsibility," added Klopp. "I'm angry about myself today."
There is merit in looking to impose his way of playing on opponents and trusting the team to deliver. But the defeats so far hint at lessons being learned, and it's not just a case of allowing Carroll a free run at crosses. Klopp's first defeat as Liverpool manager was instructive too.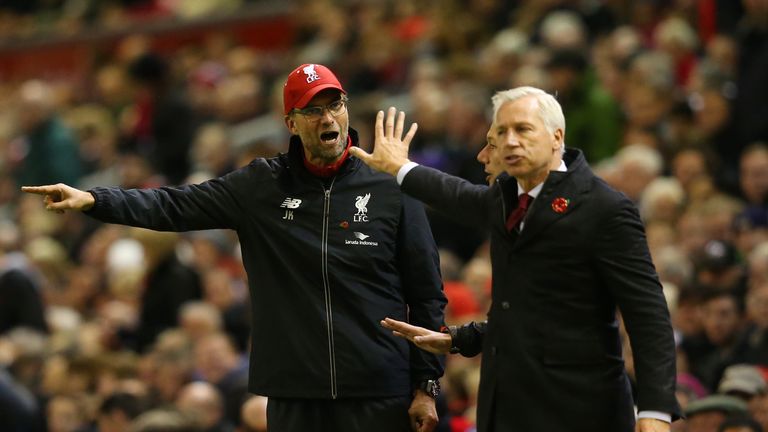 "You must be sick of us," sang the Palace fans after their third straight Premier League win over Liverpool since the famous comeback draw at the end of the 2013/14 season. But for Klopp it was a new experience and not just because of the fans who left him feeling "alone" by departing early.
Exposed on the counter-attack and bullied in the air, most notably by Scott Dann for Palace's late winner, it was typical of past clashes between these sides. As Simon Hughes put it in The Independent, "Palace's strengths were Liverpool's weaknesses".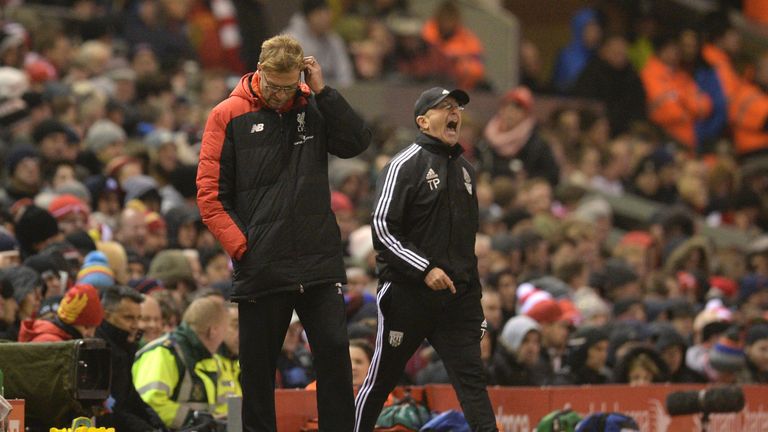 Against West Brom, where a point was salvaged in stoppage time, Klopp had joked beforehand of the need for his players to clamber on team-mates' shoulders to stop West Brom from set-pieces. Forewarned was not forearmed. Albion scored from two set-plays and had a third ruled out for offside.
Such is the unique threat of a Tony Pulis team, but worse was to come at Watford. Liverpool were beaten 3-0 at Vicarage Road where the task was a straightforward one - stop Troy Deeney and Odion Ighalo. Instead, Klopp was left complaining about his team making things "too complicated".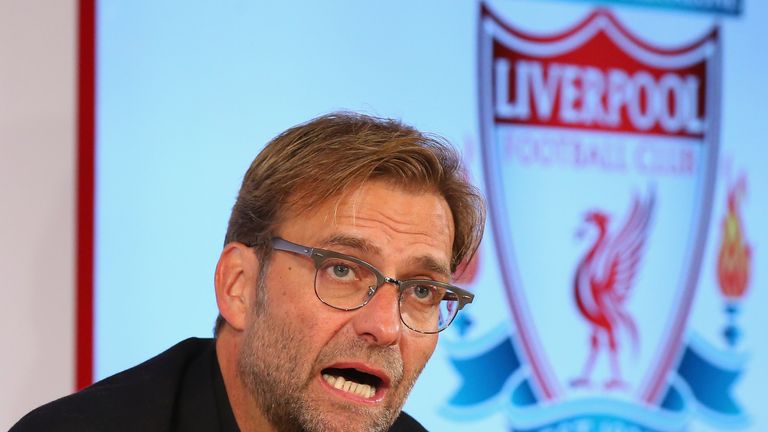 Having now seen his defence bullied once again at the Boleyn Ground, there are clearly issues to address.  "Between now and the end of the season he's going to be thinking about who in this squad can cope physically," said Carragher. "They've come up short."
All things considered, Klopp has not. Indeed, he was won nine of his 18 games since taking over. That represents a positive return given that he's inherited the problems that cost Brendan Rodgers his job as Liverpool manager. He's delivered more than enough moments of encouragement so far.
With the club still in four competitions, there is every reason for optimism. Liverpool have a manager who can win the big games against the best teams. But only once he's felt his way into the Premier League and figured out how to deal with the rest of them will Klopp really be in business.