Liverpool winger Victor Moses sets himself 20-goal target this season
On-loan Liverpool winger Victor Moses has targeted a goal tally of 20 for the club this season.
Last Updated: 29/11/13 7:50am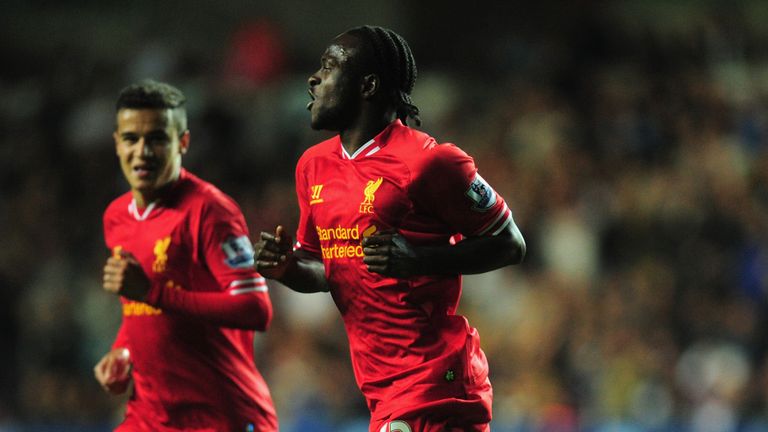 The Nigeria international scored on his debut for the Reds against Swansea in September after completing his temporary move from Chelsea but has failed to add to that goal in the eight matches since.
Moses' past three appearances have come as a substitute and, with Liverpool playing only league matches until the FA Cup begins for them in January, he may find his chances limited.
"I just want to score goals. I wanted to score around 20 goals this season," said the 22-year-old, who scored 12 last season while playing league, European and Africa Cup of Nations matches.
"We've still got lots of games to go so hopefully I can get up to that target.
"I think I've got the ability to do that so I'm looking forward to every game.
"When I first came, I was starting. Now, the manager has got a different view and he wants to mix things around a little bit.
"I just have to be patient until my time comes. I'll kick on from there and help the team."
Liverpool are averaging two goals per game with in-form forward duo Luis Suarez and Daniel Sturridge scoring nine apiece already.
But, despite such prolific play, Moses believes the Reds can still do more in front of goal.
"We can score more goals because we have got two prolific strikers," Moses said.
"We can score two or three goals in every game because we have got enough quality players to do that.
"We've been doing well so far, we just want to keep working hard in training and the games to score as many as we can.
"We've got enough quality players to win games this season. Everyone is working hard together as a team. That's what we need. We've got a good keeper as well, who has been helping us."