Why Arsenal's efficiency in front of goal might not be sustainable
Last Updated: 16/11/16 12:09pm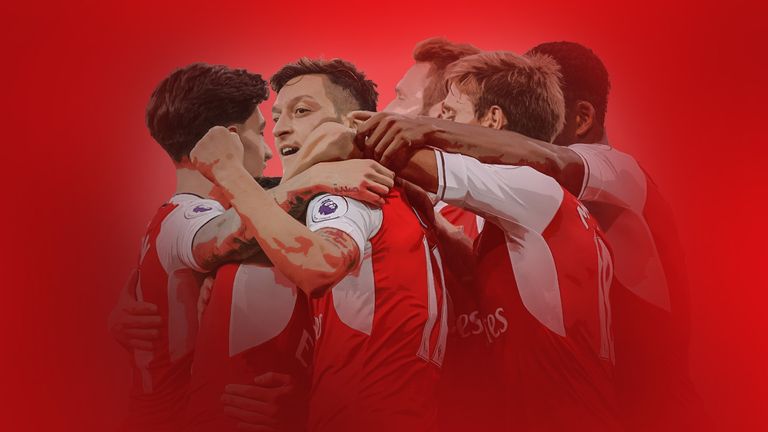 Arsene Wenger has praised Arsenal's efficiency in front of goal but is it really sustainable? Adam Bate examines the statistics that suggest the Gunners will need to create more…
Arsenal have scored 24 Premier League goals this season. They're among the top four scorers. Those teams also happen to be the four at the top of the table and the favourites to win the title according to the bookmakers. In other words, they're in good company.
But delve deeper into the numbers and Arsenal's success so far has been different to rivals Liverpool, Chelsea and Manchester City. It's been built on efficiency rather than creativity. A side with a reputation for wastefulness in front of goal has been unusually ruthless.
Arsene Wenger has noticed the trend himself. "Maybe the reason for us scoring freely of late is that we've been making more of our chances," the manager suggested last month when discussing the matter. "The final ball is better. Is that because our finishing is better?
"It's difficult to analyse at the moment, but what is for sure is that we score more goals. We score lots of goals. That's what our game is about. We have a risky game and therefore it's important that we take our chances."
Perhaps cruelly, Wenger took the decision to ruminate on Arsenal's efficiency ahead of the home game against Middlesbrough. His players proceeded to play out a 0-0 draw and the tune changed. "We have to find a way to be efficient even when the games are like that."
That's the crux of the problem. Can Arsenal really be expected to sustain such efficiency? Arsenal have scored a goal for every 5.1 chances they've created this season - better than anyone else. That's a good thing. But history would suggest it is too good to continue.
The next best conversion rate belongs to Chelsea who are scoring a goal for every 5.7 chances they create. That's the same as champions Leicester managed in being last season's most efficient side. The season before that, the best rate was a goal every 6.3 chances.
Chances created per goal - Selected teams
| PL Rank | Team | Chances / goal |
| --- | --- | --- |
| 1 | Arsenal | 5.1 |
| 2 | Chelsea | 5.7 |
| 3 | Liverpool | 5.7 |
| 5 | Man City | 6.1 |
| 16 | Man Utd | 8.8 |
| 17 | Tottenham | 9.5 |
Across those two seasons Arsenal scored a goal every seventh chance. At that rate they would have scored no more than 18 goals this season. In other words, Wenger's side have already scored six more goals than their previous finishing record would have suggested.
Arsenal's shot conversion rate this season is 14.4 per cent. Again, it's a good sign. Leicester had the best rate last season and Chelsea had the best the year before that. Both won the title. But neither topped 13.0 per cent. A dip seems inevitable and that could be an issue.
Arsenal conversion rates
| Season | Goals per game | Conversion rate |
| --- | --- | --- |
| 2010/11 | 1.89 | 11.0% |
| 2011/12 | 1.95 | 11.6% |
| 2012/13 | 1.89 | 12.4% |
| 2013/14 | 1.79 | 13.8% |
| 2014/15 | 1.87 | 11.6% |
| 2015/16 | 1.71 | 11.4% |
| 2016/17 | 2.18 | 14.4% |
The reason is that some of Arsenal's other underlying numbers are not so impressive. They rank seventh for shots and eighth for shots on target. They are sixth for clear-cut chances created and, unusually for the Gunners, as low as eighth for total chances created.
In this sense, they have gone backwards. Arsenal were the only team to create more clear-cut chances than Leicester last season and were joint-top alongside Chelsea the year before.
Arsenal's dip in creativity
| | 2015/16 rank | 2016/17 rank |
| --- | --- | --- |
| Total shots | 4th | 7th |
| Shots on target | 2nd | 8th |
| Chances created | 4th | 8th |
| Clear chances created | 1st | 6th |
Back then Wenger would praise his players for creating chances and bemoan his team's luck. Now, when scoring late goals against Southampton and Watford, it's a new line. When Theo Walcott scored twice at Hull, Wenger said: "He's efficient and that's what you want."
That's a big change as Walcott had the worst clear-chance conversion rate of any player who regularly found himself in such positions last season. He converted only four of 15 opportunities that he'd be 'reasonably expected to score' according to Opta.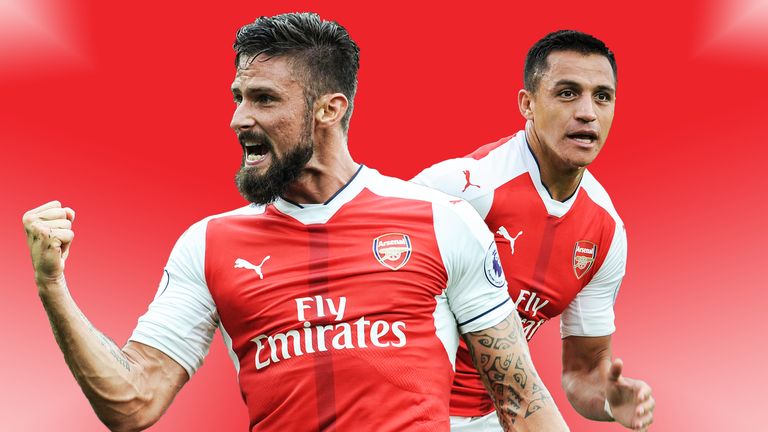 Walcott and Olivier Giroud were seen as the chief culprits when it came to Arsenal's wastefulness but no one man was responsible. Alexis Sanchez, Mesut Ozil and Aaron Ramsey also ranked among the 20 Premier League players who missed eight clear chances or more.
Arsenal missed more big chances than any other Premier League team last season and that wasn't all down to the huge volume of opportunities they were creating. They had the worst conversion rate of any top-half team too. But at least they were creating the chances.
Arsenal fans won't be too worried just yet if the goals keep coming. But with Santi Cazorla missing, the side has lost a little something from deep. Alex Iwobi, meanwhile, has made a fine start but appears to be a knitter of play rather than a man to open defences on his own. Two shots on target in 565 minutes tells a tale.
Against Tottenham last time out, Arsenal had plenty of endeavour but their trademark craft was absent after the frenzy of the first half.  "We couldn't find the creativity, the fluency around the box and all the things we are used to," said Wenger of that performance.
Victory at Manchester United on Saturday would see Arsenal briefly go top of the Premier League nevertheless. It's precisely the sort of game where the efficiency they've been showing would be ideal - an occasion where one chance could be the difference.
But if the Gunners are to stay at the top of the table they'll need more than efficiency. They'll need to up their creativity levels and their shot volumes too. Because history suggests that the current numbers are just not sustainable.
Upgrade to Sky Sports now to watch Man Utd v Arsenal this Saturday and get the first six months half price!