Arsene Wenger says top four will not affect his future or Arsenal's transfer plans
By Nick Lustig
Last Updated: 15/05/17 5:54pm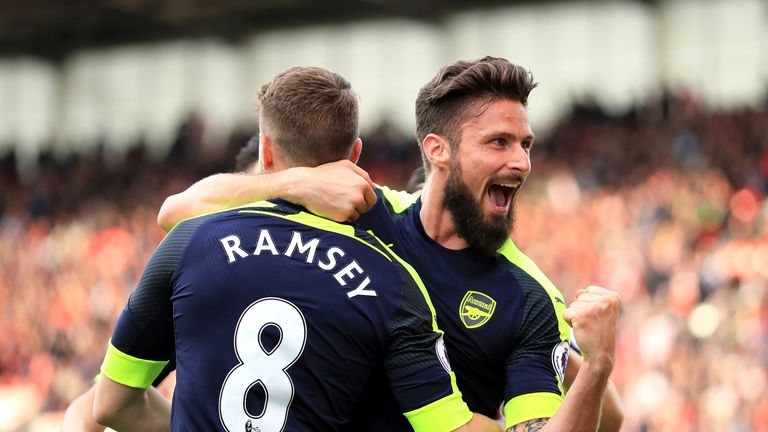 Arsene Wenger has insisted a failure to qualify for the Champions League will not affect his future or Arsenal's summer transfer plans.
The Gunners are facing the prospect of missing out on a place in Europe's elite competition for the first time since 1998, with Manchester City and Liverpool the favourites to secure the final two Champions League places.
Liverpool's 4-0 victory over West Ham on Super Sunday ensured Arsenal would go into their final two matches with their fate not in their own hands in the race for a top four finish.
But Wenger, who is yet to confirm whether he will remain at the club next season, said: "I believe finishing outside the top four will not have any influence on how the club will be led and how we will operate on the transfer market.
"If we finish outside the top four it will be down to one point and one point will be hard to swallow.
"Our chance is just to win our games. We have 69 points but our target is to get to 75.
"That would be four points more than last year. We have created the momentum again. Overall, the only chance we have to be in the top four is to win our games."
Arsenal take on already relegated Sunderland at the Emirates on Tuesday, live on Sky Sports 2 HD, aiming to claim their seventh win from eight matches before facing Everton on the final day of the season.
Wenger added: "I am very positive because it looks like we get stronger in every game. We have to dig deep and fight in every game.
"We won six of the last seven games. We look strong again away from home.
"The players have character, the players have spirit. We have gone through a hostile environment and you do not recover if you are not strong.
"We have lacked defensive stability in some big games and we have had to re-think completely the defensive system and we look more stable.
"We do our job properly and are focused until the end. We are always finishing strong because we keep our focus."