92Live: Jim White set for historic broadcasting day for Sky Sports News
Jim White is ready for 92Live when Sky Sports News visit every Premier and Football League club.
Last Updated: 01/08/13 11:10am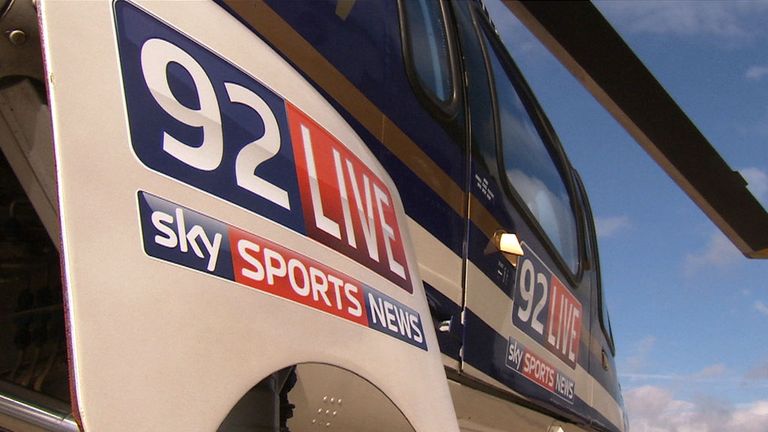 '92Live' will be the first time that any broadcaster has shown live reports from every football league club in England and Wales on one day and will offer an exciting look through the eyes of each of the clubs.
Viewers will be provided with the latest live updates from each team as they prepare for the new season, which begins on Friday night with Sheffield United taking on Notts County in Sky Bet League 1.
With a team of 19 reporters delivering live bulletins from 7.00am across the country, there will be a special helicopter visiting some of the grounds. White will be onboard the Sky Sports News chopper and here are his thoughts ahead of this incredible day...
A month ago, I walked into the Sky Sports News offices to be informed of the channel's grand plans to mark the start of the football season. Little did I know just how grand they were!
The plan - live reports from all 92 league clubs throughout the day. 'Oh, and Jim - we're putting you in a helicopter!' Not your everyday job, but one that the channel has been planning for the past three months.
And while myself and a team of 18 reporters will be the face of our coverage on the day, more than 120 staff have been working tirelessly behind the scenes, fine-tuning plans for the big day.
Planners, researchers, producers, reporters, satellite teams, engineers, directors - you name a role, they are involved! But it's not just about planning and producing a live report at all the clubs. As always in the world of journalism, we need to have a story to tell.
So through the eyes of the 92 clubs, we will tell you what happens at a football club.
What's going on at your club at 7am? How does your team spend lunchtime? How does your chief executive do transfer business? What's your manager's tactics for their first game? Every aspect of running a football club, we will cover.
My role is to fly to various clubs throughout the day via helicopter! So I could be landing at a ground near you. So be prepared for some surprises along the way. I don't want to give too much away, but you won't be disappointed.
As always, we intend to inform and entertain - never has this been attempted before so we hope you join us on Sky Sports News and watch us make broadcasting history.
And remember - no matter who your club, we will be there live to preview the biggest-ever season of football on Sky Sports.
Bold and ambitious as ever - but we wouldn't have anything less at Sky Sports News! Over and out!