David Moyes says Manchester United striker Wayne Rooney is an 'exceptional talent'
Incoming Manchester United manager David Moyes has described Wayne Rooney as an 'exceptional talent'.
Last Updated: 14/05/13 3:29pm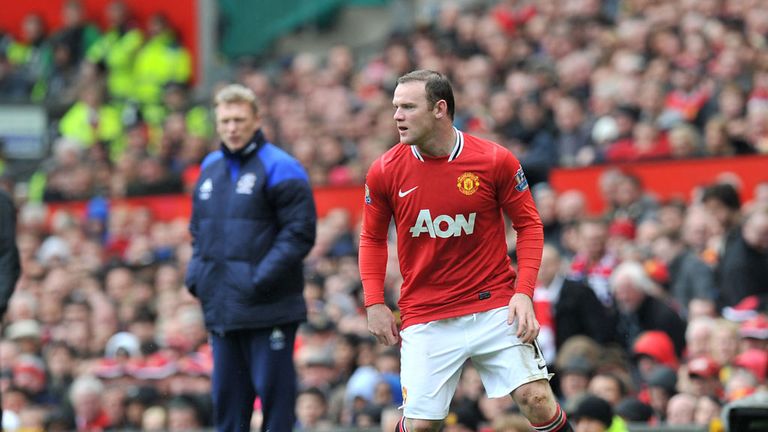 Rooney's recent transfer request is likely to present Moyes with his first major challenge when he replaces Sir Alex Ferguson as United boss in the summer.
Moyes worked with Rooney at Everton, handing him his first-team debut as a 16-year-old in August 2002 before selling him to United two years later.
An issue regarding claims made by Rooney in his autobiography about Moyes was settled several years ago and reports have claimed that the current Everton manager has spoken to Ferguson and Ryan Giggs regarding the latest situation.
Speaking to the Cambridge Union Society on Monday night, Moyes praised Rooney and described him as the 'last of the classic street footballers'.
"When he left Everton, he was already an outstanding player," said Moyes.
"Some of the things he used to do in training, we would stand back and look at each other as if to say, 'How did he do that?' He was and is an exceptional talent.
"Wayne was brilliant in some of the stuff he did. He was football mad. Every training session he would run out, volleying the ball everywhere. Staff would exchange glances that suggested, 'Can you believe that?'
"Wayne was the last of the classic street footballers. As a 16-year-old he could have left training and then gone out into the street with his pals, thinking nothing of it. You would see him in the street, hitting a ball against the walls.
"Part of that culture has gone but, coming from Glasgow, I knew what it was like. He was the last of that kind of player I have worked with."