Premier League: Everton's Tim Howard planning retirement after 2018 World Cup
Last Updated: 23/08/14 12:21pm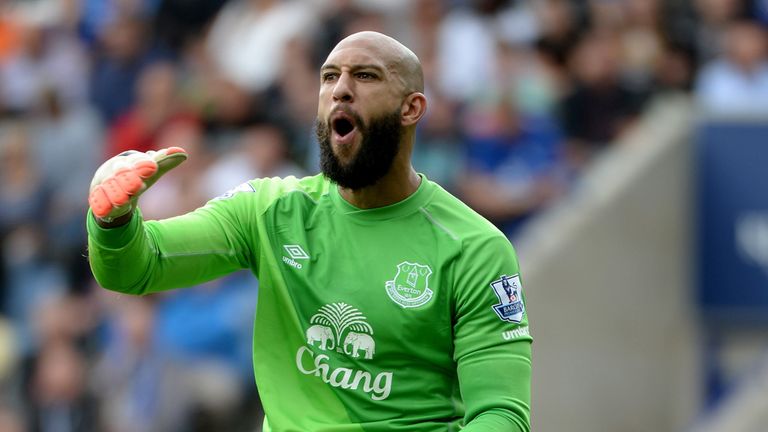 Everton goalkeeper Tim Howard has revealed that he plans to retire from football at the end of the 2018 World Cup.
The USA international's contract at the Toffees will expire in the summer of 2018, around the same time as the tournament in Russia will begin.
Providing the Americans qualify for the World Cup, Howard believes it would be the perfect time to end a career which has already seen him represent his country 104 times.
"I'll be 39 at the next World Cup. My contract at Everton will have just finished and I'll be done with football at the end of that," he said.
"There are other things I want to do. The game has been good to me and I think it would perfect timing to leave the sport.
"I don't know exactly what I'm going to do, maybe I will try and get bored with life for a while, who knows? I want to have options and do something different back home," he added.
"Football has been great for me and and to finish up at Everton after 13 years and then maybe have another World Cup would be great. I want do a lot of things in my local community and be normal, get out of the public eye for a while."
Everton face Arsenal at Goodison Park on Saturday evening and Howard believes it will be an entertaining clash between two possession-focused teams, while hoping his side will improve on last season's fifth-place finish.
"Our ambition is clearly to finish higher than we did last season and, if we do that, it will have been a really good season," he said.
"We are trying to find momentum and it will be good to get home. Will (Arsenal) be coming to defend against us or will they be trying to play straight up and attack us? I don't know.
"It will be a game of football between two teams who like to have the ball. Our job is to make it difficult for them being at Goodison, and to make it an uncomfortable afternoon."