Tottenham boss Mauricio Pochettino praises 'calm, brave' Dele Alli after Jonjo Shelvey red
By Robert O'Connor
Last Updated: 13/08/17 6:21pm
Tottenham boss Mauricio Pochettino praised Dele Alli for keeping cool after the incident that saw Jonjo Shelvey sent off for Newcastle.
Shelvey was sent off four minutes after the break for needlessly standing on Dele Alli as he lay on the floor in front of referee Andre Marriner with the score at 0-0.
Spurs took full advantage to run out 2-0 winners at St James' Park, Alli scoring the first and playing a key role in Ben Davies' second.
"He was calm - that's important," Pochettino said of Alli, who had pushed the ball away from Shelvey before the stamp. "Last season, we talked a lot about that, how we need to behave and improve and learn.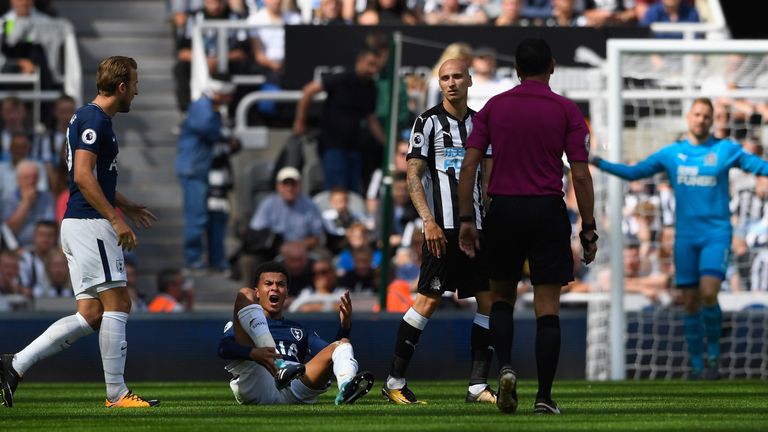 "He's mature enough now to accept sometimes what happens on the pitch, but he is so calm, he is so brave. Then he scored - a great goal - and I am very pleased.
"I think it was clear it was a red card. The referee has seen the action, it was very clear. It's unlucky for Newcastle. I'm sure Rafa is upset about the situation. Sometimes when you're a player on the pitch it's not easy to have the control."
Alli has been rebuked in the past after letting his temper get the better of him and admitted he had a degree of sympathy for Shelvey.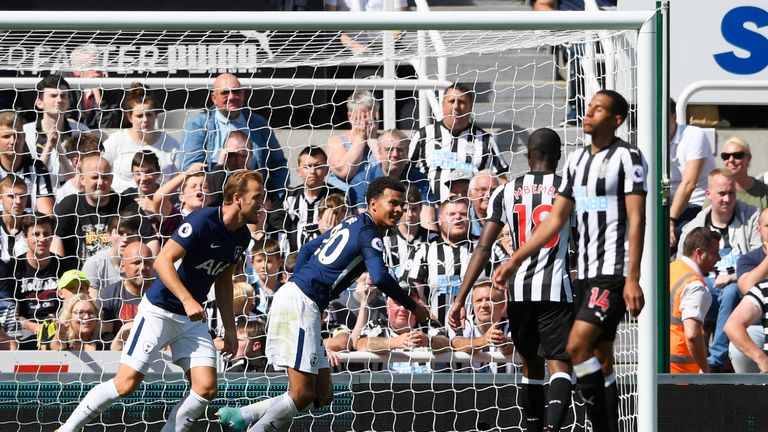 He told Sky Sports: "It's one of those things but he's a great player and I'm sure he's going to be disappointed. I've been caught out a couple of times for my temper but it's something I like to keep to my game.
"It was a game where we had to keep our cool, we didn't want to get too heated up and get brought into what they wanted us to do, which was make it more of a physical game and a battle than a game of football.
"It was important that we just kept the ball moving, I don't think there was any need to react today. I was happy with the performance and the win."
Spurs' lack of transfer business has come under the spotlight but Pochettino was upbeat about the club's chances of strengthening their squad before the window closes at the end of the month.
"We will try to improve the squad," he said. "We'll try to sign a few players more, we're trying hard to bring some new energy. I'm sure the next week or the week after we will sign."
One player who did make his Premier League debut was Kyle Walker-Peters and Pochettino was impressed by the youngster drafted in for the injured Kieran Trippier.
"He was fantastic," Pochettino added. "I'm very happy for him. I think his dream became true to play in the Premier League. To be nominated man of the match was fantastic. He always tried to play to help the team, he showed very good quality."