Pep Guardiola will join a Manchester City ready to embrace his methods
Last Updated: 08/05/16 8:56pm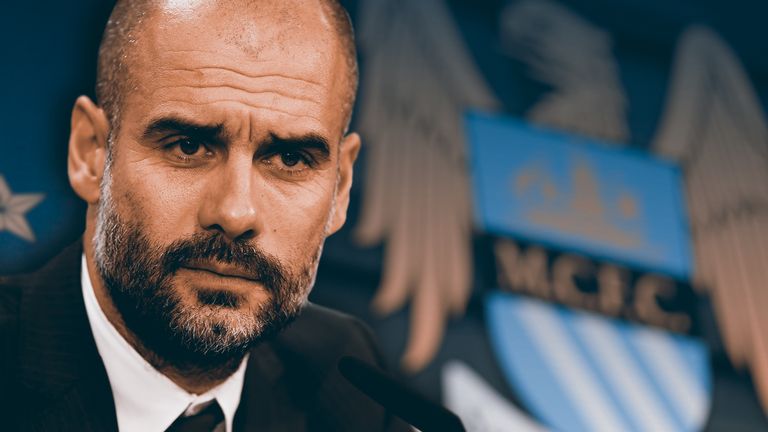 The appetite for Pep Guardiola in Manchester will be greater than it ever was in Munich, writes Adam Bate...
With Pep Guardiola's time at Bayern Munich coming to an end, some will wish to style his efforts as a relative failure. After all, he'd taken over a team that had reached the Champions League final in three of the previous four seasons, only to fail to negotiate the semi-final stage in each of his three years at the club.
Guardiola, however, is likely to take comfort in the process and the fact that he won't be alone in the feeling that Bayern went about things in the right way. "We played as we wanted to play," he said in the aftermath of Tuesday's elimination at the hands of a typically stoic Atletico Madrid side, "but we came up one goal short. I'm sorry."
Cup competitions simply cannot come with a guarantee of success. But there is little reason to doubt that Guardiola has made great players better. His training sessions have inspired awe among the squad - an education. He has challenged players. "I've never had a manager who has changed so many things," said veteran striker Claudio Pizarro upon his arrival.
Toni Kroos described him as "the best coach I ever had in terms of football ideas" and this attention to detail - a devotion to helping his players find solutions - has helped forge Guardiola's reputation. Trophies are important but it's this training ground work that employers can count upon. "I gave my life for this team," added Guardiola on Tuesday.
That is respected in Munich, but the five-time European champions have high expectations. They reached the semi-finals three times under Guardiola, but then, they'd got that far 15 times before. Perhaps that's why Franz Beckenbauer could criticise the style of play and Lothar Matthaus felt able to comment it was "never was true love" between coach and club.
It's a questioning culture in which Arjen Robben stressed the need not to "make football more complicated than it really is" and so the decision to leave Thomas Muller on the bench in Madrid wasn't without criticism. "He is not everybody's darling," Sky's reporter in Munich, Uli Koehler, says of Guardiola. "But he developed the team to a top level.
"He will be remembered as fantastic manager but also one who was missing the cherry on the cake. Maybe sometimes the players were confused by all of his decisions. Sometimes he makes the games too complicated. In one game he changed the tactics four times." It's worth pointing out that Bayern did win that game. But the grumbles were real.
It's likely to be a different story in Manchester. Firstly, he is not joining the Champions League winners this time. City are a club who were competing in the semi-finals of Europe's premier club competition for the first time in their history this season. Secondly, he is walking into an environment that's been primed for his arrival. He is truly wanted at City.
It's difficult to overstate the importance of Guardiola having a receptive audience. He has a reputation for being prickly - a perfectionist - but will find allies at boardroom level in former Barcelona colleagues Txiki Begiristain and Ferran Soriano, City's sporting director and chief executive respectively. It was Begiristain who helped appoint Guardiola at Barca.
In a sense, as Manuel Pellegrini was no doubt aware, much of what's happened at City in recent seasons has been built with Guardiola in mind. As well as the appointments of Begiristain and Soriano, there is the link-up with Pere Guardiola, the coach's brother, who is part of a consortium at Girona, where City youngsters have been sent on loan.
Even the focus on the new training ground that opened last season has a La Masia feel. There's a growing appetite to bring through talent that might make the likes of Spanish teenagers Aleix Garcia and Manu Garcia optimistic. Kelechi Iheanacho has already made an impact, while old stalwarts such as Yaya Toure and Pablo Zabaleta edge towards the exit.
It's a group of players who haven't yet reached the pinnacle in quite the same way as Bayern had. Instead, they are in need of fresh impetus. Pellegrini has kept things ticking over with trophies in each of his three seasons at the helm, but there's still been a suspicion that it's a club in stasis until Guardiola's arrival.
That was never more apparent than at the Bernabeu in the second leg of City's semi-final against Real Madrid. If Leicester's title triumph was an example of players seizing the day in the knowledge that the chance wouldn't come again, this was a City side living anywhere but in the moment - some belonging to the past, others with half an eye on the future.
There should be hope that Sergio Aguero will be ready to embrace new ideas; that players such as Kevin De Bruyne are still harnessing their full potential and will relish the help. It's a club crying out for a world-class coach with the trust and the time to implement his vision. Guardiola is that man - Champions League winner with Bayern Munich or not.