Pep Guardiola's tactics are not the issue for Manchester City's defence
Last Updated: 28/02/17 3:21pm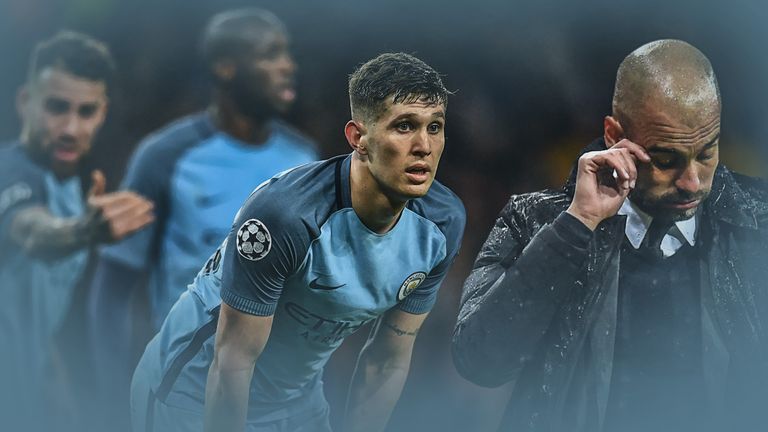 Man City's error-prone defence was exposed again by Monaco but who is to blame for it? Adam Bate attempts to separate fact from fiction regarding the defensive record of Pep Guardiola's team and the reasons for their problems at the back this season...
An improved sequence of six games in which Manchester City conceded only one goal was enough to encourage the idea that the club's defensive worries of earlier in the campaign were now behind them. That notion was undermined along with the City back line during the course of a memorable and at times maddening 90 minutes against Monaco last week.
Victory was the priority and that was duly secured thanks to an amazing turnaround as Pep Guardiola's side scored three times in the final 20 minutes to win 5-3 as Monaco faded. It really ought to be enough to ensure City's progress in the tie but how far they can go both domestically and in Europe is surely limited unless their defensive issues are addressed.
And those problems would appear to be manifold. Neither of the club's current goalkeepers inspire much confidence, questions remain over the centre-backs, while even Guardiola's plans and preferences for the full-back roles remain something of a mystery. So are City's flaws as a result of bad luck and individual errors or is this a team that is set up to fail?
Goalkeeper
Willy Caballero actually made a wonderful save with his feet from Radamel Falcao late on against Monaco as well as denying the striker from the spot. However, the 35-year-old Argentine's limitations are well known and the very fact that Guardiola has turned to him reflects the problems that Claudio Bravo has endured since arriving in the Premier League.
Between them, City's goalkeepers are saving just 59.1 per cent of the shots they have faced this season. That puts them among the bottom three in the division and is inferior to all of their main rivals near the top of the table. Tottenham are up at 76.9 per cent with Chelsea, Arsenal and Manchester United's goalkeepers all up above the 70-per-cent mark.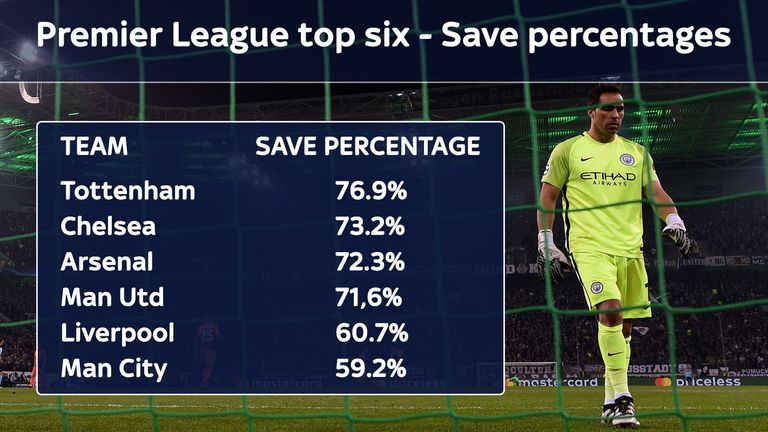 Save percentage stats can be misleading, of course, as they do not take into account the quality of the shots being faced. For example, it was easy to criticise Bravo's goalkeeping in the 3-1 home defeat to Chelsea earlier this season but when Diego Costa, Willian and Eden Hazard each find themselves clean through on goal perhaps there are bigger issues.
And yet, delve deeper and not only are Bravo's failings clear but a new picture emerges. Opta's expected goals model calculates the goals that a team might expect to concede based on shot-location data. This suggests City should have let in 19 goals this season - the same as leaders Chelsea have actually conceded. Instead they have in fact let in 29 goals.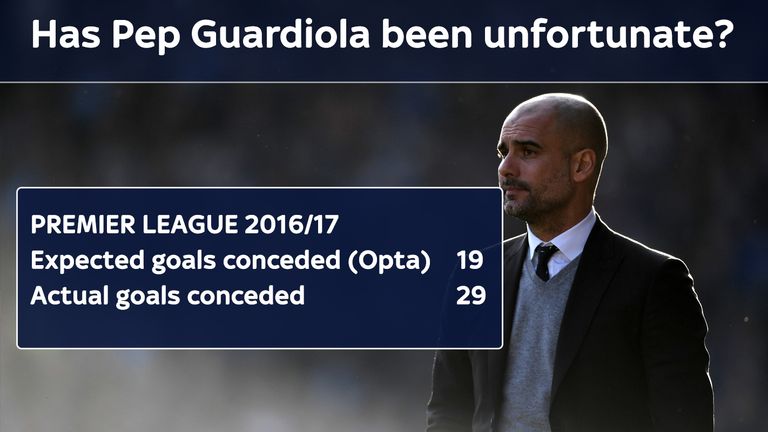 So while Guardiola is culpable for ousting Joe Hart from the squad in favour of the Chilean, these statistics would at least suggest there is not a fundamental stylistic problem preventing the team from keeping clean sheets - as might be expected from a coach whose teams have boasted the best defensive record in each of his seven seasons in management.
Defence
The oft-cited argument against Guardiola's methodology is that it is not easily transferable. The theory is that these players are not capable of doing what his previous ones were able to do defensively. It's an alarming prospect given that Nicolas Otamendi and John Stones are the most expensive assembled centre-back partnership currently in world football.
But on the face of it they are struggling to convince as a pair with even the fundamentals of defending seemingly proving a challenge. It was a simple ball over the top that did for them against Monaco and even at 29 years old it appears that Otamendi is not the man to provide the assurance that is required alongside a younger defender such as Stones.
The Englishman has made three high-profile errors in the Premier League this season. No player in the country has made more. He was partially responsible for Southampton's opening goal at the Etihad in October as well as the fourth goals for both Leicester and Everton in perhaps the two most spectacular defeats of Guardiola's brief reign so far.
But once again the true picture is not quite so clear. While it is true that Stones has made three errors leading to goals in the Premier League this season, according to Opta, these also happen to be the only three mistakes he has made leading to a shot on goal. Stones has indeed found himself embarrassed, but he has been punished heavily for his slip ups.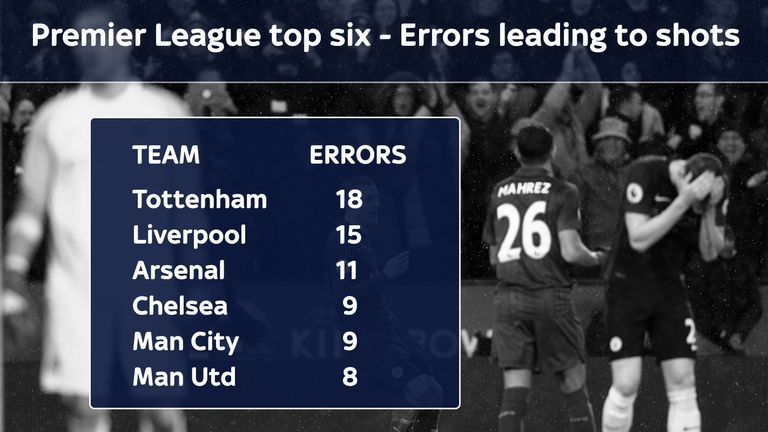 In fact, City's total of nine errors leading to shots under Guardiola is far better than most. Again, this is the exact same number that Chelsea have made. Both Liverpool and Arsenal have more mistakes to their name. Tottenham have twice as many. City's style might be perceived as high risk but there is little evidence it is significantly undermining their chances.
Conclusion
Some will struggle to be convinced by that. They will see Caballero surrendering possession in his own half because of a dogmatic determination to pass the ball out from the back, as he did six times against Monaco, and conclude that Guardiola's entire philosophy must be subject to a rethink before Manchester City can truly make progress.
But Guardiola is not going to lose faith in his methods. That is, as he has repeatedly stated, impossible. "It is not about the system," he said after the 4-2 defeat to Leicester in December. What he might eventually conclude is that it is about making the necessary changes in personnel - maybe even admitting to mistakes over the goalkeeper position.
Despite being widely seen as a stubborn character, Guardiola has shown some humility in this regard. "At times my ideas were not good," he said in January, "because I'm still getting to know the players, the best way to play and to adapt to them. Sometimes I have an idea - three at the back or play a player in a certain way - and sometimes it didn't work."
But if City can save more shots and if their defence is not punished quite so often, belief will grow. "The moment we feel mistakes, especially in defence, we lose a little confidence to play," he said recently. Mistakes make a mockery of the best laid plans. But the evidence is there - at City now as well as at Bayern and Barca - that the Guardiola plan really does work.