Sergio Aguero and Gabriel Jesus showed they can flourish together
Last Updated: 17/05/17 9:45am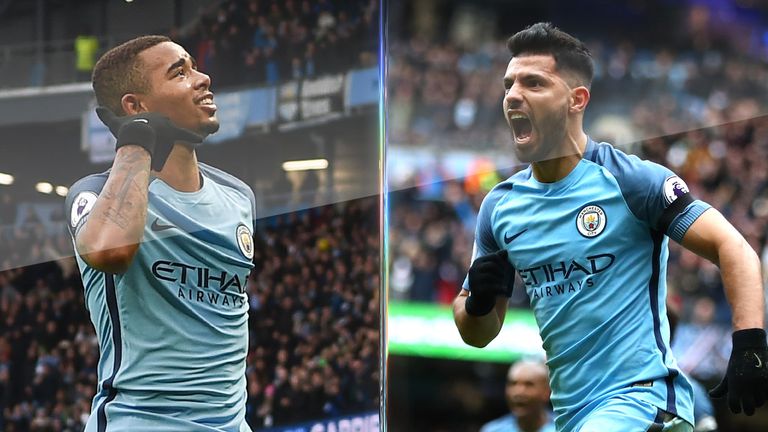 Sergio Aguero and Gabriel Jesus impressed in Manchester City's 3-1 win over West Brom - their first victory starting together. Is this the way forward for Pep Guardiola? It could be if both men continue to show this sort of willingness to adapt their game, writes Adam Bate.
When Pep Guardiola first picked Sergio Aguero and Gabriel Jesus in the same team, it is fair to say that the Manchester City boss was not impressed. "In the first half it was a disaster," he later admitted when referring to the 2-2 draw at Middlesbrough last month. A little over a fortnight later and Guardiola will be rather more optimistic.
In truth, his faith never really wavered. Even in the second half at the Riverside Stadium both men got on the scoresheet with Aguero setting up Jesus for the second. Guardiola would have played them once more against Crystal Palace but for Aguero's injury and has been adamant from the outset that it is merely a matter of making adjustments.
On Wednesday night, the necessary tweaks were made. The City strikers became isolated against Boro when playing a 3-5-2 formation with wing-backs who did not get forward enough. They missed the guile of David Silva centrally and the thrust of Leroy Sane in wide areas. Against West Brom, both were present and correct. It made a big difference.
But it was not just about their team-mates. Aguero and Jesus are showing willingness too. The Argentine, in particular, found himself under scrutiny in this regard. His work rate was questioned. But he has upped the running. His appetite was doubted. But he has embraced the challenge. Publicly, Aguero has been saying all the right things too.
"I know there will come a time when I'll have to step aside," he told Sky Sports pundit Thierry Henry recently. "Other young strikers like Gabriel Jesus will be brought in. When you reach a certain age, the youngsters start putting pressure on you and you have to be even better. I've always adapted to whatever the manager has decided."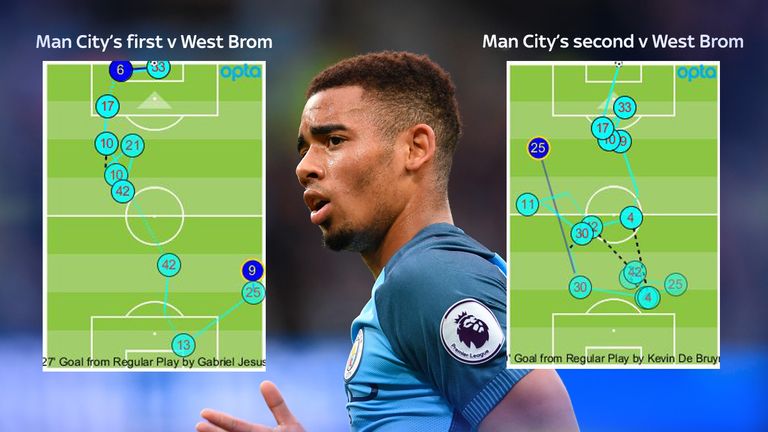 That was evident against West Brom. Styled as the ultimate finisher, Aguero showed so much more. He won possession high up the field after 16 minutes before playing a measured pass through to Sane who should have scored. Soon after, he was involved in the build-up to each of City's first-half goals.
It was Aguero's flick that put through Kevin De Bruyne to set up Jesus for the first on 27 minutes and he was there again for the second within a matter of moments. Once again he dropped deep, this time turning away from trouble to feed Jesus before the Brazilian found De Bruyne who was able to finish first time past Baggies goalkeeper Ben Foster.
When Aguero put Yaya Toure through for the third after the break it only underlined the transformation. This was the first time Aguero has been involved in setting up two goals in a single Premier League game - either through an assist or a second assist - since his role in an emphatic 5-0 home win over Newcastle in February 2015. That was 72 appearances ago.
Aguero's assists
Manchester City's 3-1 win over West Brom was the first time in 72 Premier League matches that Sergio Aguero assisted or second-assisted two or more goals in a single game.
It was Aguero who Guardiola wanted to talk about afterwards. "Gabriel was amazing but I think today the key player was Sergio," he told Sky Sports. "He didn't score but he helped us to play the third man. He made two or three assists. He made an amazing, amazing performance. Sergio played, wow, like in a long time I did not see."
Aguero's adaptability is only part of the story. Jesus's flexibility could also prove an asset if City hope to use them both. "Of course they can play together," said Guardiola earlier this month. "It depends on their behaviour and mood. Gabriel can play on the left side if Aguero is in the middle. They can do that. In Brazil, Gabriel plays most of the time on the left."
As it happens, Jesus operated in the right channel against West Brom and, while that might not be his most effective position, the advantages of those goalscoring instincts were obvious for the opener. For all Raheem Sterling's qualities, he has one goal in his last 15 matches for club and country. Would he have been there to stroke home from close range?
That's the goal threat that Jesus brings. The goal threat that Guardiola knows he needs given that Aguero is the only City player to score more than seven times in the Premier League this season. According to Opta, his team have created far more clear-cut openings (96) than any other side this season. Having more men who can take them will help.
"I would have preferred to play with him and Sergio together because of our lack of goals this season," explained Guardiola in relation to the recent Palace game. "We would have needed a little bit to adjust. It is complicated to do that [but] our lack of goals this season would have been better."
Complicated, perhaps. But not, it seems, impossible. And that could be important in helping to avoid the sort of home slip-ups against the likes of Middlesbrough, Southampton and Stoke that have so hampered City's season. Aguero and Jesus were fluent together against West Brom. If they can find a way to repeat that fluency next season, then this partnership really could have potential.
Watch Manchester City's final Premier League game of the season at Watford on Sky Sports 2 from 2.45pm on Sunday