Pep Guardiola hailed his Manchester City players as "animals" after their record-breaking win against Swansea on Wednesday.
The 4-0 victory at the Liberty Stadium saw the Premier League leaders set a new record for consecutive wins in the competition, racking up their 15th straight victory and surpassing Arsenal's previous record of 14.
The match comes in the middle of a busy week for City, having beaten Manchester United last weekend before playing Tottenham on Saturday, and Guardiola praised his side for their midweek performance.
"In history there have been some amazing teams - Liverpool, [Manchester] United with Sir Alex Ferguson, Chelsea with Jose Mourinho," said the City boss.
"A lot of good, good teams and we are the first ones to win 15 games in a row. Of course that will not make sense if we do not win the title, if we don't win the title it will just be a record.
"This record will be broken but it will not be easy. When (my players) don't have the ball they go to win it like animals. At this level it's so competitive. That means we are strong in the head."
The win over Swansea sees City maintain their 11-point lead at the top of the Premier League table.
And Guardiola added: "It's not easy after three days with what happened at Old Trafford, and it's about mending physically and mentally to come here and play how we did."
"A lot [pleased me about the game]. We played so well, we attacked well inside and outside, we didn't concede chances too much and of course, if the fans are happy, we're happy as well," he told Sky Sports.
"Today, the game was on our mind. It was the team at the top of the league playing the team at the bottom and we knew if we do what have to do, we can win.
"That's why everything was on our mind because three days ago, we were at Old Trafford and in three more days, Tottenham come to us so this middle game could have been a little bit tricky."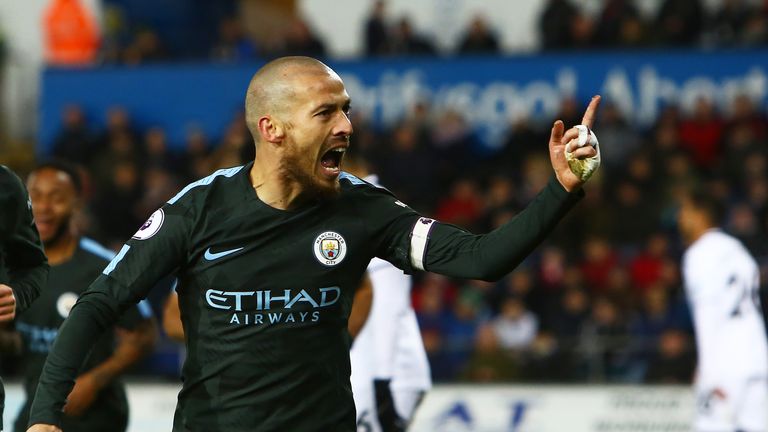 City captain David Silva netted twice in the win and Guardiola was happy that goals are coming from other areas of the field, with a first clean sheet in four Premier League outings also welcome.
"It's good [that David Silva scored] because we needed that and David has that mentality, that competitiveness and as a football player, we discuss that kind of feeling to score goals and how to help the team score goals," he added.
"It is so important, not just for the strikers, the wingers, attacking midfielders, central midfielders, the defenders, scoring from set pieces, we are scoring goal in many different ways.
"In the last few games, we could not keep the clean sheets and today again, it is so important. Ederson made two or three great saves but especially with how many chances we had to win the game, we are happy for the performance.