Garry Monk has had a big impact at Middlesbrough, says Adam Clayton
By Simeon Gholam
Last Updated: 11/08/17 12:42pm
Middlesbrough midfielder Adam Clayton insists that Garry Monk has already had a big impact at the club, despite suffering defeat in their Sky Bet Championship opener.
Boro were beaten 1-0 by Wolves at Molineux last Saturday on their return to the second tier, but Clayton says that things are coming together under the new boss ahead of their game against Sheffield United on Saturday - live on Sky Sports Football.
"His methods, thinking, logic and just his fingerprint on the team, slowly but surely it's coming [together]," Clayton told Sky Sports.
"The formation he plays, the way he wants certain people to do certain things and have certain roles within the team is really good. Last season he got a good team almost to the play-offs, so hopefully this season he can get a really good team promoted.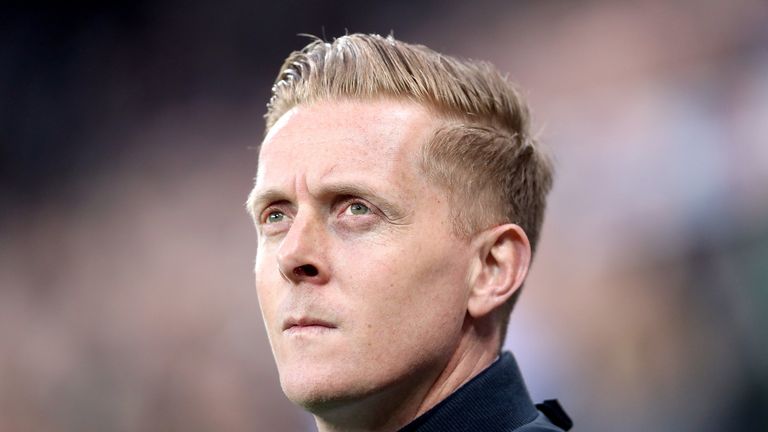 "Everyone has their own job in the team which is really good because there are no hiding places. If someone scores a goal against you, you know why it happened, and that can make people look at themselves and not want their man to score a goal. If we can do that it'll be alright."
Middlesbrough won promotion under Aitor Karanka in 2015/16, but the Spaniard was sacked following a poor run in the Premier League last season. Clayton, however, refused to be drawn on comparisons between his old boss and Monk.
"Every manager is different. I've only known [Garry] for two or three months, so it would be good to get a season under him and really get to know what he's about," he said.
"But they're both good managers who do it in their own way, they've got their own ideology and they stick to it."
Even after their opening-day defeat, Middlesbrough remain one of the favourites for the Championship title this season under Monk. But Clayton insists they don't feel the pressure of that expectation.
"I don't think anyone in the dressing room really takes that pressure on board," he said. "The season we got promoted we had the same pressure, we were one of the favourites then and we dealt with it.
"I don't see any reason why we can't again. I think it's just a case of getting a few wins on the board as we're not that used to winning in recent times.
"I'm not focusing on anyone but Middlesbrough. Villa will be up there after signing John Terry and a few others, and there are a lot of teams who fancy their chances. Eight to 10 if not more.
"But we'll just look after ourselves and hopefully that'll be enough in the next 45 games."
Don't miss the Sky Bet Championship clash between Middlesbrough and Sheffield United on Saturday, live on Sky Sports Football from 5.15pm