Crystal Palace 1-0 Watford: Sam Allardyce heaps praise on Wilfried Zaha
By Pete Hall
Last Updated: 18/03/17 7:06pm
Sam Allardyce praised the "game-changing" role that Wilfried Zaha played in Crystal Palace's 1-0 victory over Watford at Selhurst Park.
The 24-year-old was a constant thorn in Watford's side, but was unable to find the goal that his efforts deserved.
The game was decided by a Troy Deeney own goal, which earned Palace a third win in a row, moving them four points clear of the relegation zone.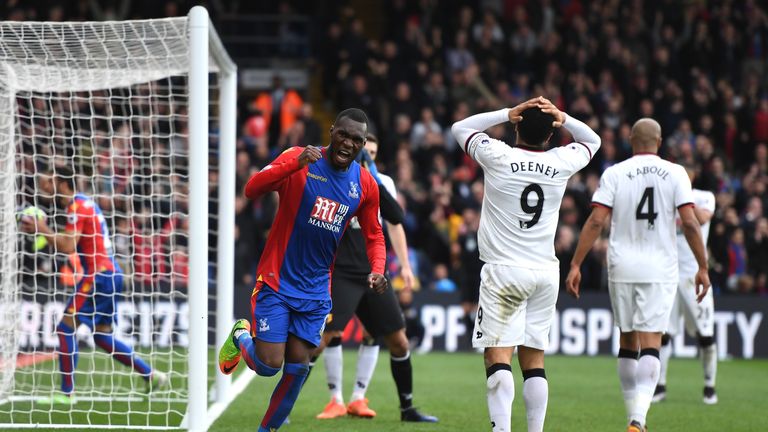 Allardyce was delighted with the way his side dug in to earn the victory, and was quick to point out who he thought stood out in south London.
"It [the win] shows a bit of character from the players to be honest," Allardyce told Sky Sports. "Watford are a strong, powerful side. They play direct off the front two, and play from there. They shut you down. It wasn't long ago they were beating Arsenal. It shows the quality of the team.
"We had to dig it out today, because of their intense closing down to stop us playing. They did that very well today for periods of time.
"That bit of quality came from Yohan [Cabaye]. The cross was fantastic, and then it was an own goal. From there on in we had a couple of other chances to make it easier at 2-0.
"The win came about by earning that all important clean sheet. I have been saying how important that is since I got here.
"He [Zaha] lets us get organised behind him, pushing the opposition back. It is a shame he didn't score. It was a terrific performance [from Zaha], a real game-changer, a constant threat.
"Andros Townsend was not quite as big a threat down the other flank, but he worked really hard."
Allardyce also confessed to having sympathy for Christian Benteke, who has netted just twice in his last 13 league games after another fruitless afternoon on Saturday.
"We cannot get Christian [Benteke] a goal at the moment, but we are still winning," Allardyce added. "When we do start finding him a goal or two, I hope that makes us even better than we are now.
"Somewhere along the line, one will go in for him. There as one moment today where normally he would have just smashed it in, but he took a touch to try and make it safe and the defender got back."
Sky customers can now upgrade to Sky Sports and get 12 months for just £18 per month. Upgrade now!