Riyad Mahrez says Leicester aren't feeling the pressure of being Premier League leaders
By Johnny Phillips
Last Updated: 14/02/16 7:19am
Ahead of Leicester's trip to Arsenal, Soccer Saturday's Johnny Phillips spoke to Riyad Mahrez about the Foxes' unexpected title bid, their Super Sunday test at the Emirates and scoring that goal at Manchester City...
It is hard to pin down what the best bit about Leicester's second goal against Manchester City last weekend actually was.
It was a typically thrilling counter-attack. There was the power of N'Golo Kante as he brushed off his assailants. And then Riyad Mahrez's clever dink over the hapless lunge of Nicolas Otamendi.
Next there was his feint left and switch to the right, which left Martin Demichelis turned like a pub player. And it was all topped off by the thumping finish past Joe Hart with his weaker right foot.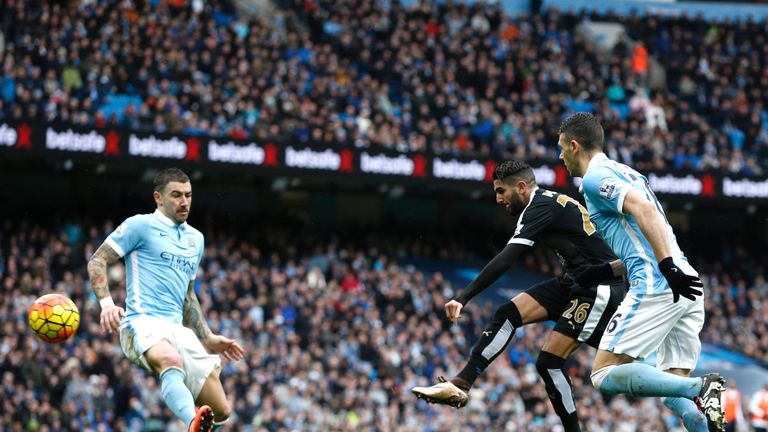 It was Mahrez's best goal of the season, he said so himself. But how he scored it? He's not sure.
"When I came into the one versus one with Demichelis I thought that he'd think I would go left because I'm left-footed. That came into my head but so quickly. You don't have time to think really, you just do your things. It's a little bit of thinking about it and then the rest is just…well, I don't know…just me. You don't control things like that."
Mahrez appears to have the ball on the end of a piece of string, such is his mastery and control of it, but he hasn't always played with such confidence.
His first season in England could even be called anonymous, with infrequent glimpses of his true potential. He didn't convince Claudio Ranieri straight away either; the manager dropped him to the bench for successive games against Norwich and Southampton in October.
Goals & assists
Riyad Mahrez is the first Premier League player to hit double figures for both goals (14) and assists (10) this season.
The explanation then was that he may be tired after international appearances for Algeria, but there was an underlying doubt about his ability to perform consistently at the highest level.
Another Algerian in this country is his international midfield team-mate Adlene Guedioura of Watford. I spoke to Guedioura this week about Mahrez and what it is that makes him so unique.
"He plays every match as if it is a five-a-side." Guedioura believes Mahrez is one of a kind in his carefree approach to football - be it in training, the Premier League or at international level. He goes out to play with the idea of having fun.
Leicester's players are so obviously enjoying this incredible season. It is part of what has got them to where they are. The pressure has never been on. Now, for the first time, they are being tipped to actually go on and win the Premier League. Mahrez believes nothing much has changed, but admits the players are eyeing top spot come May.
When you taste first place, if you then go and finish fourth you will be disappointed. But there's no pressure, just positive pressure.
Riyad Mahrez
"To be first is something special. Especially for Leicester, we're not used to this," Mahrez explains. "When you taste first place, if you then go and finish fourth you will be disappointed. But there's no pressure, just positive pressure."
Sunday's trip to Arsenal ends a run of three supposedly tough games. The way Liverpool and Manchester City have been swept aside, no-one would rule out another victory. The trip to the capital is one Mahrez is looking forward to.
"Home games are fantastic with our fans, but the away games are good because we've won a lot," he said. "Maybe we find more space in [away games] especially against the big teams because they have more of the ball."
Is surrendering possession something he and his team-mates are comfortable with? "We never have possession anyway, it's not our quality. We prefer to leave the ball, be solid and then counter-attack."
Mahrez and Jamie Vardy are the headline acts at Leicester. The two of them are frontrunners to be named as PFA Player of the Year. Ranieri's team have quality right the way through, though, and there is one player Mahrez singles out for special praise.
"N'Golo Kante. He's phenomenal. He's everywhere on the pitch. He's a very big player," says Mahrez.
At £5.5m Kante didn't come quite as cheaply as the £400,000 bargain Mahrez, but he's another success for the club's recruitment department. The side that won so well at the Etihad Stadium was assembled for several million pounds less than City paid for Otamendi alone.
Arsenal have been served a warning. Should another title rival be conquered on Sunday, Leicester will have an even firmer grip on top spot. "Now, it's still a dream," adds Mahrez. "We'll see when we're going to wake up."
Riyad Mahrez was speaking at Wigston Academy ahead of the Playstation Schools Cup tournament.
Watch Arsenal v Leicester live on Sky Sports 1 HD from 11.30am on Sunday