Fearless: The amazing underdog story of Leicester City
By Adam Bate with Jonathan Northcroft
Last Updated: 22/09/16 6:42am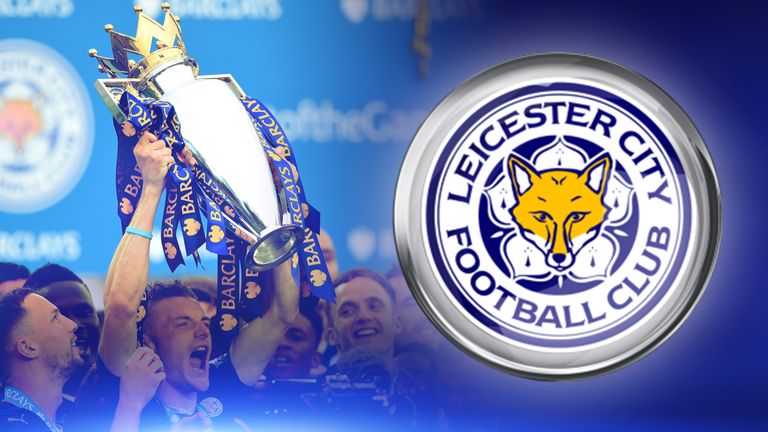 Jonathan Northcroft is the author of Fearless: The amazing underdog story of Leicester City released on September 22nd.
Here, the Sunday Times football correspondent puts their achievement in context while explaining why it wasn't quite so inexplicable…
There are so many ways to express just how unexpected Leicester's triumph was, but 5000/1 seems to have become the shorthand. Are there other examples that sum it up well for you?
For me, you have to start with the economics. Money determines so much nowadays. The Aberdeens don't beat the Real Madrids to lift trophies anymore - sadly. Every year the Premier League, Champions League, Primera Liga, Bundesliga - you name it - is won by one of a small group of elite clubs.
Until Leicester came along. I write about it in the book: no team with a wage bill outside the top five had ever won the Premier League and indeed no team outside the biggest three wage bills had won since Arsenal in 1998. Leicester's wage bill was in the bottom five. No fewer than seven clubs in the league had one or more individual players who cost more than Leicester's entire team.
For me, incredible as Nottingham Forest's feats were under Brian Clough, you can't ignore the fact that back then financial differences between clubs just weren't as great. In fact, Forest held the British transfer record in 1979. In the same era, what my club, Aberdeen, did was magical - but when Alex Ferguson joined Manchester United he actually took an earnings cut.
On the 5000-1 thing, it tickled me that when Nigel Pearson left some fans tried putting money on the next manager being 'an ostrich' and were quoted 500-1. So…the bookies basically thought a giant bird was ten times more likely to take charge of Leicester than they were to win the league.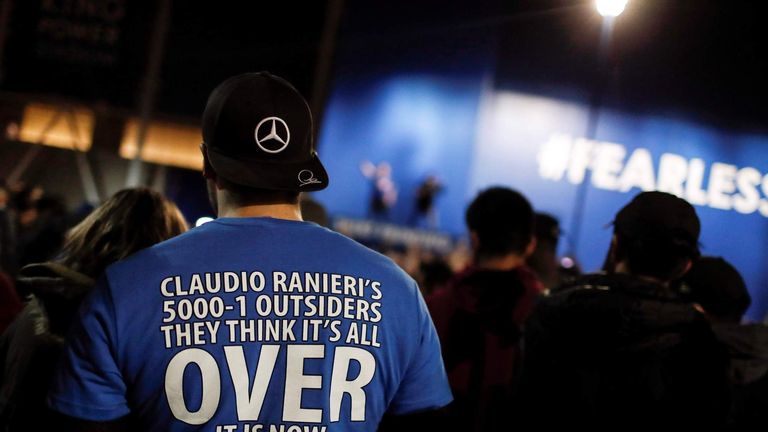 You actually moved to Leicester didn't you…
I did…I've had good luck with timing over the years. I moved to Liverpool at the start of the Istanbul season and grew up near Aberdeen during the Alex Ferguson era. The move to Leicester was more good fortune.
My wife's from Walthamstow but her parents retired to Leicester 12 years ago and we have two young daughters. We wanted to be nearer the grandparents and started house-hunting in and around the city in the spring of 2015. Leicester were bottom of the league then, and I remember thinking 'if they could just stay up somehow then maybe I'll get the odd local game to report on per season -when big clubs come to the King Power'. When we eventually did move, in March 2016, Leicester were on a quite different path…
Did living there help to give you a real feel for what this means to the people there?
I already knew the city as a regular visitor, but only living somewhere gives you the real picture and Leicester has a character that you have to unravel. There's a multiculturalism that's remarkable but also complex in places. It's a university city. It's bang in the middle of the country. It's at the centre of a rural county from which people come in to town. It's an east Britain place - and east-Britainers (I am one!) are just a little quieter and calmer than those on the western side of the country.
You experience all these things when you live here. Of course I haven't been a resident very long and have plenty to learn but at least being in Leicester gave me some kind of handle on what 2015-16 meant locally. Put it this way, I was in Liverpool city centre the night Liverpool paraded the Champions League and it was mayhem, like Naples or Montevideo. Leicester last May was a gentler and more nuanced party. I had some understanding why.
Everyone at Leicester always appeared very 'in the moment' when interviewed last season. Speaking to them afterwards, did you capture more unguarded admissions of just how incredible this must have felt?
I interviewed players in May, when winning the title was still very fresh for them. They were still 'in the moment' and I wanted that, because their emotions and feelings were vivid. I was struck by Andy King's description of what the players went through during the party at Vardy's house on title-winning night.
King said after a burst of incredible euphoria there was a very odd 20 minutes when the whole place went flat and all the players were quiet and almost down. He likened it to the scene in Only Fools in Horses when Del Boy and Rodney have finally become millionaires. Del is offered some second hand fires to sell and Rodney has to remind him 'Del, we don't trade any more'. Del is crushed. The Vardy party soon started up again and everyone's mood lifted, but I felt that moment of 'so what do we do now?' was very interesting.
Robert Huth was great to talk to - I have a chapter where I put him centre stage and call it The Outlier. This is because he's just one of those people you find in life who has a different take to the rest. All the other players rave about the Leicester group being a band of brothers, having a unique bond, an incredible off-field life together. And Huth said "nah, the socialising is nothing special - this is just work". He does think Leicester have something special about their spirit but for different reasons, which he explains. He said when Bocelli sang and Leicester received the trophy it felt like just another day to him - whereas King said it was the best day of his life.
I loved finding differences like that. Dressing rooms, like all workplaces, comprise a range of personalities.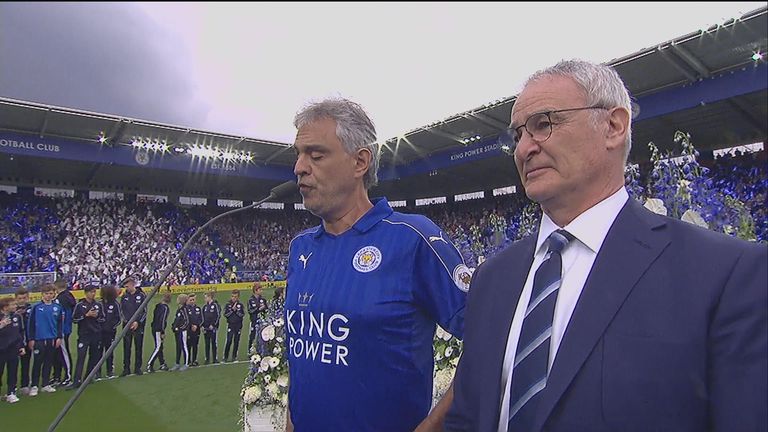 They've almost lost as many games already this season. Are you expecting it to be a challenging year for Leicester? And does that just add to the feeling of what a remarkable run they had?
It depends what 'challenging' means. If people are expecting them to win the title or even just compete for it again then, yes, it'll be challenging. But I don't think the players, the owners, Ranieri or the supporters are expecting that. They're much more grounded. I think Leicester are looking to consolidate as a top seven or eight club this season and to have a good Champions League run - and are well capable of achieving those objectives.
The biggest challenge is playing without N'Golo Kante. His contribution in 2015-16 was incredible. A unique player, uniquely suited to the team he found himself in. Ranieri has his work cut out in finding new ways of protecting Morgan and Huth if he's going to continue using a system where he plays just two in central midfield. This season Leicester have looked much more 'open' when attacked through the middle.
But I think buying Islam Slimani could be a masterstroke - a serious presence on the pitch who'll allow them to play a slightly different way. His aerial power and hold-up play makes Leicester far less reliant on counterattacks. A new star brings freshness to a dressing room too: Leicester looked a little mentally tired both in pre-season and in their early Premier League games. Understandably!
The book comes out on the eve of the Manchester United game. From the 5-3 the year before to Vardy's record goal, do they emerge as key moments in the book?
Yes. The 5-3 was a glimpse of what Leicester could and would become: they were devastating on the break and totally fearless that day. And it was the first time Vardy really looked top class.
The 1-1 at the King Power, when Vardy broke the scoring record, was the first time that personally I sensed something a bit special was happening with the club. Because of the record the whole world was watching Vardy and the team - and both stepped up and more. Leicester played with incredible intensity and this was matched by the intensity of the King Power's atmosphere. It was a hairs-on-the-back-of the-neck day. I drove back up to the north-west with a colleague and we couldn't stop talking about it.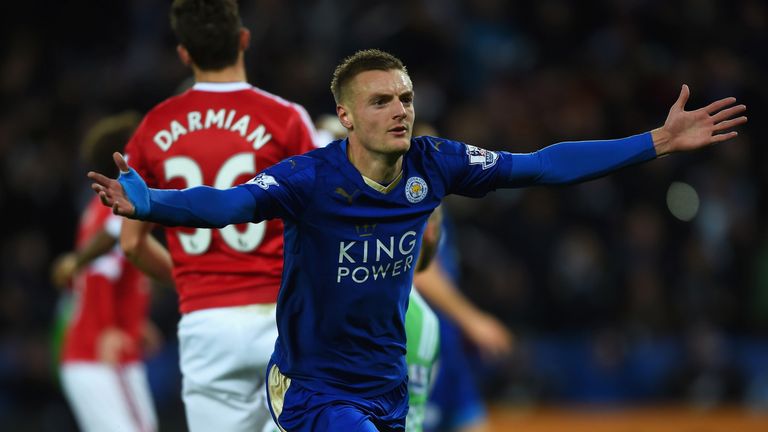 The 1-1 at Old Trafford was crucial too. The point meant Spurs had to win at Stamford Bridge and the pressure on them to do so proved too great. That game also demonstrated Leicester's sheer resilience. United made an incredible start and other teams might have been blown away but Leicester stuck at it and dug out an equaliser through sheer desire - no one was stopping Wes Morgan scoring that header.
As Graeme Souness said afterwards on Sky, "that 90 minutes typifies what the season has all been about. 'When adversity comes we'll deal with it.' It's hard to be anything other than utterly in awe of this team."
Having gone through the process of doing the book - all the interviews and the research - does the achievement feel more surprising or less?
Less. The more you get to understand Leicester, the more you see a football club getting so many of the fundamentals right.
The dressing room is harmonious, determined, competitive - and a place people enjoy themselves.
Behind the scenes from owner to kit man, from manager to security men, nobody seems ego-driven. The key football departments all consult with each other and work together. For example, the fitness guys have a huge say over training plans to ensure players aren't overloaded - and this is reflected in Leicester's amazing injury record. The analysts work out of the same office space in the training ground as the coaching staff. Before Steve Walsh left, Leicester's head recruiter was also their assistant manager.
People pulling in the same direction. Departments trusting each other. No personal empires - you have no idea how rare that is in football clubs!
As for the playing side, I re-watched highlights of every Leicester match in 2015-16 and this reinforced a feeling I'd had. Leicester actually had three world-class footballers on the pitch: Kasper Schmeichel, Kante and Riyad Mahrez. And Vardy is world class at what he does. Then you add in Ranieri, a world-class manager (I think we can see that now - look again at the clubs he has managed and managed well). And a number of very, very effective supporting players. It's not such a shock when you break it down like that.
And do you think we'll be talking about it for decades to come? Is it the new yardstick for sporting miracles?
I think so. Ranieri suggested a 'miracle' like this happens every 50 years in football. In English football terms that would take us back to Ipswich winning the league in 1962 - and the wise old football owls were telling us Leicester's closest equivalent was that Ipswich side. So maybe Ranieri's right. The difference is the world attention on the English top flight these days - so I doubt Leicester's achievement will ever be forgotten the way Ipswich's kind of has.
Where this sets a yardstick is when it comes to team sports and league competitions. I think we were familiar with the odd little side winning a cup or tournament, and with the odd shock in individual sports. But to beat the odds Leicester faced over a 10-month season, over 38 games - and let's not forget, to win by ten points - that's the miracle.
When writing the book I looked at some of the comparisons offered in the media to Leicester: Buster Douglas beating Mike Tyson, 17-year-old Boris Becker winning Wimbledon, John Daly driving through the night to take up a wildcard place at the US PGA and winning with a borrowed caddie. Well, imagine Buster Douglas beating Tyson and then still being world champion 37 fights later. Or Daly mounting a long reign as World No 1. Or Becker doing that with a wooden racket while elite opponents used graphite…
Even now, the Leicester players know they'll be getting paraded at reunion dinners in 30, 40 years' time, and people will still want to talk to them about this. My Leicester book wasn't the first and I'm certain it won't be the last. It's not a story football will tire of.
Fearless: The Amazing Underdog Story of Leicester City, the Greatest Miracle in Sports History by Jonathan Northcroft is published by Headline.