Mike Phelan says Jake Livermore handball not deliberate in Hull loss
By James Walker-Roberts
Last Updated: 17/09/16 6:30pm
Hull interim manager Mike Phelan questioned whether Jake Livermore should have been sent off for deliberate handball in the 4-1 defeat to Arsenal.
With Hull trailing 1-0 late in the first half, Livermore was shown a straight red card for blocking a goal-bound shot with his arm.
Although Arsenal missed the subsequent penalty, they scored three times in the second half to run out comfortable winners.
Asked about the dismissal, Phelan told Sky Sports: "It was handball, but I don't think it was a deliberate handball.
"I don't know quite what the rule is whether it should be red or yellow but it hit him on the arm. His arm did not move out wide to stop the ball, it hit him.
"But that's the way it goes, we got a penalty which got us back in the game."
Robert Snodgrass scored from the spot in the 79th minute to halve the deficit, but Hull could not snatch a point.
"At certain points we were quite alive," added Phelan. "It was quite even at the sending off even if they had a lot of the ball. After the sending off you are playing against one of the worst teams to play against with 10 men, but we got a bit of momentum and stifled them a little bit.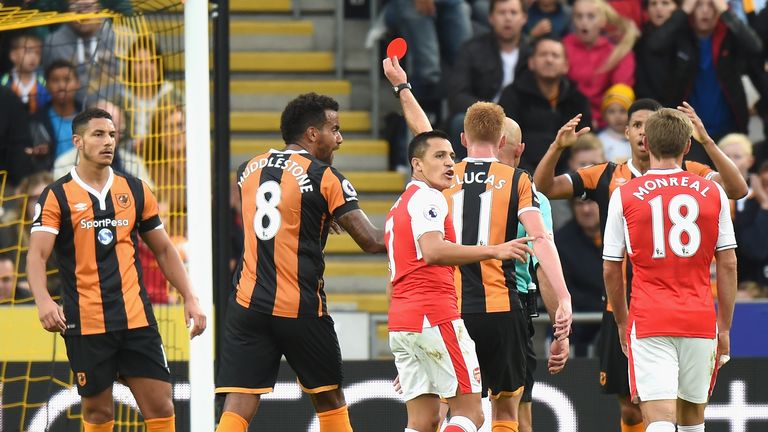 "At 2-1 I thought if we can carry on we might get a free-kick or corner and it might change, but to give the goal away a few minutes after we scored killed our momentum a bit.
"Then our lads tried to have a go but quality comes out in the end and Arsenal deserved the victory."
The defeat is only Hull's second under Phelan, who is mulling over an offer to be permanent manager.
"An offer has been made but it came 36-48 hours ago and in the build-up to this game so it was put to one side," he said. "I can sit down now, see where we go and discuss it with the owners and I am sure something will be resolved.
"It's never a nice thing to have hanging there when you have just lost 4-1 but I think what has happened before is good enough to talk about the permanent role and I am looking forward to it."