Neil Harris v Stuart McCall: which club legend will stay cool at Wembley?
Last Updated: 19/05/17 10:21pm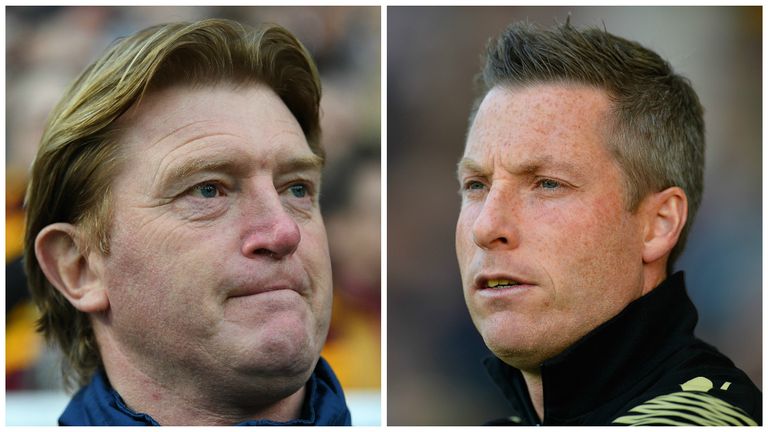 If you asked Neil Harris or Stuart McCall where they'd be at 3pm on Saturday if they weren't working as football managers - they'd both give you the same response.
They would be at Wembley Stadium for the Sky Bet League One play-off final between Millwall and Bradford.
Luckily for these two, they will be there anyway, in their official capacity. They won't have to pay for a ticket and will have arguably the best pitch-side seats in the house.
The hairs on the back of their necks may be standing that little bit higher than your ordinary manager on Saturday.
Managing at Wembley with the world watching is special enough, but managing a club that runs through your veins will surely take the emotion levels to the next level.
Both men have a genuine affinity with their clubs and are have legendary status with their respective supporter bases.
It adds an extra spice to what's shaping up to be a blockbuster of end-of-season showdown.
Having taken Millwall to Wembley last season and losing out to Barnsley in the final, Harris is well aware of the potential pitfalls of letting the emotion of the day get on top of you. For Harris, it seems head will ultimately rule heart when it comes to his touchline demeanor.
"It [connection with the club] goes out of the equation - all I'm interested in is trying to win a game of football," he told the EFL Podcast.
"I want my players to succeed and to feel that emotion at the final whistle. They're a great group - there's a terrific spirit and bond within the group.
"I can't wait to walk out at Wembley."
That recent Wembley experience is perhaps where Harris has a slight edge over McCall.
Bradford, under Phil Parkinson, played there twice in 2013 - when losing the League Cup final and gaining promotion through the League Two play-offs. However, McCall, despite experiencing Wembley as a player, has never been on the Wembley emotional roller-coaster as a manager. He's relishing the opportunity.
"I remember watching Phil doing it in the League Two play-off final at Northampton and although I was 100 per cent behind them, I was envious of him thinking I wish that could have been me," McCall said.
"At that point, I didn't think I'd have another crack of management here."
But McCall would be the man owners Edin Rahic and Stefan Rupp, who bought Bradford last season, wanted to replace Bolton-bound Parkinson. Bringing every corner of the club together has been a big part of the owners' remit and who better to be the face of it than "one of their own" in McCall.
It's a plan that is reaping rewards on and off the pitch. The club have launched their TeamTwenty campaign, where they have frozen season ticket prices at £149 with the hope of selling 20,000 for next season - they are almost halfway there already.
And judging by the scenes on the pitch following their two-legged semi-final success over Fleetwood, where both Rahic and Rupp celebrated with the players, staff and fans, Bradford City look to have become Bradford united.
Having that connection between the suits in the boardroom and the paying fan goes a long way in the modern game, especially when you analyse the current troubles at clubs like Leyton Orient and Blackburn.
McCall admits he gets a buzz at seeing the club come together and celebrate as one.
"I get my enjoyment out of making other people happy," he said.
"At the full-time whistle at Fleetwood to see the players, fans, staff and owners celebrating gave me all the satisfaction I could ever want. Then to come back to my family to see how proud they were.
"That's what it's all about. I will be a proud man walking out at Wembley, but it's all about winning."
Which manager will keep the emotions in check? Which club will triumph? Find out live on Sky Sports 1 on Saturday, from 2pm.