Steve Morison claims Millwall pitch invasion 'ruined' League One play-off celebrations
By Simeon Gholam
Last Updated: 21/05/17 1:15pm
Millwall hero Steve Morison admits a pitch invasion meant he struggled to celebrate their League One play-off final victory over Bradford at Wembley.
Morrison netted in the 85th minute on Saturday to send the Lions back into the Championship, but ugly scenes at full-time marred the game as fans rushed onto the pitch.
The Metropolitan Police made 12 arrests for a variety of offences including drugs, breaching of banning orders and in relation to the pitch invasion.
"It's annoying me, I can't focus right now and I can't celebrate," the veteran striker told Sky Sports after the game.
"They've ruined it for me, absolutely ruined it."
Defeated boss Stuart McCall also condemned the supporters, saying he could not understand why they had rushed over to "goad" him and his team instead of enjoying their own victory. And the Bradford manager questioned the slow reactions of the staff at the national stadium.
"I think Wembley have got to learn now, everyone knew that the fans were coming on. I still don't understand the fans wanting to do it, to goad myself, my staff and players when they've just won a game. Just enjoy your moment.
"I was close to clocking a couple who were coming up in my face, but that's not sour grapes, it's something you've got to learn from. Then, five or 10 minutes later, an army of stewards are coming on. Where were they straight after the game when they should have been on the halfway line?
"It's not just Millwall, it happens all the time. It's fine but stay in your own half and celebrate with your players and your team. You don't need to come goading."
Millwall boss Neil Harris also said he did not agree with fans running onto the pitch, but said it would not ruin his good mood.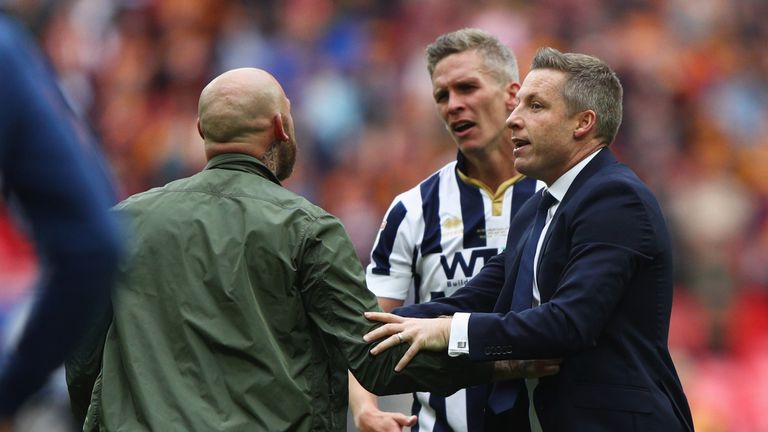 "The fans came on in good spirit. We didn't want them to come on, but it was in good spirit," he said.
"I don't condone people coming onto the pitch, and I apologise to Stuart and his players if they came [towards them]. I hope the fans came on in good nature, but it won't take away my joy tonight."