David Wagner concedes Tottenham were too good for Huddersfield
By Jack Wilkinson
Last Updated: 30/09/17 8:45pm
David Wagner was forced to concede Huddersfield lost to the better team after Tottenham's emphatic 4-0 victory at the John Smith's Stadium.
The Terriers have made the best start to life in the Premier League of any newly-promoted side in history, but they were given a reality check by Spurs, who raced into a three-goal inside 23 minutes.
Wagner highlighted key errors in that opening spell which contributed to the goals, but took nothing away from the ruthless nature in which Spurs exploited the mistakes.
"Today was a result of our mistakes and Tottenham's quality," he told Sky Sports. "They are a strong side, without a doubt, and have top quality, especially in the final third.
"They deserved to win this game. Maybe the result was a little bit high if you see the effort my players gave, but we made it too easy for them to score.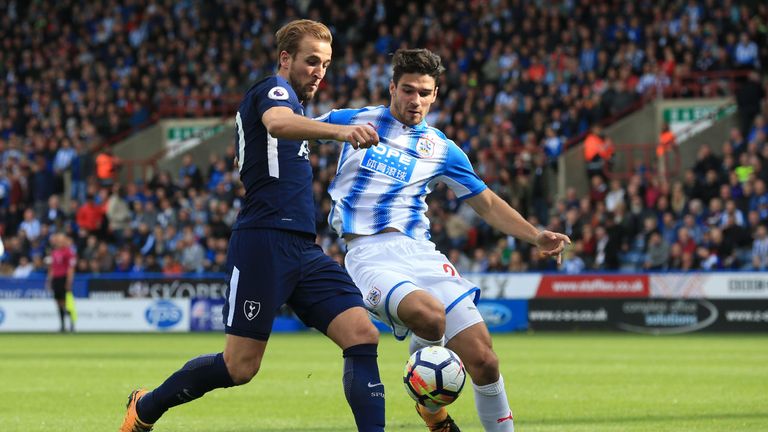 "The first goal was an individual mistake where we could have cleared the ball. The second was high quality, where their passing was one touch, but even then we cleared the ball, but to an opponent who scored.
"The third was a throw-in, which are usually easy to defend and the fourth we conceded after a counter.
"It was a deserved result but the goals we gave away were too easy and we had a lack of concentration.
"We knew that if we wanted to get something from this game every individual had to be 100 percent in terms of concentration with no easy mistakes, but today we there were too many easy mistakes."
Huddersfield went toe-to-toe with Spurs in a frenetic start to proceedings, but their exuberance in attack left the door open for Kane to break the deadlock on nine minutes.
When asked whether he intended to go all out against one of the Premier League's in-form sides, Wagner admitted: "We wanted to give Spurs a real go.
"We were pressing them high and being brave to go one versus one with the last line - that was our idea, to create some moments.
"We had some moments in offence as well - crosses, dangerous situations in the box, shots, we hit the bar - there were some moments where we created and that was what we wanted to do. But we wanted to avoid easy mistakes."