Hearts owner Ann Budge on new manager, building work and Sunday's Edinburgh cup derby
By Charles Patterson
Last Updated: 09/02/17 4:15pm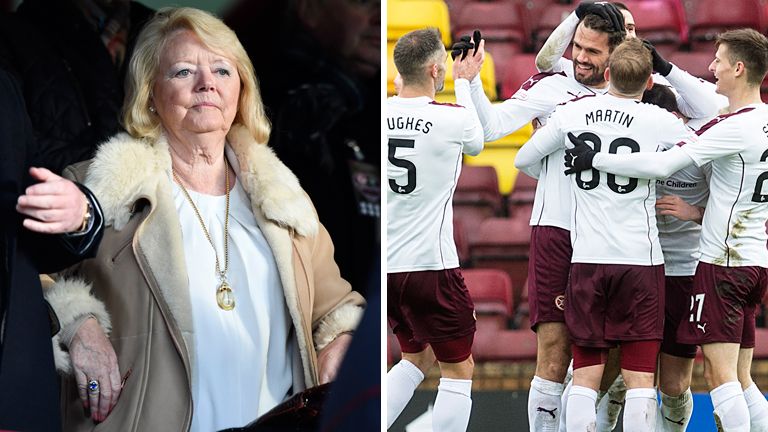 Hearts have a huge game on Sunday against their Edinburgh rivals and owner Ann Budge talks to SSNHQ about the race to build a new stand and competing with Celtic.....
"I've been conducting extensions and renovation projects for years and I thought I knew what I was doing when we started all this… I have to confess I was wrong."
Sporting an orange high-visibility jacket and red hard hat, Budge is surveying the organised chaos of the building site in front of Tynecastle's old Main Stand.
The project to construct a new 7,290 seater stand is approaching a critical stage. Last week the enormous new roof truss was agonisingly lifted into place over the course of an entire day; less than a week before Hibernian visit for a sell-out Edinburgh derby in the Scottish Cup 5th round, live on Sky Sports.
The front door extension, players' entrance, and the staircase to the Executive Suite are being flattened.
"When it was first pointed out that this would have to come down now, I was told 'don't worry, we'll put a scaffolding staircase up and you'll all be able to climb up it' - that didn't seem sensible to me, I can't see the high heels coping," says Budge.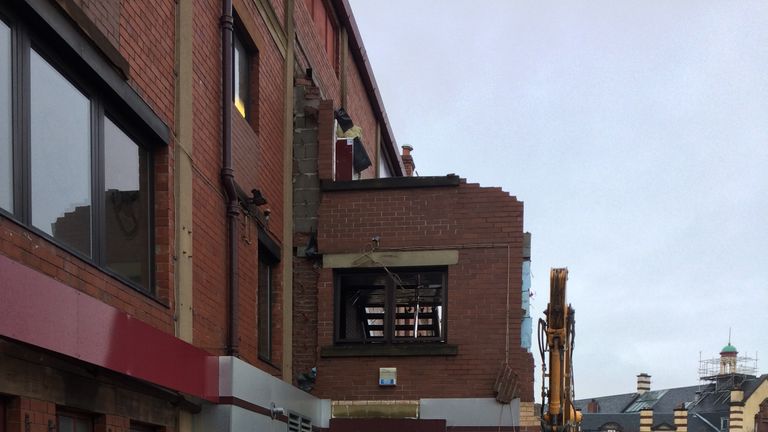 "But the entrance has to go. We are now at the point where we put concrete piles into the ground and one of them goes right through the extension. That will all be gone, I'm confidently told, by Sunday, and the last couple of days will be all about putting things back so it's safe for our supporters to get in.
"The old front door will still be there! Unfortunately the front door extension included water tanks and toilets, so we've got some inconvenience ahead! Tanks have been moved, gas pipes have been disconnected so we've got challenges with providing players with hot water. So it's exciting!"
The new main stand is estimated to cost around £12m; three years on from administration and Budge's subsequent takeover, Hearts appear to be awash with cash, having also signed nine players in the recent transfer window. However, all is not quite what it seems.
"The first couple of years, we got a few things right, we made some profits so we had cash in the bank. We have some incredible benefactors who've been unbelievably generous and they have put millions into the project. We have worked with [supporters group] The Foundation of Hearts, and we did have a plan that the money which came into the club over the next two to three years would effectively pay me back.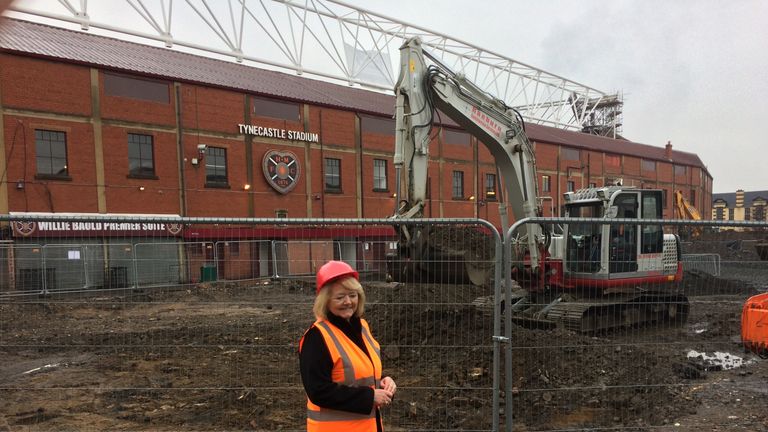 "What we've done is put that on hold and said, 'let's not do that, instead let's put the money into the stand'. That leaves a relatively short funding gap, and we are working hard to get some other initiatives to bridge that gap.
"There's only so many times you can ask supporters for help. That said, I can't tell you the number of supporters who've come to me and said 'Ann, will we be able to buy debentures? Will we be able to buy lifetime memberships? As long as we can put together a sensible set of options, I've absolutely convinced the fans will continue to support us."
The race is on to have the new stand operational for the start of next season. A provisional date of September 2 has been earmarked for completion, which would mean Hearts playing their opening four fixtures of the 2017-2018 season away from Tynecastle.
"It's a really tight program. I've got everything crossed, and I've got every confidence that the guys who are doing it know what they are doing! It will be open - I hope - for September 9 which will be our first game. I'm currently in discussions with the SPFL about what to do for the first four fixtures, and I think we're OK.
"If anything does start to slip, I need to have a contingency, so we're working on that. Probably having to play at least some of our games elsewhere, and we haven't yet decided exactly where, but we will have to find an alternative home venue if things start to slip."
Murrayfield Stadium, the home of Scottish Rugby a mile away, is the favoured venue if this situation arises. Budge appeared to rule out playing fixtures at Hibernian's Easter Road Stadium, when quizzed on this very subject at the club's AGM last year.
On Sunday the city rivals meet at Tynecastle with Hibs as Scottish Cup holders for the first time in living memory, after their victory last May. It's a statistic that has been tricky to grasp for some Hearts supporters.
"It probably is - but the fact is, it is a fact!" says Budge. "Good luck to them - and our job is clearly to change that, so that's what every Hearts supporter will be looking forward to on Sunday."
Hearts go into the game off the back of two victories over Motherwell and, more impressively, Rangers. It's a dramatic turn-around in form for a team that won just one of their first seven games under head coach Ian Cathro, who took over in December when Robbie Neilson joined MK Dons.
The scrutiny and debate that surrounded Cathro's appointment, and the team's apparent collapse in form, never shook the belief that Budge had in appointing the 30-year-old.
"You have to take a longer term view. Change causes disruption no matter how you manage it, and we are still going through a transition period. Was everything going to click from day one? Of course not. So no, I didn't have any doubts, and I'm perfectly happy to accept that we've still got a long way to go and we'll have our ups and downs, but it won't shatter my confidence.
"It took me a little bit by surprise to begin with, the amount of attention that [Cathro's appointment] was given. People said to me, 'oh what a brave decision', and I have to say I didn't think that for a second. I thought it was completely consistent with what we always said, which was we want to develop coaches, and give youth a chance.
"I didn't see it as a risky choice at all, I saw it as something that was a logical next step, the next young manager that we're going to bring on board and help us develop.
"I've enjoyed working with him. He is different from Robbie, but I'm enjoying it every bit as much. Ian and Austin [McPhee, Cathro's assistant manager] are very much a pair, as were Robbie and Stevie Crawford. It's fantastic - they are very much 'people people', as well being clearly very technically able. They do put a lot of thought into teamwork and pulling people together.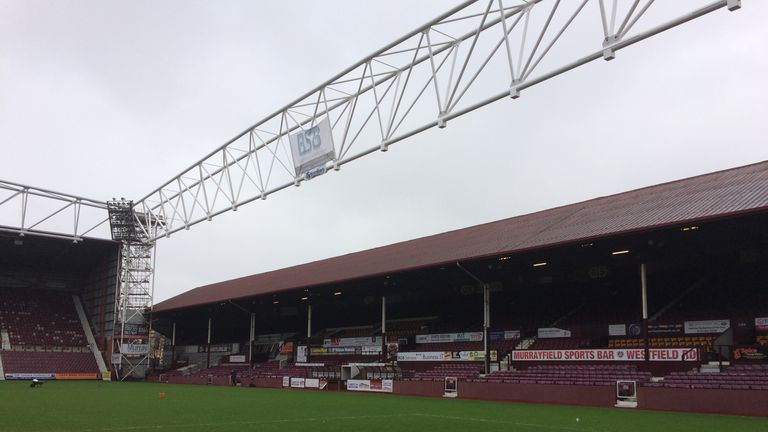 "The whole idea of having brought in nine new signings in January, and then the last couple of performances have been fantastic; I was quite amazed to see how much they played as a team. You'd have never believed that half the players on the pitch had just come in, and I think a lot of that is down to Ian and Austin's approach to team building."
Cathro's mantra since arriving at Hearts has been "no limits" - with substantial change taking place on and off the pitch. It's an exciting time to be involved at Tynecastle, but in Scottish football it's Celtic who are the benchmark.
"I agree with the principle of what Ian is saying; there really isn't a limit, you can keep progressing assuming you do the right things and have a bit of luck. I think the key is it takes time, and you've got to just keep building.
"I'm perfectly happy to make small progress each year, the key is to be consistent, almost by definition then there's no limit to what you can achieve.
"There is a huge gap to Celtic. That's built up over a lot of years. Do I see that changing in the short term? Certainly not. Something very badly wrong would have to happen for Celtic to lose that. That said, we also saw what happened in the English Premier League last year when Leicester came and took everybody by surprise.
"So is it impossible? No. But that's not the key to me. Running and growing our own business successfully, and closing the gap - it's not just Hearts, it's others too - we're all in it to continually get better."