El Clasico essential reading: Guillem Balague on Sergio Busquets and Zinedine Zidane
By Guillem Balague and Peter Smith
Last Updated: 03/12/16 7:00pm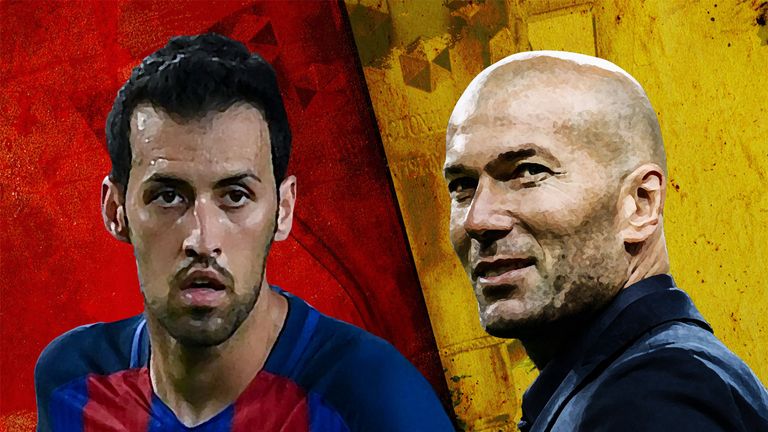 Ahead of Barcelona v Real Madrid, read Guillem Balague's insight on the role of Sergio Busquets and management of Zinedine Zidane.
The two men will have a key role to play at the Nou Camp on Saturday afternoon but there is a wider story to tell about their current situations. 
Here, Sky Sports' Spanish football expert Balague takes an in-depth look at why Barcelona manager Luis Enrique is threatening the club's entire business model with his use of Sergio Busquets, while Zidane may have brought immediate success to Real Madrid but still has critics to answer...
Barca's Busquets by-passed? 
Sergio Busquets was praised for his performance in Spain's draw with England. For fans at Wembley, it was a reminder of his cool, controlled style in the middle of midfield.
Despite a high press from Gareth Southgate's side, Busquets retained possession in tight situations and recorded a passing accuracy of 94.7 per cent.
It was the kind of performance he has made his trademark since he stepped up to the Barcelona first-team in 2008.   
In September, he signed a new long-term contract with his club, which could keep the 28-year-old at the Nou Camp until 2023.
Barca president Josep Maria Bartomeu has made him one of the highest paid players in the team. It's clear how much Barca value him.
But is that admiration reflected in the way they play?
There's evidence to suggest that Barcelona's shift towards a more direct style under Luis Enrique is reducing Busquets' influence.
He's still an important figure - but the team are no longer playing to his strengths.
Under Luis Enrique, Barcelona look to get the ball to the front three, Lionel Messi, Neymar and Luis Suarez, as quickly as possible. They no longer play so many passes in midfield.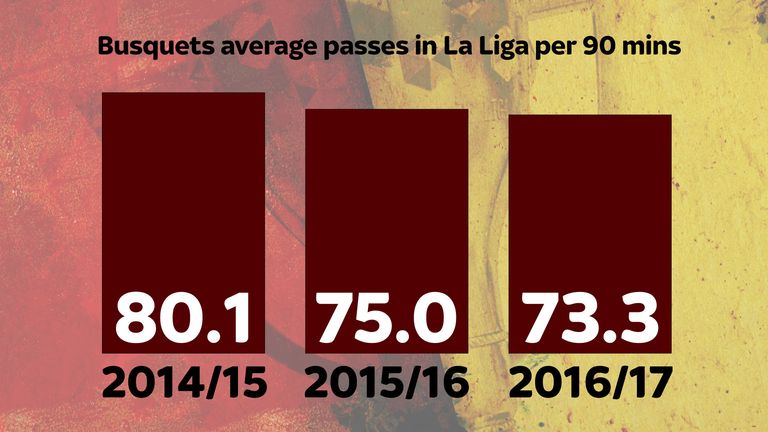 While it has resulted in Messi, Suarez and Neymar scoring huge numbers of goals, it's an approach which can often bypass Busquets.
The number of passes Busquets is making reflects his involvement in the game.
Those numbers have steadily decreased over the past three seasons under Luis Enrique's management.
He was making an average of 83 passes per 90 minutes in 2011/12, Pep Guardiola's final season in charge. He's now making just 73.3.
Generally, Busquets remains reliable in possession, as he showed at Wembley.
He has a 91 per cent passing accuracy in La Liga this season. Only two players to have played as many games as him have a better average.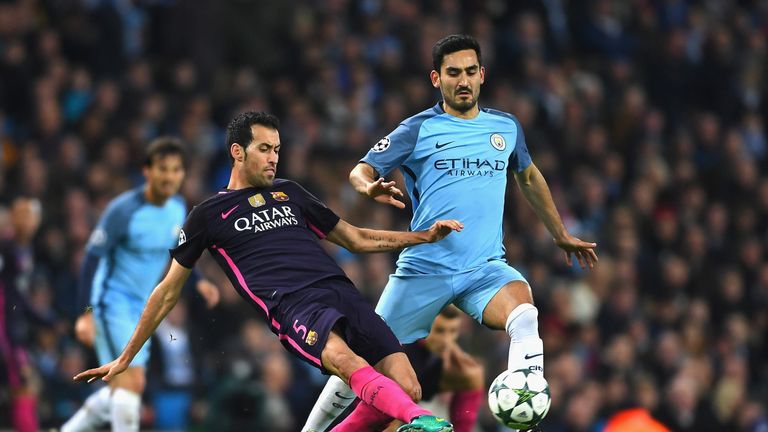 But, Enrique's direct approach means there are fewer players around Busquets in the centre of the pitch - and he's increasingly being targeted by opposition teams. Guardiola's Manchester City did this well.
They dispossessed him three times and forced him into giving up possession on another six occasions in their 3-1 win at the Etihad.
They also closed him off as an option for his team-mates. In the previous fixture at the Camp Nou they restricted him to just 46 touches.
Some La Liga teams have tried a similar tactic.
In Barcelona's defeat to Celta Vigo, his passing accuracy was forced down to 89.8 per cent and he had just 60 touches of the ball.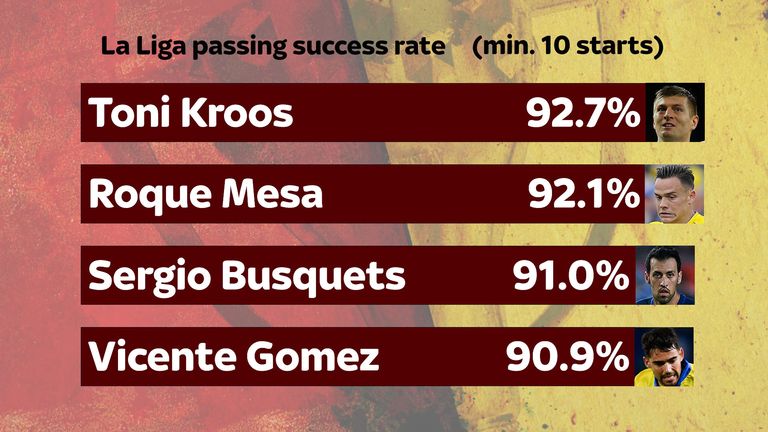 Alaves, in their win at the Nou Camp, fouled him twice as they harassed him on the ball.
Interestingly, what's going on with Busquets reflects a wider issue at Barcelona.
La Masia - the Barcelona youth academy - continues to create teams that need players like Busquets, even if, right now, the first team seems to be veering towards a holding midfielder that can drive the ball with more confidence and turn around quicker than Busquets does.
So what happens when the first team no longer has that fantastic front three they are relying on?
Will they go and buy one of the world's most expensive strikers to replace them? Or will they have to try to revert back to their traditional style?
Enrique's change of tactics and how he uses Busquets has not only affected Barcelona's style, it could also affect the club's entire business model.
'Barca's Busquets by-passed?' was first published on November 21, 2016
Is Zidane underrated? 
Zinedine Zidane won the Champions League four months after taking over at Real Madrid. He followed that up by beating Sevilla to lift the UEFA Super Cup in August.
This season he's guided his team to the top of La Liga, where they're six points clear of the competition. Real are unbeaten in 31 games in all competitions and they're into the knockout stages of the Champions League.
And he has managed to do so despite some key injuries this season.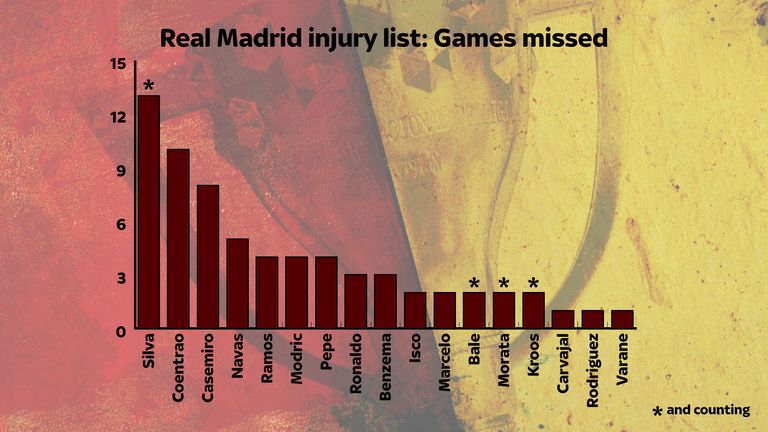 Left-back Fabio Coentrao has missed 10 of Real's 13 league games. Defensive midfielder Casemiro has missed eight. Keylor Navas has missed five, while Sergio Ramos, Luka Modric, Cristiano Ronaldo, Karim Benzema, Isco, Marcelo, Pepe, Alvaro Morata, James Rodriguez, Toni Kroos and Raphael Varane have all missed game time, too. Plus, he's now going to be without Gareth Bale for a couple of months.
Most managers would love to achieve the feats he has in their entire career, let alone in under a year of managing a big club.
Yet, in Spain, there is still an impression Zidane has been a little fortunate, that he is mostly about managing egos and isn't the best of tacticians.
Zidane may keep things more simple than the likes of Pep Guardiola - but he has made some important changes to his team to get the most out of them. 
Against Atletico Madrid recently, he changed the formation from a 4-3-3 to a 4-4-1-1. Benzema was recovering from an injury, so Zidane played Ronaldo as a centre forward with Isco in a free role behind him. Bale and Lucas Vazquez played as traditional wide players.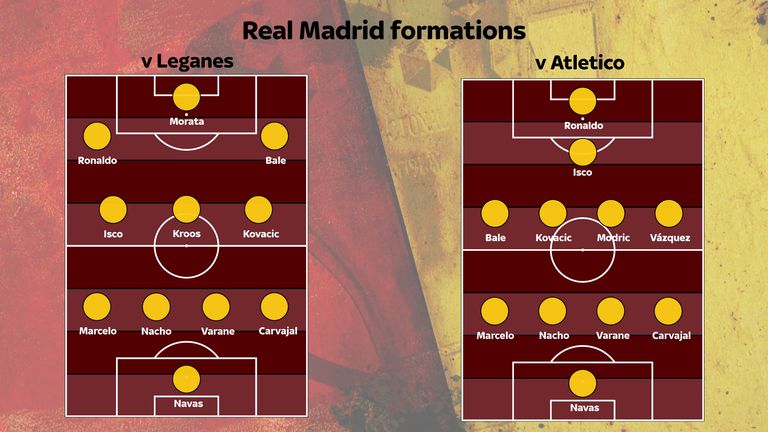 It was a huge success, with Real winning 3-0 at the Vicente Calderon, despite missing Pepe, Ramos, Casemiro and Kroos.
Zidane found a way to get the most out of Isco. The Spaniard thrived as a No 10. He tied Real's attacking play together, completing 91.7 per cent of his passes, despite his advanced position.
On the flanks, Zidane convinced Bale and Lucas Vazquez to track back with Atletico's wide players when Real didn't have the ball. Only Nacho made more interceptions than Bale. Only Varane made more clearances, while Vazquez came up with three important tackles for his team. 
It was a fine example of Zidane's ability to get his players to buy into what he wanted them to do, for the good of the team.
Meanwhile, up front, Ronaldo did what Ronaldo does, scoring a hat-trick to become the top scorer in Madrid derbies.
However, there are still questions over how Zidane reacts within games.
Despite making two changes at half-time at home to Eibar last month, he couldn't find a way to break the 1-1 scoreline. Previously, in Dortmund, he changed Rodriguez for Mateo Kovacic when Real went 2-1 up but couldn't hold out for the win. The same thing had happened in the game before at Las Palmas, with Real Madrid being pegged back for a draw.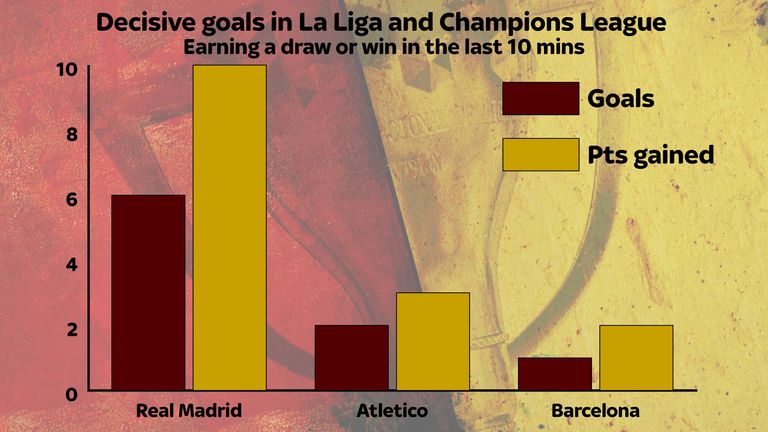 Their record this season could have been worse if it wasn't for the six goals they've scored in the final 10 minutes of games to salvage results. They beat Celta Vigo and Athletic Bilbao in La Liga with late strikes, grabbed a draw against Legia Warsaw and twice beat Sporting Lisbon with last-gasp goals - two of them in the 2-1 win in Portugal!
When that happens, when changes of personnel do not make much of an impact, it is sometimes because the team relies on individuals, not so much on collective answers.
For instance, Real Madrid only have the fourth-best possession stats, retaining the ball less than Las Palmas. They are also taking more shots than any other team in the league, as opposed to building up their play slowly, in a careful, considered way.
Often the team has started games poorly, lacking in intensity, something admitted by players and the coach himself. Their win over Gijon at the weekend was something of an exception. They've scored just six goals in the first 15 minutes of their 18 La Liga and Champions League matches this season, while three of the last five goals they've conceded in league games have come inside the opening 27 minutes.
Zidane is still learning. And the lack of fluidity in the game might be down to injury problems. A third of those were muscle injuries, which experts say happen when something has been done incorrectly in training.
But his record so far is remarkable, considering that in 20 games he's been unable to use his best 11.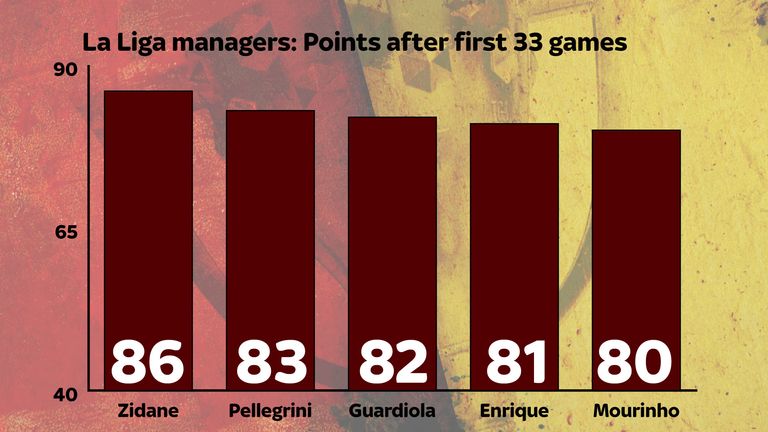 Zidane has got more points than any manager in La Liga history after his first 33 matches - 86. Former Real Madrid boss Manuel Pellegrini had 83 at this stage. Jose Mourinho 80.
Real have also scored 132 goals in his 47 games in charge - they are entertaining their fans. 
Of course, what those supporters truly crave is the La Liga title and even more glory in the Champions League. If Zidane can deliver that, no one will be doubting his ability. But until then, he still has some doubters to prove wrong.
Is Zidane underrated was first published on November 28, 2016
Upgrade to Sky Sports now and get 12 months half price. Hurry, offer ends December 4!