El Clasico: Gary Neville and Jamie Carragher on what it's like to play at the Santiago Bernabeu?
Last Updated: 20/04/17 4:00pm
Real Madrid host Barcelona in the hotly-anticipated El Clasico clash this weekend - but what is it like to play in a big fixture at the Santiago Bernabeu?
Sky Sports pundits Gary Neville and Jamie Carragher have both featured at the famous venue numerous times with Manchester United and Liverpool respectively, as well as in England's 1-0 defeat to Spain in 2004.
Ahead of the big La Liga match-up, which you can watch live on Sky Sports 1 HD from 7pm this Sunday, they sat down with Sky Sports' Spanish football expert Guillem Balague on Revista to share their memories of playing at the Bernabeu...
"I've not had one good experience there," said Neville, who drew 0-0 with Manchester United at Real Madrid in April 2000 and lost 3-1 at the Bernabeu in 2003. "With England we lost there and it was a 1-0 battering.
"It just felt huge. It felt like the quality of the game, the quality of the individuals, the quality of the movement, everything was just bigger. I didn't have comfortable experiences there at all. Bad experiences with United, bad experiences with England.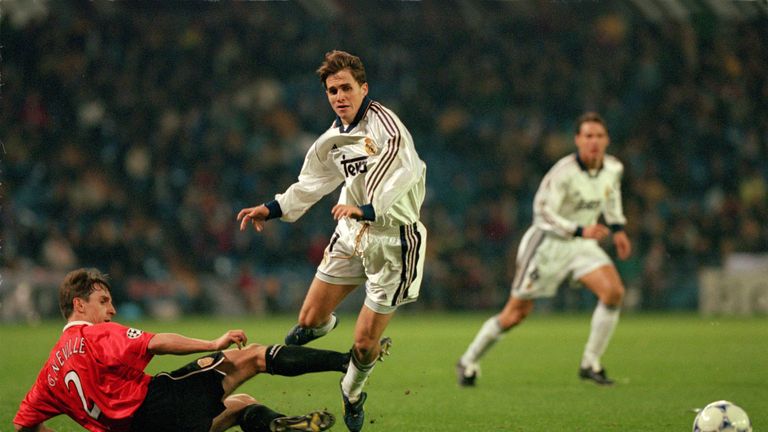 "Similarly with the Nou Camp. In 1999 we drew 3-3 there against Barcelona and obviously we won the Champions League final against Bayern Munich later that season, so I've had some good experiences there but I've also seen some humbling experiences as well. I think of the 4-0 in November 1994, too.
"We think of United and Liverpool as being big. And they are huge clubs. But you play in those stadiums and as a player it just felt like a different level."
"I think it's about timing, about when you go there" said Carragher. "We went to the Nou Camp and the Bernabeu under Rafa Benitez and we won at both stadiums. But that was the best we were then, maybe we were coming up against them when they weren't at their best.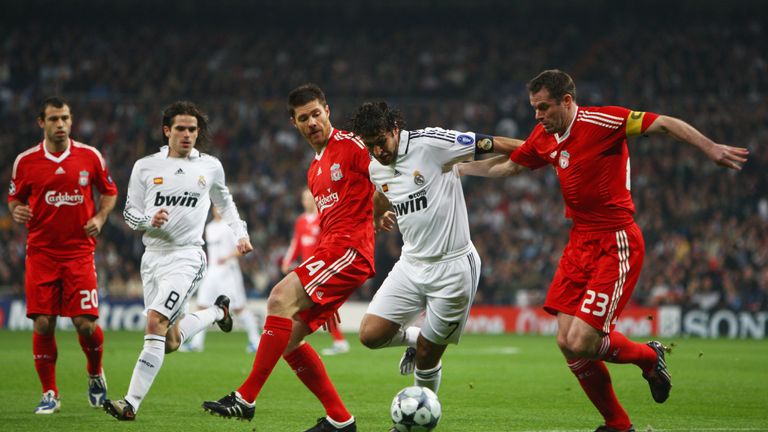 "Juande Ramos was the manager of Real Madrid in 2009. They still had some great names - Raul, Arjen Robben and Sergio Ramos were playing - but we won 1-0.
"We had a lot more experience, six, seven years of playing in Europe, so when you go there you're actually quite confident of getting a result.
"But if you think of the problem our clubs have in the Champions League now, it's a big change to 2005-2010 when English clubs dominated. It's certainly turned on its head now, with the two big Spanish clubs the teams to beat."
Watch Real Madrid v Barcelona live on Sky Sports 1 HD from 7pm on Sunday.